Blasphemous margaritas and guacamole from the Mex master's new cookbook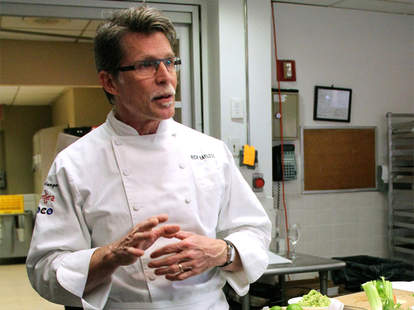 He's schooled millions in making Mexican food on shows like Top Chef Masters and PBS's Mexico: One Plate at a Time, but seven eight-time author Rick Bayless is returning to bookshelves to make sure your avocado dip doesn't suck guac
In Frontera, Bayless turns basic guacamole and margaritas on their cabezas, and Thrillist got a chance to sample two of his recipes. Read on to find out how to make a wintertime margarita and some seriously unorthodox guacamole
Sparkling Ginger Margarita

Ingredients:
2 slices of ginger the thickness of a quarter (no need to peel), coarsely chopped
1 fresh kaffir lime leaf, cut in half where the leaf is indented (optional)
1 1/2 oz of 100% blue agave blanco Tequila
1/2 oz of fresh lime juice
1/2 oz of orange Curacao or other triple sec
1/4 oz of ginger agave syrup
1/2 cup agave syrup (light organic syrup gives the best flavor)
1/4 cup (about 1 oz) finely chopped ginger -- no need to peel
6-10 ice cubes (about 3/4 cup)
1 oz sparkling wine, such as cava from Spain

This Bayless cocktail creation is bubblier and sweeter than normal and ideal for winter, thanks to its ginger agave syrup. To make the syrup, measure the agave and two tablespoons of water into a small saucepan. Set over medium heat and add the ginger. When the mixture reaches a simmer (two minutes) then remove from heat and cool to room temperature; strain

In the bottom of a cocktail shaker, muddle the ginger and one half of the (optional) kaffir lime leaf until coarsely mashed. Add Tequila, lime juice, Curacao, ginger agave syrup, and ice. Cover and shake vigorously until frothy and cold; tiny ice crystals will appear after about 15 seconds of shaking. Strain into a six-ounce martini glass and top with sparkling wine. Bruise the other half of the lime leaf, if you're using it, by slapping it between your palms to release the aroma. Float it on the top of your drink and serve immediately

Apple-Fennel Guacamole

Ingredients
1 medium fennel bulb, stalks and fronds cut off
1 tablespoon olive oil
Salt
1/2 medium apple (a crisp-textured one like Granny Smith works well here), peeled, cored and cut into 1/4-inch pieces
2 tablespoons fresh lime juice
3 ripe medium-large avocados
1 generous teaspoon chopped fresh thyme
1 large fresh serrano or 1 small jalapeno, stemmed, seeded if you wish and finely chopped
You read that right: this guacamole recipe uses apple instead of tomato, fennel instead of onion, and thyme instead of cilantro -- and it's pretty spectacular

Start by heating an oven to 350 degrees. Cut the fennel bulb in half, then cut each half into three wedges. Arrange them in a small baking dish and drizzle with the olive oil. Measure in 1/4 cup water, sprinkle with 1/2 teaspoon salt, cover with foil, and bake until tender (about one hour). Cool. Move the fennel to a cutting board and pull off any fibrous outer layers, cut out and discard the pieces of core holding each wedge together, then chop the remainder into tiny pieces -- the tinier the better

While the fennel is cooking, scoop the apple pieces into a bowl and sprinkle them with the lime juice. (Says Bayless: Do not overdo the lime juice. Nothing will erase the avocado flavor faster.) Toss to combine, and refrigerate until ready to use. Cut the avocado into halves and scoop the flesh from each into a large bowl. With a large fork, the back of a large spoon, or an old-fashioned potato masher (Bayless' implement of choice), coarsely mash the avocado

Add the thyme, chopped green chile, apples (including all of the lime juice) and half of the chopped fennel to the avocado and stir to combine. (Refrigerate the remainder to add to a salad or pasta dish.) Taste and season with salt, usually about one teaspoon.