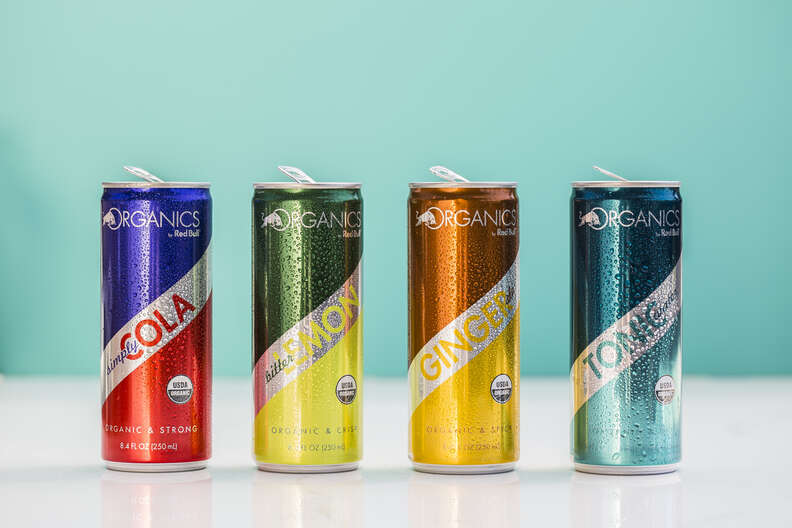 Red Bull's New Organic Sodas Won't Give You Wings, but They're Good
They come in four flavors and most of them contain zero caffeine.

Red Bull is putting down its energy drink fueled wings with the launch of their new line of sodas, Organics by Red Bull. As more and more people recognize the dangers of energy drink consumption, consumers have continued to reach for quality organic products with transparent ingredients. So it's not surprising that Red Bull would debut its own line of organic sodas.
The four new canned beverages released by the energy drink behemoth -- a cola, a bitter lemon soda, tonic water, and a ginger ale -- focus on flavor without additives like artificial colors, preservatives, and GMO. The sugar in each is derived from organically farmed sugar beets, while the ingredients listed -- like lemon juice, water sourced from the Alps, and ginger -- are all easily identifiable. The result? Surprisingly thoughtful sodas that taste distinct and bright -- and are priced the same as a Red Bull energy drink at $2.39 for a single can and $8.19 for a four pack. For more in-depth looks at the cola, bitter lemon soda, tonic water, and ginger ale, read on.
Simply Cola
Of all the drinks in Red Bull's new line, this is the only drink that actually contains caffeine -- a far cry from the canned concoctions that made them famous in the first place. Though it's called Simply Cola, this version of a classic soda is far from simple: it's earthy, spicy, and less syrupy than your average cola. The color is much lighter than a typical cola and looks almost like butterscotch. The flavor is even more surprising; notes of cinnamon, licorice, orange, ginger, cardamon, and lime all playfully coexist, making this variation of cola unlike any other I've ever tasted. I loved it -- it's complex and not too sweet, clocking in at 100 calories per can with 22 grams of sugar. My only wish is that it had stronger bubbles; though carbonated, the drink felt too soft -- like the can had been cracked open and left out for some time.
Bitter Lemon
This bitter lemon soda is unlike any other citrus sodas released in America, and that's what makes it so appealing and delicious. It's actually sour; reminiscent of fresh lemon sodas found in Southeast Asia. The soda contains 13% lemon juice and contrary to its name it isn't overly bitter -- but it definitely isn't super sweet. I'd sip on this soda straight all summer or pour it over some tequila with a sprinkle of Tajín.
Ginger Ale
In my humble opinion, a good ginger ale actually tastes like ginger: spicy, fragrant, and not overly sweet. This is a good ginger ale. Similarly to the cola, the carbonation felt a little flat, but what was lacking in texture was made up for in flavor. The ginger flavor is strong but not aggressively spicy, with hints of bergamot and lemon. The inclusion of ginger bits would really improve this ginger ale, but for an energy drink conglomerate, I'm impressed.
Tonic Water
Of all the sodas Red Bull released, this one is the most bubbly. It's also quite lemony and sour for a tonic water, and much more bitter and dry than the bitter lemon soda. The tonic water contains lemon juice and natural flavors -- like the quinine -- so you get that typical bitterness that is standard for tonic water. I added a splash of gin to mine and it tasted as good as any gin and tonic I've ever had. Overall, it's a good, but not mind-blowing, tonic water.
Sign up here for our daily Thrillist email, get Eatmail for more food coverage, and subscribe here for our YouTube channel to get your fix of the best in food/drink/fun.
Kat Thompson is a staff food writer at Thrillist who loves extra carbonated beverages. She is on Twitter @katthompsonn.