Chasing Red Cotton Flower Noodle Soup Across America
My mission to find Northern Thai delicacy kanom jeen nam ngiao in the United States.
Published on 8/30/2022 at 10:30 AM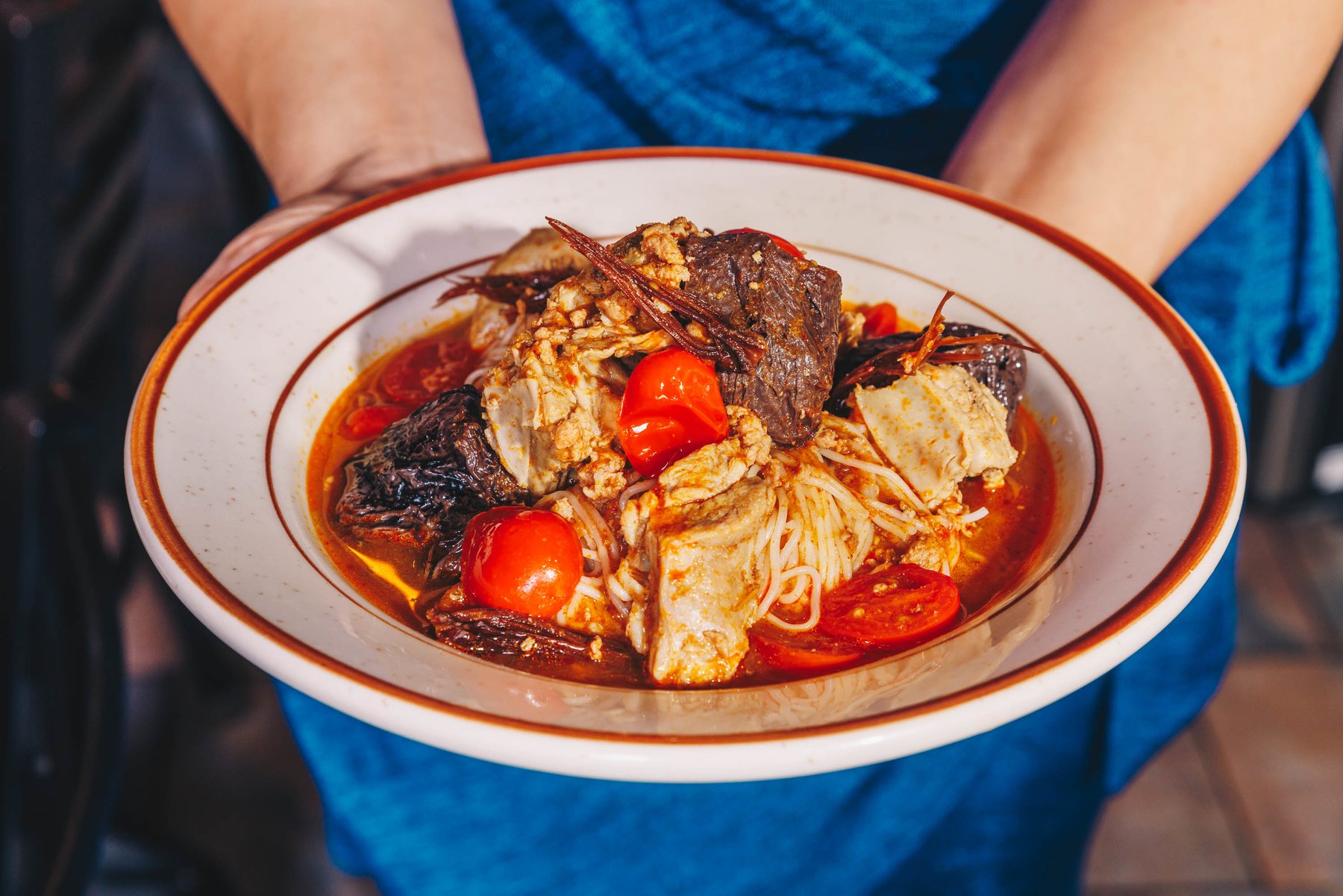 "Kanom Jeen Nam Ngiao" or Red Cotton Flower Noodle Soup | Photo by Cole Saladino for Thrillist
I thought I knew everything there was to know about Thai food. I was born in Bangkok and grew up in the kitchen with my mom and grandma, who prepared trays of papaya salad and curries that simmered for hours. I never turned down a dish because it had too much fermented crab or was too fiery. To me, Thai flavors were perfect and I ate them all.
But a country like Thailand is so vast, its cuisine so regional. A dish in the north can taste completely different in the south, and there's so much to discover in the hyperlocal cuisines of each neighborhood and village.
Take kanom jeen nam ngiao, or red cotton flower soup. The first time I tried this dish was the summer of 2018. I was 24 years old and spending a couple of weeks in Thailand with my mom following a difficult time in my life. We were traveling up and down the lengths of Thailand—from Bangkok to Khon Kaen to Chiang Rai, a place I'd always heard of but knew very little about.
Chiang Rai is the northernmost province of Thailand, known for its majestic mountains, cooler climate, and a daring cave rescue that took place a mere two weeks after I had visited. It's also known for kanom jeen nam ngiao, or red cotton flower noodle soup.
Kanom jeen refers to the thin strands of fermented rice noodles that make up the base of the dish, while nam ngiao translates to flower water, which references the vibrant cotton flower-laced curry soup that is ladled over the noodles.
Ingredients for "Kanom Jeen Nam Ngiao" or Red Cotton Flower Noodle Soup | Photo by Cole Saladino for Thrillist
"Every time there was a citywide celebration, a wedding, a funeral, New Years, a Buddhist holiday, or festival, a huge pot of nam ngiao would be present."
This was a noodle soup I had never tasted before. Even saying the name of the dish felt foreign on my tongue, despite speaking Thai all my life. But my mom, who occasionally enjoyed this dish during her childhood in Bangkok, insisted. We found a noodle stand on the side of the road, complete with plastic stools and a grinning chef. The first sip was transformative—funky with fermented soy bean paste and the rich and sweet flavor of stewed pork bone broth. The shrimp paste was pungent, but mellowed out by bright tomatoes. Pickled mustard greens made for a complementary acidic bite, and roasted chili powder added ample heat. A crown of bean sprouts and fresh cilantro ensured that nothing was too heavy. It was perplexing. The flavors were familiar, save for the dried cotton flower core that gives nam ngiao its name. But having this combination atop rice noodles was completely new.
I returned from that trip rejuvenated and dreaming of the dish, but also baffled as to why I had never heard of it. It became a fixation. My grandmother was from Uttaradit, a gateway province to Northern Thailand. Was it too far south for her to have learned how to prepare it? Or was it too difficult, the flavors too complex, that she stuck with sticky rice and beef jerky for us kids?
I came to the conclusion that Los Angeles, the place I grew up, a place bursting with Thai restaurants, just didn't have this style of Thai cooking—at least none that were known to me. That was until recently.
Journey of the Red Cotton Flower Noodle Soup | Illustration by Maitane Romagosa for Thrillist
On the corner of a small strip mall in East Hollywood sits Northern Thai Food Club, which first opened its doors in 2019. It is helmed by Amphai Dunne, or as she refers to herself "Pa Phai," or Auntie Phai, a Chiang Rai native who has been cooking all of her life. Her 12-seat restaurant does not serve pad Thai or pad see ew—the typical central Thailand dishes that most Americans order. Instead, she is committed to bringing the flavors of Chiang Rai to her customers in the form of roasted green chili jam complete with pork crackling for dipping, gaeng hang lay or Northern-style pork curry, and of course, kanom jeen nam ngiao.
"The history of this dish is rooted in Chiang Rai and northern Thailand," Dunne explains, through translation. It can be traced back to the Tai Yai or Ngiew ethnic group that call the mountains of Northern Thailand—as well as places in Burma, China, and Laos—home. What makes this dish so special is the dok ngiao, or red cotton flower, which grows on trees widely planted throughout Southeast Asia, and exudes a glowing red hue and unmistakable tang. It's also a dish of communion.
"Every time there was a citywide celebration, a wedding, a funeral, New Years, a Buddhist holiday, or festival, a huge pot of nam ngiao would be present," Dunne reminisces. "It's traditional and comforting. Every single person in Chiang Rai knows and eats this dish. It's kind of like how Thanksgiving here always has a turkey; for us, that's nam ngiao."
Dunne started selling Northern Thai sausages and chili pastes in Los Angeles whenever there was a gathering to make merit, a practice of serving food to Thai Buddhist monks while they made their morning rounds for alms. Once the merit-making was finished, Thai Angelenos would clamber to purchase Dunne's food—where word quickly spread that everything she made tasted of Northern Thailand, despite being nearly 8,000 miles away.
Lawan Bhanduram, a legend in LA's Thai Town for her titular noodle shops, Pa Ord Noodle, swooped in to help Dunne. "I've always wanted to be a chef since childhood and Auntie Ord gave me a loan and supported me," she says. The two now share a location.
Then the Los Angeles Times visited. "This guy came frequently, tried everything, and I had no idea who he was," says Dunne, referencing critic Bill Addison. "It wasn't until a week later I got a call that they wanted to photograph me and the restaurant. And still, I was like, 'What's the LA Times?' Once that story was published, the customers came flocking."
It was enough to prove to Dunne that there was a market for Northern Thai dishes, both for fellow natives, as well as Americans interested in trying something new. Northern Thai Food Club has been open now for nearly four years, and although customers eagerly order khao soi, a Northern curry soup dish that has grown in popularity, Dunne wants customers to become more hip to the magic of nam ngiao, too. "I've been making nam ngiao since I was 10, selling it out of my house in Chiang Rai," Dunne says. "It's always been a part of me."
"Kanom Jeen Nam Ngiao" or Red Cotton Flower Noodle Soup | Photo by Cole Saladino for Thrillist
"You know how people had spaghetti for a whole week? I had nam ngiao."
Kanom jeen nam ngiao has also always been a part of Penny Chua, daughter of James Beard-winner Saipin Chutima and her husband, Suchay "Bill," the owners of Las Vegas' renowned Thai restaurant, Lotus of Siam. "I'm not going to lie, nam ngiao is actually my favorite dish of all time," Chua tells me over the phone.
Though the 274-mile, LA-to-Vegas drive is one of the most storied road trips, I didn't expect to find nam ngiao on either end. But the philosophies around the dish in both cities are the same. When Chua's family took over Lotus of Siam in 1999, it was important to them that they maintain their Northern Thai menu from their prior restaurant, Renu Nakorn in Norwalk, California.
"I'm not a fan of Bangkok-style food, which is so sweet and—I don't want to say dumbed down necessarily—but conforms to an international palette," Chua explains. "As restaurant owners, I don't want to be stuck in this bind of ignorance, where people think this is all Thai food is. How do we upgrade our customers' mentality? How do we educate?"
For Chua and her family, it's by making Thai food exactly how they know it. This includes kanom jeen nam ngiao and all of its fixings: stinky tofu-like soybean paste, cubes of gelatinous pork blood, chunks of pork spareribs. "People are always weirded out by the pork blood, but like, you guys eat sweetbreads," she laughs.
Her family hails from Chiang Mai, a province southwest of Chiang Rai, which holds Northern Thailand's most populous city. "Nam ngiao is so interesting because, although I've never met my grandparents, I have a piece of them because of this family recipe," Chua says, detailing her great-grandfather's travels from the Yunnan border to settling in Chiang Mai, where all the maids and house cooks—including her mother—were taught to prepare nam ngiao.
Chua has memories of her mom preparing the soup at home in a big pot. "You know how people had spaghetti for a whole week? I had nam ngiao," Chua laughs. "No complaints, though."
Flavors and ingredients | Illustration by Maitane Romagosa for Thrillist
Nearly 2,000 miles away in one of the coldest climates in America, Jan Purananda says her family had a similar passion for the dish, which can now be found on the menu at Sticky Rice, a Northern Thai restaurant in Chicago.
"My dad and my stepmom opened up Sticky Rice 18 years ago," she begins. The pair began selling Thai treats either from home or dropping them off at grocery stores. It was a hit, and the duo decided to go all-in for a restaurant. "My stepmom is from Lampang and my dad's mom is from Chiang Mai, so they decided to add a Northern food menu because there was nothing like that in Chicago at the time."
Lampang is Southeast of Chiang Mai, but still in the northern region of Thailand. "My stepmom grew up eating nam ngiao every day," Purananda says. "It was like a street food for her, so she would go and get it or her parents would make it for her. That's not to say that it wasn't special—it just wasn't unusual."
The dish was more of a later-in-life discovery for chef Therdtus "Tony" Rittaprom, who heads the kitchen 800 miles away at Zabb Putawn in Manhattan's Upper East Side. Rittaprom is a native of Roi Et, a city in Northeastern Thailand's Isan region. Even so, his fascination with the area and its culture led him to opening his restaurant, which is a celebration of both Northern and Northeastern Thai cuisine.
"I went to Phayao for the first time when I was 24," Rittaprom says, referring to a city just south of Chiang Rai. Rittaprom journeyed there for a job—and also a girlfriend—but became enraptured with the cuisine. "I got to learn about Northern Thai food firsthand from the people who live there, and I wanted to open up a restaurant to showcase my confidence in these dishes and to have my customers get a true taste of Thailand."
The menu at Zabb Putawn embodies where Rittaprom is from and where he has gone. Kanom jeen nam ngiao, of course, makes the cut. "It's a dish that's symbolic of the region, alongside khao soi, hang lay, and Northern-style larb," he explains. "I never had to seek it out when I was there—it was readily available everywhere and clearly a favorite."
Chef Therdtus "Tony" Rittaprom at Zabb Putawn | Photo by Cole Saladino for Thrillist
But getting the red cotton flowers stateside has proven to be a challenge. For Sticky Rice, most of the ingredients used to make nam ngiao are imported and either gathered from a Thai grocery store in Uptown Chicago or smuggled in from friends and family on return trips.
The process is also labor-intensive at Lotus of Siam. The chili paste is hand pounded and the soup simmers for hours to draw out the sweetness of pork bones. It is a recipe that has been continuously perfected, from the ancestral homes in Chiang Mai to the Vegas desert.
"There's so much food science involved, from roasting the tomatoes a certain way versus how you cut ingredients using a knife or a mandolin," Chua explains. "We've had instances where people say our food is too expensive, and that's ignorance." (A bowl of nam ngiao noodles at Lotus of Siam clocks in at $18.)
The ignorance is not limited to Americans. Chua talks about the classism rooted in her home country's culture, which may contribute to the fact that Northern Thai food has only recently gained popularity. "People back then used to consider nam ngiao poor people food, country food," Chua says, using the word ban nok—an insult that roughly translates to boorish. "Now, all of the sudden, people of the upper echelons want to eat this dish."
Chua recognizes it's a double-edged sword—although it's good that people are becoming more aware of how expansive Thai food can be, she is also concerned about the bastardization of beloved dishes. "This dish is special, and I don't want people trying to profit from it without respecting it," she says. "But I am glad people are more curious."
"This dish is special, and I don't want people trying to profit from it without respecting it, but I am glad people are more curious."
For those who have never had kanom jeen nam ngiao, both Purananda and Chua compare it to Vietnamese bún bò huế—a noodle soup that also has a red hue and funky, spicy broth layered with the aromas of shrimp paste.
And for those who haven't tried either, Purananda thinks it's time to start. "Northern Thai food is something everyone should try at least once because it's so different from traditional, central Thai food," she says. "It's not as sweet—there's a lot more spices and herbs to it with influences from neighboring countries like Burma and even India."
For Rittaprom, what makes nam ngiao noodle soup so special is how klohm-klom it is, a Thai word meaning balanced or mellow. It's also completely customizable. He notes that, of the places he's tried nam ngiao, some add extra cotton flowers for sharpness, while others use lots of tomato for a bright roundness.
"Nam ngiao is such a unique entity of Northern Thailand and its roots go back to the Ngiew mountain people, who have influenced the flavors and feel of Northern Thailand," he explains. "It's an ideal dish because it's right in the middle—never too spicy, never too salty."
It's how I felt the very first time I tried it. After slurping all of the noodles, I lifted the bowl to my mouth, drinking the soup with ease. There was no coughing fit from too much spice, nor a puckered lip from an excess of lime. The fermented soybean paste gave it a pleasing saltiness. The remaining bones of pork spareribs, which I had gnawed off with great pleasure, laid in a napkin to the side of my empty bowl.
Kat Thompson is a senior staff writer of food & drink at Thrillist. Follow her on Twitter @katthompsonn.