Red Robin's Cure Burger will heal all your post-New Year's Eve woes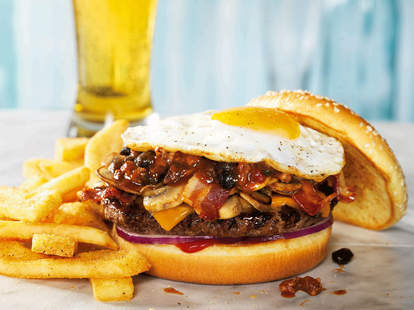 After swilling all that New Year's Eve Champagne, Prosecco, and -- when your party runs out of both of those -- wine you put through a SodaStream, you're going to need a way to recover. Enter: Red Robin's Cure Burger, which is topped with chili, cheddar, bacon, mushrooms, and a sunny side-up egg, and is served with BOTTOMLESS STEAK FRIES. Yup.
According to Red Robin, the Cure Burger contains all of its most popular burger toppings, and is the perfect way to regain all the dignity you squandered during the last few hours of 2014. They're calling the burger a "secret" menu item, meaning it's available by request only, so you've gotta be in the know to score one. But beware! It's only available until January 7th.
Adam Lapetina is a Food/Drink staff writer for Thrillist, and is already lamenting the resolutions he's going to break for this burger. Read his musings at @adamlapetina.