The 10 Best Limited-Run Krispy Kreme Donuts of All Time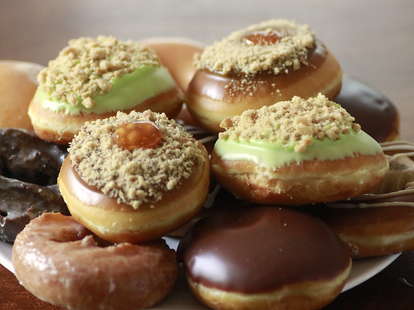 Even just a basic glazed donut from Krispy Kreme has the power to inspire greatness, so you can imagine the kind of insanity that follows each of the chain's limited-edition pastries. The breakfast barons tend to roll out several special donuts each year to spice up their permanent collection, and we thought it was time someone paid their respects to these quickly gone, but never forgotten treats. Without further ado, here are 10 of the greatest hits from Krispy Kreme's limited-run roster.
10. County Fair
When the deep-fried sensations at the actual county fair just weren't cutting it, Krispy Kreme offered their own spins in the form of Caramel Apple Cake and Cotton Candy donuts in 2012. Rumors of a companion Corndog-and-Funnel Cake Chiller thankfully turned out to be unsubstantiated.

9. Key Lime Pie
The good news is that the Key Lime Pie is currently enjoying a comeback. After making a run in April of 2013 (and another tour the year before that), Krispy Kreme's Key Lime Pie donut is back until May 18th. Specifically, we're talking about the one on the right, with the key lime and custard filling, plus extra key lime icing and graham cracker crumble on top. The other one with the cream cheese icing got ditched this time around for another exciting contender...
8. Caramel Dutch Apple Pie
That'd be this newbie, which has already won us over with its cinnamon apple filling, caramel icing, and crunchy streusel. Between the key lime and this, it's gonna be pie day every day for the rest of the month.
7. Peppermint Bark
Because you break approximately 2.75 teeth on sheets of peppermint bark every December, Krispy Kreme offered a safer option in their lower-dose Chocolate Peppermint Bark donut. It only ran for a spell in 2010, and faded out of the picture as Red Velvet took off, but it is remembered fondly.
6. Campfire
In 2010, Krispy Kreme made all our childhood (and adult) dreams come true with a pair of "campfire" treats. Obviously, that included a S'mores variety with cream filling, chocolate frosting, and graham cracker crumble. There was also a Chocolate Fudge Cake donut for slightly less obvious reasons.
5. Cheesecake
You can order a New York Cheesecake donut anytime you want, but that normally exciting pastry looks old and lame next to these Cheesecake selections from earlier this year. Both had a creamy cheesecake filling in the middle, but the chocolate variety had choco icing and brownie bits on top while the caramel one had a caramel drizzle and graham crumble.
4. Red Velvet
Though it refuses to commit to the regular menu, Red Velvet has been making a glorious holiday appearance for a few years now. It usually arrives with Snowman and Holiday Sprinkles right after Thanksgiving, because this is exactly what you need after eating 14lbs of turkey.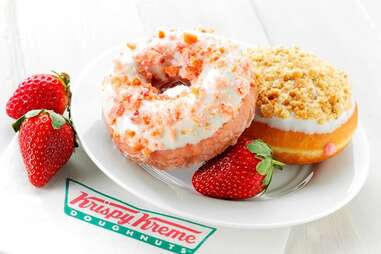 3. Fruit Stand
Unlike the produce at that shifty fruit stand near your pad, these donuts did not fall off the back of a truck 50mi outside Reno. Instead, they offered exciting takes on Summer's most celebrated berry through a strawberry cream-stuffed offering and a cream cheese icing-glazed strawberry cake variety. Sadly, both were gone by May 20th, 2012.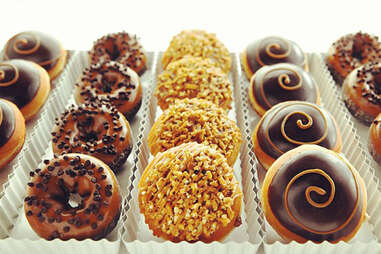 2. Caramel Chocolate Shop
Each of these three all-stars did incredible things with the loose theme of caramel and chocolate -- one even incorporated chopped pretzels along with those two winning ingredients during the 2013 CCS run.
1. Cookies and Kreme
Adding Oreos to anything makes it better. That's just science. And we know better than to argue with science.
Kristin Hunt is a food/drink staff writer for Thrillist and is currently experiencing several waves of donut FOMO. Follow her at @kristin_hunt.