We Tried the Limited-Edition Red Velvet Oreos
Cake and Oreos, while both dessert (or dinner, if you're lazy and/or 5 years old), are wholly different from one another. Good cake is spongy and delicious, while Oreos are crunchy and chocolatey. Not anymore.
Oreo is releasing Red Velvet Oreos for a limited time on supermarket shelves come Monday, February 2nd. And we were lucky enough to get an advance taste of them. Here's what we found.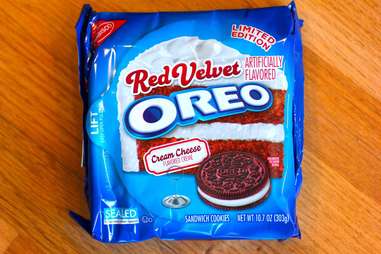 Lee Breslouer/Thrillist
How they taste
This is the first time Oreo has created a new cookie flavor (not the entire cookie -- just the part that's not the creme) since the Golden version. I tasted it on its own, and basically it just doesn't taste like chocolate. Which is important, since this is a red velvet cake flavor, and all.
The cream cheese-flavored creme is the real star of this Oreo. And together with the non-chocolate cookie, this is an excellent approximation of the popular cake.
Lee Breslouer/Thrillist
Conclusion
Sure, it's got the Oreo stamp on the cookie, it's in the same shape as a normal Oreo, there's that iconic creme in the middle, and it's got that specific Oreo crunch -- but this isn't an Oreo. That is, there's nothing here to remind me of that classic Oreo flavor.
That's not to say it's not delicious. Kudos to Oreo for changing up the flavors and introducing a spin on the classic. As long as you're cool with letting go of your expectations for an Oreo cookie -- these are certainly worth picking up.
Lee Breslouer writes about food and drink for Thrillist, and wishes they'd bring back those Reese's Oreos. Follow him to cake-scented tweets: @LeeBreslouer.