Reducetarianism Is a Totally Doable Approach to Plant-Based Eating
Think of meat as an occasional treat.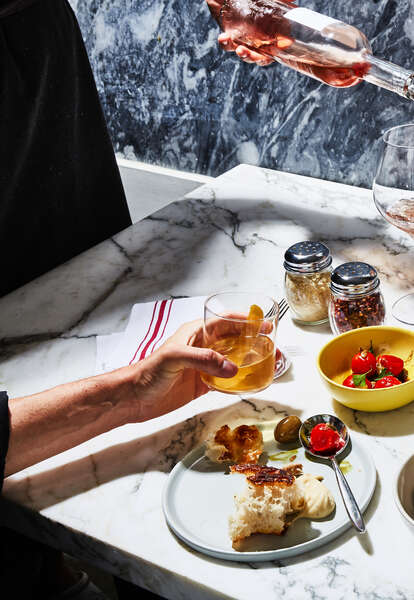 Appetizers from Sestina

| Photo by Michelle Min, Courtesy of Matthew Kenney Cuisine
Appetizers from Sestina

| Photo by Michelle Min, Courtesy of Matthew Kenney Cuisine
It's hard to give things up. We're in the season of restraint and resolutions and relying on sheer will power. And while the idea of helping the environment through a plant-based diet sounds great, the truth is not everyone wants to or is able to sustain that lifestyle. But what if there was a movement that isn't all or nothing? Enter reducetarianism.
Difficult to pronounce but ultimately simple and effective, reducetarianism is the practice of reducing the amount of meat, dairy, and eggs you consume—completely at your own pace. Many cultures already engage in lifestyles similar to reducetarianism. Ethiopian, Nigerian, and Indonesian cuisines are incredibly vegan-friendly, for reasons ranging from accessibility to affordability. But in the U.S., however, meat is at the center of practically every meal. This is where the reducetarian diet comes into play.
As the founder of the reducetarian movement, Brian Kateman thought about the idea in college, when he was maintaining a vegetarian diet until his father served him turkey at Thanksgiving.
"I took a small amount, put it on my plate and popped it in my mouth, and my sister started making fun of me, saying, 'I thought you were a vegetarian, Brian?'" he recalls. "And I remember not having the words to articulate how I felt, that I was trying to do the best that I can."
Kateman realized that he did not need to eat a strictly plant-based diet in order to make an impact. Instead, he founded the reducetarian movement, which seeks to eliminate the barriers between vegetarians, vegans, and meat-eaters. Instead of treating each other with hostility when it comes to our diets, reducetarianism teaches us to welcome anyone willing to try.
"I realized we needed a word, and a movement to describe people who made the decision to cut back on the amounts of meat, eggs and dairy they consume, but that it wasn't all or nothing," Kateman says. "Anyone making small, positive changes to their diet is a reducetarian, and that's something we should celebrate."
Instead of diving head first into plant-based eating, reducetarianism encourages everyone to go at their own speed. Kateman, himself, does not eat plant-based 100% of the time, and by the standards of reducetarianism, that is not only acceptable, but deeply appreciated. In fact, the mere act of trying is encouraged by many people in the plant-based community.
Plant-based chef Matthew Kenney—who cooks at Double Zero, Sestina, and Oleada Cucina—provides plenty of options for diners looking to cut back on animal products, whether it be for environmental reasons, health, or plain curiosity. His journey to being plant-based, however, was not overnight.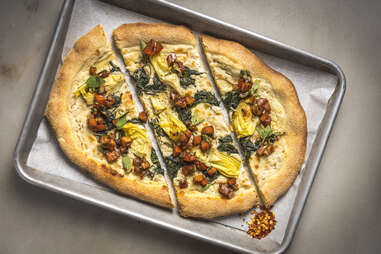 "I grew up hunting, and I'm a French-trained chef so I've cooked every type of food," says Chef Kenney, who leads a plant-based culinary program for students from all over the world. "If you had asked me to be all in at 30 years old, I would think you're crazy. It took me many years of gradually eating more and more plant-based. It's important that we don't preach, all we do is try to show the potential, the beauty, and the flavor of plant-based options."
Think of your most comforting, delectable dish—Kenney has a vegan version of it. He is especially known for his plant-based Italian cuisine, turning everyone's favorite decadent and dairy-rich meals into nutritious vegan options. Kenney has dishes ranging from his tagliatelle with truffle cream at Sestina to his cheesy artichoke pizza with caramelized onions at Double Zero.
While it may seem like vegan and vegetarian options are more plentiful than ever, a 2020 study found that, in fact, consumption of meat reached an all-time high in the U.S. at 264 pounds per person. So maybe this gray area approach of reducetarianism, with gradual steps, might be a more realistic lifestyle change.
"I'm a fan of the mindset that every change makes a difference," says Lisa Le, creator of the plant-based blog The Viet Vegan. "Whether you eat plant-based once a week, or only eat meat on the weekends, or eat plant-based for every breakfast/dinner, we need as many people as possible adopting more plant-based choices." Le went vegetarian in hopes of healing her eczema, and not long after, transitioned from what she calls "a fairly preachy vegan" to a "chill vegan."
While Le primarily posts vegan Vietnamese recipes on her blog and YouTube channel, you'll still find some recipes with dairy and eggs (from her days as a vegetarian), including her cheesy couscous stuffed peppers and vegetarian poutine.
Oftentimes, people stray away from diets because they just aren't realistic to maintain. But more flexibility just might be the key.
"I just encourage everybody to try it—for a day, one meal a week, and see how you feel and think about it consciously," Kenney says. "But I think it's actually much more likely that a person will be inclined to stay with it if it's not something that's forced."