To tip or not to tip probably won't pop up in any campaign speeches, but it is a debate that will define the restaurant industry in 2016. A shortage of cooks in the kitchen and disgruntled front of the house staff has made it clear the industry needs change. It's still too soon to tell if embracing a hospitality-included policy will yield more financial and professional gain for restaurant employees, but we're stoked to see other positive changes rolling out across the industry that promote happier, healthier, smarter chefs. From bootcamp challenges to financial aid incentives, here are ten changes, programs, and movements that are reshaping the restaurant world for the better.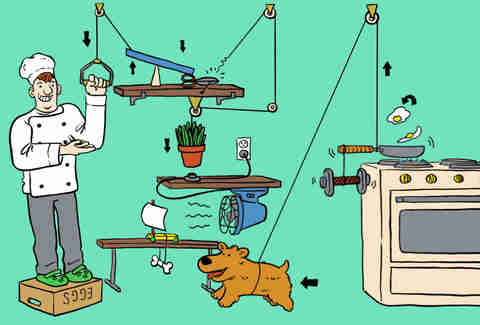 1. Incubators are fueling creativity
Food trucks and farmer's markets have been breeding grounds for brilliant ideas. But why cook out of a truck or a stall when you can take over a kitchen? Incubator kitchens are offering low-cost ways for chefs to toy with restaurant concepts. In Boston, Wink & Nod operates a rotating kitchen program that provides up-and-coming chefs a platform to showcase new concepts. Chefs take over the hip South End restaurant for six-month stints, allowing them to experiment without the typical costs and risks associated with opening a restaurant. The idea comes with a built-in audience. When you've got a guest chefs staging around the block, you never need to leave the neighborhood to try the hottest restaurant.

2. Fast food is changing
Underserved communities are finally getting affordable, healthy, delicious food thanks to Los Angeles chef Roy Choi and San Francisco chef Daniel Patterson. They've joined forces to show how fast food can empower communities. The first outpost of their new concept, LocoL opened in L.A.'s Watts neighborhood January 18, offering $2 tacos and $4 veggie burgers. A second location will open later this year in Oakland.

3. Restaurants are helping pay for college
Many people get jobs in restaurants so they can pay for college. Chris Coombs, chef-owner of Deuxave in Boston, now pays off his kitchen staff's financial loans while they work for him -- so if employees have student loan payments from school, he will take over their payments, like a Chef Daddy Warbucks. "It's an incentive to get great chefs to work for me and stay working for me," he says. Because really, who wants to wear a suit and tie on Wall Street after you've experienced the thrill of the kitchen? Also, smart chefs = smart cooking.

4. Staying fit has become a priority
The restaurant world is notorious for breeding an unhealthy lifestyle. "We do a great job taking care of our guests, and often times end up overindulging ourselves," says Patric Yumul, president of the Mina Group. To counteract the indulgence, the Mina Group partnered with NoCal Fitness to create the Mina Challenge. Teams from each of the group's 27 restaurants partake in monthly fitness and nutrition competitions. Winners receive gift cards as prizes. In NYC, restaurateur Michael Chernow of the Meatball Shop and Seamore's, kicked off the new year by launching Seamore's Fitness Club. Each Wednesday his front and back-of-house staff are invited to join him on four-miles runs or at yoga or spin classes. Could a Top Chef Biggest Loser spin-off be in the future?

5. There are education opportunities beyond the kitchen
EmmyLou Taylor, assistant general manager at Eastern Standard, in Boston, believes that in order to create a sustainable restaurant industry, employees need to be financially stable. With this in mind, Eastern Standard brings in certified financial planning experts to host classes such as basics of investing and answer questions like, "How is a stock different from a bond? How does a mutual fund work? What the heck is an ETF? Should I invest in fax machines [Ed: No]?"
6. There's more time off
"We recognized many years ago that there has to be a symbiotic relationship," says Christopher Kostow, the chef of The Restaurant at Meadowood in Napa Valley. "You can't just expect people to give and give and give. In the past, The Restaurant would close for two weeks in January and then we'd return in February and work straight through the year. My chefs weren't rested." Because there's nothing worse than a kitchen full of cranky, over-worked chefs, Kostow has implemented a policy where each sous chef gets one three-day weekend a month and any cook who has been with him for more than one year will receive an additional week of vacation. Not only will post-vacation bliss make for a cheerier kitchen, but Kostow expects it will also infuse more creativity into the menu.

7. More transparency
Danny Meyer's announcement that he will eliminate tipping at all 13 of his Union Square Hospitality Group restaurants in NYC over the course of 2016 has been the cause of much discussion. But discussion might be the best thing that comes out of this bold move. Mr. Meyer's openness about his plans to raise menu prices and increase employee wages shows he's willing to listen to concerns from both his team and guests. When Gabriel Stulman, founder of NYC's Happy Cooking Hospitality, implemented a no-tipping policy at Fedora on January 4, he issued an explanation of his decision and welcomed feedback. And when the owners of Tres Gatos and Centre Street Café in Boston changed their business model in December, tacking a 3% administrative fee onto checks so they could increase back of house wages, they issued an open letter to the community both online and on the backs of their menus explaining the decision. With all of this transparency, maybe we'll finally see a thorough explanation for the insane mark up of wine on the back wine lists.

8. Punch cards are being replaced with mood cards
Emoji ratings may eventually accompany stars. Jeff Lefcourt, managing partner of NYC's Corner Table Restaurants, which owns and operates The Smith and Jane, makes employees fill out communication reports at the beginning and end of each shift. The reports track everything from the employee's mood to challenges they face in the kitchen or dining room. "The reports keep management in a constant state of awareness about their staff's well-being, and that translates directly to the well being of the restaurant," says Lefcourt. We're curious to see a bell curve of staff moods during Sunday brunch. We don't know any employee who wouldn't be moody after a six-hour Sunday brunch shift, but if Lefcourt can swing the bell curve of happiness we salute him.

9. Community bonding is happening beyond the bar
Many restaurants host an industry night to help create a sense of camaraderie amongst peers. Chef Sarah Gavigan, of POP Nashville, Little Octopus and the recently opened Otaku Ramen, is taking things one step further and starting an industry kickball league in Nashville. Let's hope someone brings on industry dodgeball next.

10. Chefs are spreading the gospel of healthy eating
Last November, when Philadelphia chef Marc Vetri expanded Pizzeria Vetri to Austin, his restaurant group issued four $2,500 grants to help local schools introduce more nutritious food offerings in their cafeterias. In St. Louis, chef Kevin Nashan of the Peacemaker Lobster & Crab Co. started teaching healthy cooking classes at local food bank Operation Food Search. And Boston's Himmel Hospitality Group partners with the Boys & Girls Club to build garden sites. Chefs from the group's three restaurants visit the Clubs to give hands-on demonstrations for cooking with the foods they grow. We've never had a chef become president, but as chefs become more wellness-minded, philanthropic, and mentoring, never say never.