13 American regional food quirks
Adam Lapetina
Adam Lapetina
America is a nation of individuals, and individuals are really weird. So it happens pretty frequently, then, that when a bunch of individuals/weirdos in a certain area get together and start eating the same way, it confuses the holy hell out of everyone else. With that in mind, we set about compiling a list of some of the oddest regional food quirks in America -- some will astound you, some will confuse you, and some will make you want to relocate immediately. Weirdo.
Folding pizza in New York; fold-over pizza in Ohio; rolling pizza in California
For a nation that exalts pizza as much as we do, we can't really seem to agree on how to eat it -- New Yorkers famously fold their slices; in Ohio, some pizzerias offer fold-over pizzas that are more like pizza sandwiches; and more than a few Southern Californians have been known to roll their pizza tortilla-style before eating it. If you'd paid attention in geometry, you'd know triangles are way more diverse than they look.
Ranch dressing on pizza in the Midwest
While people do this all over the place, it's especially popular in the Midwest, where folks smother their pizza in the stuff. And since pizza is a vegetable (duh), everything works out! Just don't do this at certain pizzerias in Dallas.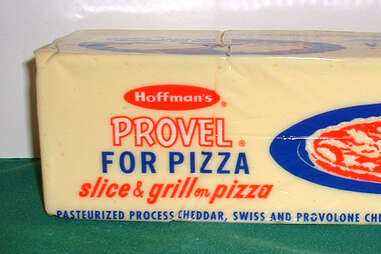 Provel cheese in St. Louis and its suburbs
Provolone, cheddar, and Swiss APPARENTLY aren't good enough for St. Louis, which created its own amalgam of those cheeses and puts it on basically everything, from pizza to soup to sandwiches.
Cheddar cheese with apple pie in Wisconsin/New England
It may seem odd to some, but to Wisconsinites and New Englanders, eating cheddar cheese with their apple pie is as American as, um, apple pie.
Calling green peppers "mangoes" in Cincinnati
This one's not so much an eating quirk as a terminology anomaly: in Cincinnati, some peeps call green peppers "mangoes", and to get an actual mango, you've got to ask for a "fruit mango".
Chocolate-covered potato chips in North Dakota
These suckers are slightly more ubiquitous now, but back in the day, they were almost exclusively a North Dakota schtick. A company called Carol Widman's started producing them and they quickly caught on in the state, where they remain popular as a party food.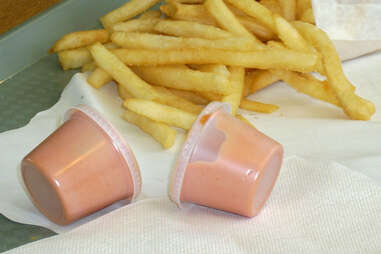 Fries with fry sauce in Utah
Most regions have their own preferred condiment when it comes to fries; Belgium's got mayo, most of America prefers ketchup, and some really out-there wackos (read: geniuses) like blue cheese dressing. But Utah's unique for its fry sauce, a combination of two parts mayo and one part ketchup that can be found at most greasy spoons in the state.
Steaming cheeseburgers in Connecticut
In some Connecticut towns, hamburgers are steamed rather than grilled or broiled, giving them a less greasy consistency than normal burgers. Not that there's anything wrong with a greasy consistency. This form of burger-cooking is almost as archaic as the early burgers that were invented back at Louis' Lunch in the state in 1900.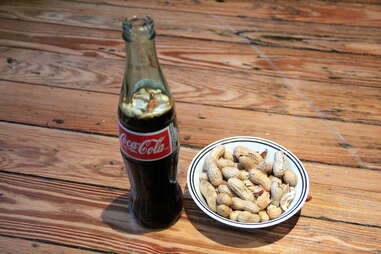 Salted peanuts in Coke in the South
Sometimes, hot Summer days in the South call for something a little more innovatively refreshing, and that's where the "goober-bottle rig" was born. It consists of some salted peanuts stuffed into a glass bottle of Coke, Dr. Pepper, or RC Cola, and then eaten a couple per sip.
Coffee milk in Rhode Island
Rather than drinking milk with chocolate syrup like most of the rest of the country does, perpetual outlier Rhode Island is more into coffee milk (usually made with Autocrat coffee syrup, an RI institution).
Beanless chili in Texas
Based on generations of Tex-Mex tradition, most chili in Texas is lacking a component that so often typifies the dish in other parts of the country: beans. In fact, it's considered an insult to Texan cuisine if you include beans in your chili, so stay on your toes around proud Texans like Sandy Cheeks.
Toasted ravioli in St. Louis
Despite its name, toasted ravioli isn't actually toasted -- instead, it's cooked in the best way possible: deep-frying. The version of this dish that's actually toasted can be traced back to Sicily, but it wasn't until St. Louis rolled around that ravioli finally got the full American treatment.
Beer with a bit of tomato juice and salt in parts of the Midwest (the Dakotas, Montana, Kansas, Nebraska, etc.)
This beer preparation, sometimes called a "red beer", is made by mixing beer with tomato juice (you can use whatever ratios you want) to create a Summer drink that's both refreshing and good for your prostate.
Adam Lapetina is a food/drink staff writer at Thrillist, and calls most sandwiches "subs" against his better judgment. Read his musings on Twitter at @adamlapetina.