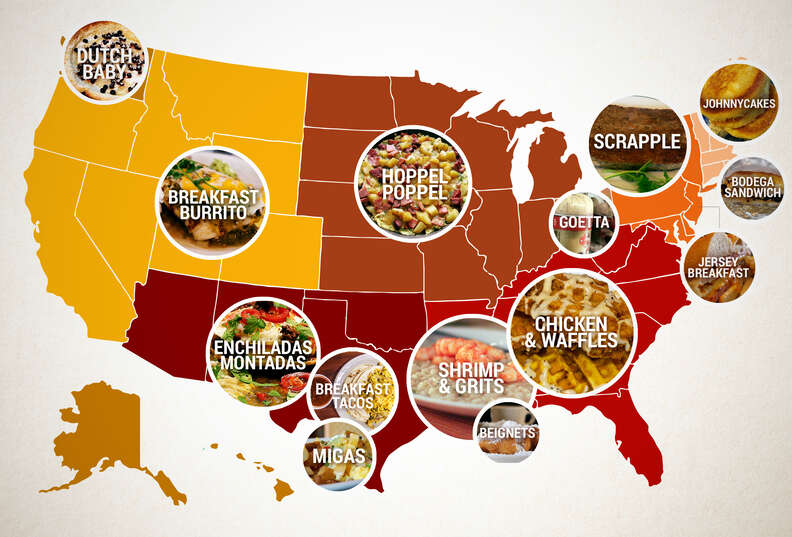 Thrillist
Thrillist
14 delicious regional breakfasts across the nation
Step into any brunch spot in any state in America, and you should be able to order a decent omelet or short stack. But asking for egg/cheese/pork on a roll outside of New Jersey? Fuhgetaboutit. That Jersey specialty is just one of the amazing regional breakfast foods that define hometowns and fuel irrational rivalries around the U.S. We've got a whole list of brunch big hitters with strong geographical ties right here to help you plan the baconiest road trip ever. And you've got a whole comments section to tell us we missed your favorite diner's specialty. Everyone wins!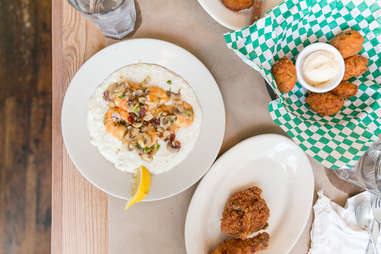 Shrimp 'n Grits
Region/State: The South
See how cozy that little pink shrimp looks resting on top of the warm bed of grits? It's gonna be cozier when you quickly devour it and its warm bed of grits, then take a nap in a real bed.
Enchiladas Montadas
Region/State: Southwest
After growing weary of traditional enchiladas, some New Mexico mavericks decided to stack 'em and throw an egg on top for good measure. Thus were the enchiladas montadas born, and they soon caught on in neighboring states where enchiladas had a startling lack of egg.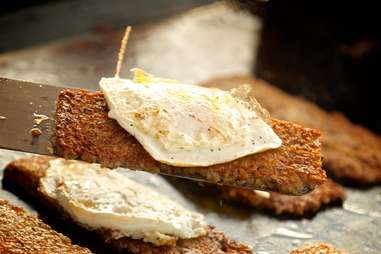 Goetta
Region/State: Ohio
Supposedly the handiwork of German immigrants living in 1800s Cincinnati, this sausage is made with steel-cut oats to give it a slightly nutty edge. It's got a presence in Indiana and Kentucky (the home base for a big-time manufacturer, Glier's), but Cincinnati is the most famous for lovin' on the Goetta.
The Dutch Baby
Region/State: Washington
The most monstrous pancake mutant you'll ever see, the Dutch Baby is a souffle of sorts. It's creamy and custardy, and usually gets a healthy heap of powdered sugar sprinkled on top. Many people believe it originated in Seattle, specifically at Manca's Cafe, which even held a trademark on the name for a time, much to the chagrin of actual Dutch toddlers.
Breakfast Taco
Region/State: Texas
Breakfast should always be portable, which is why we have to tip our hat to the masterminds behind this Tex-Mex creation. Also because it lets us eat tacos -- sometimes stuffed with bacon -- before noon. That's practically witchcraft. But we're totally cool with it.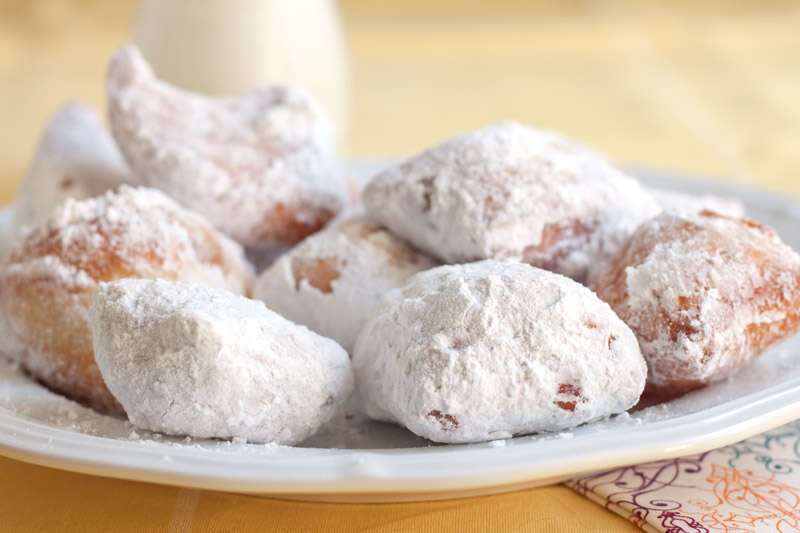 Beignets
Region/State: New Orleans
A fancy French donut swimming in sugar, the beignet is such a big part of the Big Easy food scene that it was declared Louisiana's state donut in 1986. (If you don't have your own state donut, you should write a very irate letter to your representative.) All conventional wisdom says the best are at Cafe du Monde, so the next time you find yourself in town you know where to go (after you put your shirt back on).
Scrapple
Region/State: Mid-Atlantic
Some people get turned off when you offer them a fried slice of pork scraps, but those people are not from Pennsylvania. Or Maryland. Or Jersey. Or Virginia. Or Delaware. That whole area is pretty big on the scrapple train, whether they're serving it with eggs or smothering it with jelly. It's cool if it's not your bag, but don't say that around Amish elders, unless you wanna get smacked.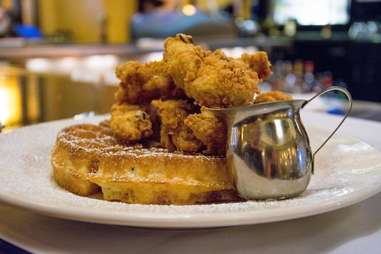 Chicken and Waffles
Region/State: The South
Many years ago, some unknown geniuses decided to combine all the greatest parts of a fried chicken dinner with all the greatest parts of a waffle stack to create the ultimate savory-sweet breakfast dish. Their Nobel Prize sadly got lost along the way, but their brainchild continues to delight stomachs in the South and across the nation.
Jersey Breakfast
Region/State: New Jersey
This breakfast sandwich is simple: you take some eggs, some cheese, and some Taylor Ham and put it on a roll. Ya done.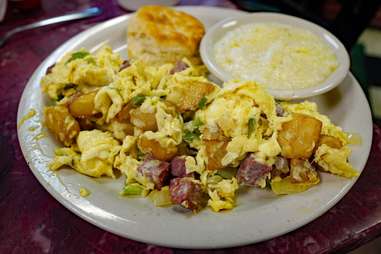 Hoppel Poppel
Region/State: Midwest
Imagine if you threw all the scraps from a breakfast buffet into a skillet and cooked it up. You're pretty close to what the glorious and way-too-much-fun-to-say hoppel poppel is all about... only thankfully you're working with something a little fresher than buffet bits. This German-inspired dish includes a base of eggs, a slew of potatoes, onions, and dealer's choice of meats, herbs, and/or veggies. You can order it in plenty of Midwestern diners and restaurants, but if you're really serious about it, you should probably book a B&B in Milwaukee.
Johnnycake
Region/State: New England
Also called hoecakes by some catty cooks in the South (and probably some rappers), these guys are sorta like pancakes, only they're made of cornmeal. You should still douse them with syrup all the same, and then listen to its fans fight over the correct spelling all through brunch.
Migas
Region/State: Texas
It means something very different in Spanish food circles (namely, a way to use up stale bread), but over here it means a mess of eggs, peppers, cheese, and tortilla strips. The migas see you, hoppel poppel, but they're way spicier.
Bodega/Deli Egg Sandwich
Region/State: New York City
Sure, egg sandwiches aren't exactly a rare delicacy. But since you find a hyper-bacony, remarkably reliable, foil-wrapped breakfast bomb on literally every street corner, they truly keep New York running (and by running, we mean sluggishly walking). On weekends, they're a cheapo-yet-often-more-delicious substitute for brunch; on weekdays, they're a very strong hint that the person at the desk next to you drank a whole bunch of Red Dog last night.
Green Chile Breakfast Burrito
Region/State: Colorado
Just like Jamie Lee Curtis's dad, Colorado likes it hot, or at least when it comes to breakfast burritos. Green chile is all the rage in the Rockies, where you get your egg-stuffed tortilla smothered in the stuff or you go home.
Sign up here for our daily Thrillist email, and get your fix of the best in food/drink/fun.
Kristin Hunt is a food/drink staff writer for Thrillist. Before that, she ran a massive Dunk-a-Roo cartel out of her college dorm room until the game got too rough. Follow her at @kristin_hunt.