Jennifer Bui/Thrillist
Jennifer Bui/Thrillist
Wherever you live in the US, odds are your food could use a little extra spice. The national marketplace might be drenched in rooster sauce, but all across the country there are less-cocky pepper sauces that've developed loyal followings. So to highlight the locality of the hot sauce landscape, we've mapped 23 of today's most important brands by their place of birth. Some are popular across the entire nation, while others are longtime regional staples. A handful are cult favorites you might not know about even if they're right under your nose, but we can assure you there's a saucehead nearby who cherishes their unique burn.
Two notes: several niche sauces achieved widespread success without being adopted by one city, so hot sauces without strong regional ties were left out. Also, we had to leave off any foreign-born sauces (apologies to Cholula fans). Click here to enlarge the map and get a closer look at the geographic spread, then read on to learn more about each sauce's hot, hot heat.
Pacific Northwest
De Mars's Rooster Sauce
Olympia, WA
De Mars's olive oil base sets it apart from the more vinegary sauces, and its habaneros and jalapeños are chased with curry and garlic. Even your vegan and gluten-free friends can eat it.
Secret Aardvark
Portland, OR
The farmers' market sensation has turned into a dining staple, showing up on over 100 restaurant tables. Bonus points for creative flavors like drunken black bean sauce.
NW Elixirs
Portland, OR
On the more chef-driven side of the Portland sauce landscape is NW Elixirs, whose wares range from classic habanero hot to chile-garlic Bangkok hot.
South
Yellowbird
Austin, TX
This upstart habanero condiment's heat outmatches Sriracha and is quickly making its way into the fridges of spice-loving Austinites.
Hotlanta Hot Sauce
Atlanta, GA
Onions and habaneros mix with a secret weapon (OK, it's not so secret -- it's peaches!) to give this uniquely Georgian sauce its signature spunk.
GE and Thrillist are teaming up on a… hot sauce?
Seriously, GE and Thrillist are currently collaborating on a deliciously punishing, limited-edition recipe, which we'll soon make available to the public. Click here to read about the most volcanic partnership in the history of condiments.
Midwest
The Brinery
Ann Arbor, MI
Pickled vegetables are The Brinery's main game, but in the last few years they've entered the hot sauce market with a fermented sauce that's earned them a fierce loyalty that extends to neighboring Detroit.
Frank's RedHot
Cincinnati, OH
The official hot sauce of the first Buffalo wing, 'nuff said.
Pain Is Good
Kansas City, KS
Original Juan boasts 15 lines of hot sauce, but their best known is the Pain Is Good line, which ranges from Jamaican to cayenne to fire-roasted green sriracha.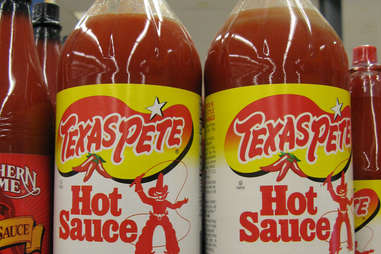 Southeast
Texas Pete
Winston-Salem, NC
Inexplicably not from Texas, one of this sauce's main selling points is a name-check in a Big Boi song.
Smack My Ass & Call Me Sally
Winter Park, FL
The Tijuana Flats taco chain has 100 locations in Florida, and their hot sauce imprint Smack My Ass is a staple on Florida tables in and outside their restaurants.

Northeast
Blair's Hot Sauce
Highlands, NJ
There exists a schism in the hot sauce world between those looking to complement food and those looking to blow their brains out with spice. Blair's is on the nuclear side of the scale, but they've still earned a respected rep in their home state of New Jersey.

Heartbreaking Dawns
Hudson Valley, NY
Although they've not yet reached ubiquity, HD is currently leading the charge in NY's local hot sauce arena with a brown sugar-spiked habanero sauce that gives a sweeter kick than most.
Peppers Table Sauce
Lewes, DE
The signature sauce of the world's largest online hot sauce emporium, Peppers distributes their Louisiana hot pepper sauce to local restaurants who've adopted it as their own.
Griffin's Wing Sauce
Levittown, PA
This vinegar-heavy sauce has been made in Levittown for 30 years and is so popular it's available in gallon bottles.

UncleBrutha's Allsauce
Washington, DC
Touches of ginger, green onion, and cilantro distinguish Allsauce No. 9 from the rest of the sauce pack and earn it a serious DC allegiance.
Louisiana
Crystal
Reserve, LA
Louisiana is basically the cradle of the hot sauce universe, so calling out a local favorite is damn near impossible. But Crystal is a definite forerunner.
Tabasco Original
Avery Island, LA
A true classic. It works on fried foods ranging from alligator to oyster.
Original Louisiana Hot Sauce
New Iberia, LA
Original Louisiana Hot Sauce claims to be the true pioneer in the Cajun condiment industry.
Slap Ya Mama
Ville Platte, LA
SYM began as a Cajun spice mixture but quickly carved out a place for itself in Louisiana's crowded sauce scene.
West
Huy Fong Sriracha
Irwindale, CA
Needs no introduction, the cock of the walk rules Los Angeles, and basically everywhere else.
Tapatio
Vernon, CA
The company has been family-owned for 45 years, and a bottle has been owned by most people in California for at least a year.
Danny Cash Hot Sauce
Lakewood, CO
Started 13 years ago out of a church basement, Danny Cash is now the most popular sauce brand in the state of Colorado and offers a slew of different products from the best-selling habanero garlic serrano to more niche flavors like mango pineapple.
Da Secret Sauce
Hilo, HI
Homemade chile pepper water has long been a traditional Hawaiian condiment, and Da Secret Sauce is making waves by bottling their version and getting into local restaurants and grocers.
Sign up here for our daily Thrillist email, and get your fix of the best in food/drink/fun.
Dan Gentile is a staff writer on Thrillist's National Food and Drink team. He has several bottles of Yellowbird in his fridge and thinks you should too. Follow him to habanero-flavored tweets at @Dannosphere.