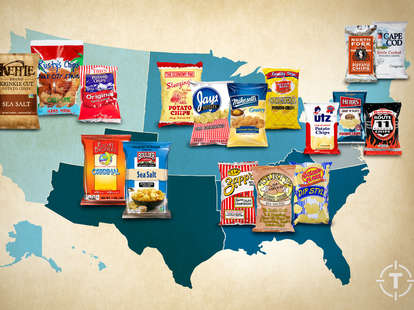 Jennifer Bui/Thrillist
Jennifer Bui/Thrillist
You can buy Lay's almost anywhere in the country, and any gas station worth its salt (get it??) stocks a healthy supply of Pringles. But if you ask anyone from Detroit, Better Made is where it's at. In Baltimore, you're eating Utz. And how dare you walk around NOLA with a bag of anything but Zapp's. Every region of America has local potato chips they'll drive the extra mile for, and because we don't want you to make a fatal deli purchase on your next road trip, we put together a field guide to some of the most important or interesting local snack brands across the nation. We recommend you pair them with these sodas accordingly.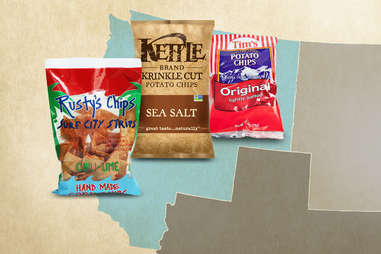 Northwest
Kettle
Salem, OR
The biggest chipmaker to come out of this area is undoubtedly Kettle, which began as a humble Salem, Oregon company with little more than a van to its name. Now, it's exploded to the point where it's hardly "regional" anymore, but that just means more Kettle chips for the rest of us.
Tim's Cascade Snacks
Auburn, WA
Available in just 11 Western states, Tim's offers seven varieties of their "Cascade Style" chips, packaged in the trademark red-striped bags, as well as five types of "Hawaiian Kettle Style" chips. They're also the people behind Erin's Popcorn, but we're not here to talk about popcorn, Erin.
Rusty's Island Chips
Huntington Beach, CA
While we know California likes to consider itself merely Western, this also seems like the easiest place to discuss Rusty's Island Chips, a specialty SoCal brand sliced by hand and slow-cooked in safflower oil. Rusty's is tiny compared to its other Southwestern cohorts, so it can be hard to track down the chips (and when you can, they're a little pricey), but even the Yelp community loves these things.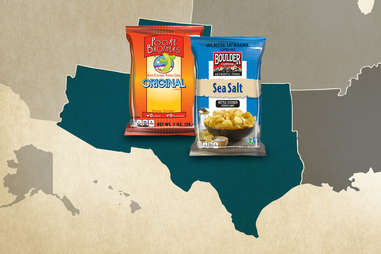 Southwest
Poore Brothers
Goodyear, AZ
Billed (admittedly by itself) as "Arizona's favorite potato chip," Poore Brothers accommodates the area's love of spice with flavors like jalapeño, three-cheese jalapeño, and habanero -- which is so hot, it apparently set its cactus mascot on fire.
Boulder Canyon
Boulder, CO
Over in Colorado's turf, there's the very healthy Boulder Canyon. Its core fans are probably more drawn to the olive oil or red wine vinegar chips, but gonzo snack enthusiasts know Boulder Canyon from its "Thanksgiving Feast" lineup, which is remarkably solid... minus the pumpkin pie 'taters.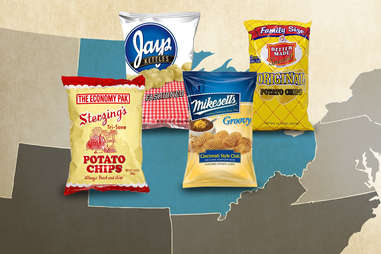 Midwest
Better Made
Detroit, MI
If there's one thing the Midwest enjoys more than butter sculptures of John Mellencamp, it's fried potatoes. In Detroit, they're specifically wild about Better Made. The 85-year-old brand boasts serious local love, even if it has a seriously weird understanding of the word "rainbow."
Sterzing's
Burlington, IA
Sterzing's was originally just side cashflow for founder Barney Sterzing's candy empire, but quickly evolved into an Iowa institution. Just how much of an institution? The reason the company even started international shipping was to feed hungry Midwestern boys serving in Vietnam who wrote in begging Sterzing's for their beloved snacks. The brand still provides snacks to servicemen today, making them some of the most patriotic potato chips around.
Jays Foods
Hanover, PA
While Jays Foods has technically changed addresses since it was acquired by Snyder's, it's still considered a proud Chicago tradition. You'll find them in hundreds of Windy City supermarkets, and even important local legends. (Al Capone kept them in his speakeasies. Seriously!)
Ballreich's
Tiffin, OH
This family-owned operation has been around for so long, they don't call their ridged chips "wavy" but rather "marcelled." This refers to a '20s hairstyle that was popular when Fred and Ethel Ballreich first set up shop. That was the only hair to inform their snacks, though, so don't go looking for "bouffant" or "mullet" bags.
Grippo's
Cincinnati, OH
In Cincinnati, if someone tells you to "get a grip," you don't need to wake up and confront cruel reality. You just need to open a bag of Grippo's. Thanks, Angelo Grippo!
Mikesell's
Dayton, OH
The century-old company caters to local tastes with a Cincinnati-style chili flavor, redneck tastes with a beer can chicken variety, and everyone's tastes with a mesquite-smoked bacon bag.
Jones Potato Chip Company
Mansfield, OH
Jones is a little younger than those other OG Ohio companies, but it's still had plenty of time to build up cred in Mansfield. And become a Mother's Day staple, apparently.
Shearer's
Massillon, OH
Whether you're after kettle, "home style," tortilla, or savory chips, Shearer's has you covered. Seriously, they weren't kidding about the savory part -- there's a hot dog flavor.
Dakota Style
Clark, SD
Finally, though they tend to miss the boat on a lot of food/drink fun, South Dakota even has a horse in this game. Dakota Style might not have the same brand recognition as the rest of the gang, but it does have cinnamon churro kettle chips, which is nice.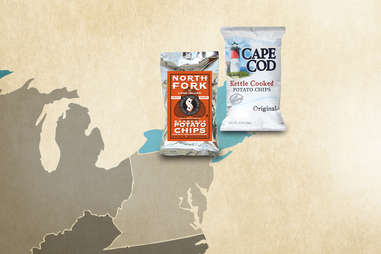 Northeast
Cape Cod Chips
Hyannis, MA
In case the lighthouse on the bag and name didn't make it clear enough, Cape Cod Chips are a Massachusetts specialty. It all started as a small storefront on the Cape on July 4th, 1980 and, since a company that starts on 'Merica's birthday can't fail, Cape Cod now enjoys distribution far beyond its home base of Hyannis. Plus 250,000 annual visitors to the factory.
Deep River Snacks
Deep River, CT
Across the border, CT's Deep River banks much of its reputation on the natural, 100% sunflower oil promise. Also helping publicity? Names like "Ninja Ginger."
Wise Foods
Berwick, PA
While technically a PA company, Wise enjoys an especially devoted following in New York, where it's successfully infiltrated just about every deli -- and even a baseball team.
North Fork Chips
Mattituck, NY
Wise might have the Mets, but if you want an authentic NY chip with the mayoral seal of approval, you need to go with Long Island's North Fork, which Ed Koch famously enjoyed. The chips were on his "favorite snacks" list, which is apparently something mayors have.
Mid-Atlantic
Utz
Hanover, PA
Despite its PA roots, Utz has a devoted cult following in nearby Maryland. So much so that a local jeweler married Salie Utz off to Mr. Boh in a diamond ad.
Snyder's of Hanover
Hanover, PA
Although Snyder's is mainly known for its pretzels, the company makes potato chips, too. Also worth consideration: its part in the Snyder's-Lance corp, which owns many of the chipmakers in this guide. (Hey again, Jays.)
Herr's
Nottingham, PA
Herr's hits several regional tastes with its Old Bay and Kansas City steak varieties, and even markets to those weirdos in Canada with its ketchup chips.
Death Rain Chips
Highlands, NJ
The New Jersey spice fanatics behind Blair's Death Sauce also make a line of Death Rain Chips with varying heat levels indicated by a cartoon thermometer on the bag.
Mister Bee
Parkersburg, WV
West Virginians have been hoarding Mister Bee's since 1951. It's the only chip company in the state and, despite a brief flirtation with bankruptcy in 2011, it's back and better than ever.
Route 11
Mount Jackson, VA
This is a VA company, so of course it has a Chesapeake crab flavor. But it's also got sweet potato chips, a habanero-BBQ blend called Mama Zuma's Revenge, and, for soulless sodium-phobics, a "no salt" option. You can watch them prepare all of these at the Mount Jackson factory -- there are "free fry viewings" throughout the week.
Charles Chips
Wall Township, NJ
Snack enthusiasts with a weakness for nostalgia can surely tell you about Charles Chips. The company began life in Lancaster, PA in 1942, quickly spread across the East Coast, nearly conquered the country, but then essentially disappeared until 2011, when it was formally relaunched. It's now based in Jersey, so the Mid-Atlantic thread remains intact.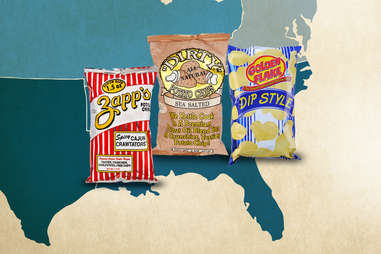 Southeast
Zapp's
Gramercy, LA
Any discussion of chips in the Southeast begins with Zapp's. The Louisiana brand was one of the first on the spicy chip scene -- as the branding for the Spicy Cajun Crawtators reads, "Zapp's was the first Cajun-flavored anything and is still our #1 seller!" Not that they're resting on their Crawtator laurels. Since launching that star-making flavor into the stratosphere, Zapp's has made a whole slew of interesting flavors, including Cajun Dill Gator-Taters and even a (now deceased) Key lime pie.
"Dirty" Potato Chips
Gramercy, LA
Another noteworthy player is "Dirty," a Tennessee company Zapp's acquired in the '90s that's been gaining ground along the East Coast. For those unfamiliar, rest assured: the quotation marks are there for a reason. The chips aren't caked in grime, they're just wiped of preservatives and MSG.
Golden Flake
Birmingham, AL
Golden Flake has held Alabama's hearts/stomachs since 1923, when Mose Lischkoff and Frank Mosher started cooking potatoes in a basement. They were later bought out by their own "Golden Flake Girl" spokesmodel, Helen Friedman, who married Mosher, divorced him, got the company, and grew sales to nearly $1 million. She eventually sold it in 1946, because, in case you somehow missed it, Helen was a very shrewd businesswoman.
Brother Kane
Atlanta, GA
On the official site, Brother Kane describes himself as simply "an old-fashioned guy with old-fashioned ideas." But those ideas include crinkle-cut baby back ribs chips, so old-fashioned works for us.
Kristin Hunt is a Food/Drink staff writer for Thrillist, and will be loyal to Utz 'til her dying day. Follow her to Salie's hang-out at @kristin_hunt.