Photography: Stephanie Gonot, Styling: Amy Taylor
Photography: Stephanie Gonot, Styling: Amy Taylor
Paid Content For

12 Regional Snack Foods That Help Define America
Paid Content For

Thrillist and Chobani have launched a content series devoted to our shared belief that food can unite us, inspire us and even occasionally change the world. The story below celebrates the transcendence of regional snacks into something close to folklore. This belief is part of why Chobani created its Flip® varieties -- creamy, crunchy combinations of yogurt and natural mix-ins, inspired by America's favorite desserts and snacks. Enjoy.
Moon Pies -- Tennessee/The South
The Folklore: Ask any Southerner if they've ever had a Moon Pie and an RC, and they'll either start salivating -- or tell you that they prefer their Moon Pies with a Nehi. The s'more-like sandwich that has graced soda shops, gas stations, and pantries for exactly 100 years has a literally deep origin story. In 1917, traveling Chattanooga Bakery salesman Earl Mitchell Sr. visited some Kentucky coal miners, who told him they wanted a snack "as big as the moon" and covered in chocolate. Mitchell actualized their dream and sold it for 5 cents each in company stores. The RC Cola was also just 5 cents, and a 10-cent match made in lunch break heaven was born.
The Fandom: The Moon Pie may not be a main course anymore, but the devotion's still strong. Just look at Mobile, Alabama, where they drop a 600lb Moon Pie from the RSA Trustmark Building every New Year's Eve. The city spends more than half the year getting the stunt ready, with some RSA employees working logistics year round. To Mobile's residents, the Moon Pie is more than just a snack, it embodies town: "It's warm and inviting, and makes you feel good," one RSA employee told a local news station.
The icon's also enshrined in University of Mississippi's Encyclopedia of Southern Culture, right between mint and moonshine. Here's how Bill Ferris, the director of Ole Miss's Center for the Study of Southern Culture, described them on their 75th anniversary: "It was part of the ritual of being around people who cared about you and being sheltered from the elements, regardless of winter or summer, and being around people you cared about. And the Moon Pie was the bread you broke during the ritual."
Hushpuppies-- The Carolinas/The South
The Folklore: There are at least four different legends about how this deep-fried mix of cornmeal batter became pan-Southern soul food, showing up everywhere from Cajun dishes, to plates of collards & fried chicken, to fish fries and coastal seafood shacks. The most commonly repeated is that hunters (or Confederate soldiers) would toss a bit of fried cornbread to quiet their dogs -- hence the name. In another version, it's escaped slaves navigating the Underground Railroad. Another still dates back to the 1720s, when French Ursuline nuns came to New Orleans, borrowed cornmeal from Native Americans, and fried it into "croquettes de maise."
But the last, and probably most likely, is that they are an adaption of Red Horse Bread. According to Southern food writer Robert Moss, Red Horse Bread was a side dish served in post-war South Carolina by African American fish shack operator "Romy" Govans. Red Horse was the name of a specific variety of area catfish.
The Fandom: Hushpuppies have spread west, too. Lufkin, Texas has been home to the Southern Hushpuppy Championship since 1972. The Food Network "All-American Food Festival" sees around 25 teams throwing everything from creole seasoning to crab meat into their recipes as they vie for $1,000.
Oh, and those shoes? Yes, they are named after the snack: apparently their creator was nibbling on some hushpuppies when he heard their origin story. He decided to name the shoe after the snack, because both would "quiet your barking dogs."
"Yo, what's dis New York fat twisty thing doin' in a Philly park on a pedestal?"
The Soft Pretzel -- Philadelphia
The Folklore: You don't have to wait in an hour-long Pat's or Geno's line to get a true taste of Philadelphia. Just walk over to the Center City Pretzel Company for a hot treat that's been made fresh right in the city (or just outside it, near Lancaster and York County) for more than 100 years. While some form of the pretzel has been around for 1,300 years, Julius Sturgis opened the first commercial pretzel bakery in America in 1861, right in Lititz, PA. It's said that Sturgis adapted a recipe that a hobo gave to him in return for a warm meal. However, it's more likely that Southern German and Swiss German immigrants, who eventually became the Pennsylvania Dutch, brought soft pretzels over as early as 1710.
The Fandom: Philadelphians take pretzel fandom as seriously as they take sports (and cheesesteaks), consuming 12 times as many pretzels as the average American. Onetime Philly Mayor Ed Rendell declared April 26 "National Pretzel Day," and there's an entire park in the Manayunk neighborhood dedicated to the snack. Unfortunately, Pretzel Park's nine-foot-high silver pretzel sculpture had to be made in the shape of the New York pretzel (more rounded than oval) to be able to stand. The locals didn't seem to mind, and even compared it to the Rocky Statue, but the Philadelphia Inquirer did run an article headlined: "Yo, what's dis New York fat twisty thing doin' in a Philly park on a pedestal?"
Fried Cheese Curds -- Wisconsin
The Folklore: Frying cheese is a practice that goes back to 1393, when a recipe for fried muenster appeared in the French household etiquette handbook, Le Ménagier de Paris. While the very first person to perfect Wisconsin's cheddar take on crispy cheese morsels is unknown, the Monroe Morning Optimist Club has sold them at the annual Greene County Cheese Days Festival since the '70s. Pro tip: the freshest curds have a characteristic squeak when you bite into them.
The Fandom: Cheeseheads eat almost 7,000 pounds of fried curds annually at just ONE festival (the aforementioned Greene County Cheese Days). But that doesn't mean everyone is on board: In 2011, when a vegan group put up a billboard right outside Lambeau Field that said: "Warning: Cheese can sack your health" Wisconsinites practically revolted. A rebuttal op-ed in The Wisconsin State Journal declared that "Cheese never killed anyone, so there" and went on to point out that a cheesehead hat had actually saved a local man's life when he held it up to his face when his plane hit a tree and cartwheeled down the runway. So… there?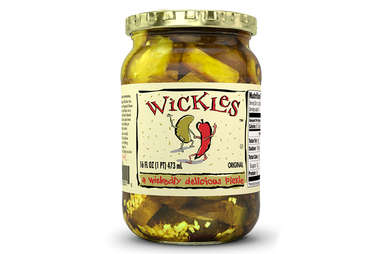 Wickles Pickles -- Alabama
The Folklore: For almost a century before the "artisan" pickle phenomenon, brothers Trey and Will Sims' family had been making homemade pickles. The recipe consisted of semi-sweet pickles with a spicy kick that were so addicting, they rarely lasted past initial greetings at gatherings. Upon overhearing their cousin's grandmother, Dana Ferniany, fret at a Halloween party that she couldn't keep up with the demand from friends and family, the Sim's brothers realized they had a potentially booming business on their hands.
In 1998, they bought the recipe from Ferniany, Trey quit his job selling stocks in Atlanta, and they had Ferniany coach them on pickle prep. Their first marketing move was brilliant: they brought jars to resort towns, so that when vacationers returned home, they would start demanding the pickles at local grocery stores. The plan worked, and the Sims brothers, along with a third partner, Andy Anderson, launched Sims Foods Inc., now the largest independent pickle producer in the country.
The Fandom: Wickles is short for "wickedly delicious pickles" -- and from their Dadeville base they've bewitched much of the South. Farmers markets, specialty-grocers, and even some big box stores ensure at least some presence in all 50 states; where there's no availability, miracle seekers have even resorted to advertising in local newspapers' "Lost & Found" sections. Wickles also have their own celebrity following: from Rachael Ray to superstar Charleston chef Sean Brock. (He likes to put their relish on his burgers.)
Saltwater Taffy -- The Jersey Shore
The Folklore: So one day in 1884, the tide rolls into an Atlantic City boardwalk shop, marinating the shopkeeper's taffy in seawater. He then gets the idea to market "saltwater taffy." Maybe a little girl comes into the shop looking to buy taffy, and he jokes that it's all "saltwater" taffy now. It's all apocryphal, but two real shop owners -- David Bradley and John Ross Edmiston -- have been pinned to the story. At that time, AC was billed as a health resort, so both linked their "saltwater taffy" to ocean breeze health benefits (salt and water -- plus sugar, corn syrup and butter -- are the ingredients, but there's no actual seawater used). Edmiston left the business a year later, and his store was taken over by John Fralinger -- a confectioner whose name still graces Jersey Shore candy shops from AC to Cape May. Decades later, Edmiston took a $500,000,000 trademark lawsuit all the way to the Supreme Court, where his claim was methodically pulled apart.
The Fandom: Every Jersey Shore lover can tell you exactly which beach is their favorite (Wildwood, obviously) and where to get your saltwater taffy (James Candy Company!). Boardwalk kids still press their noses against glass to watch pulling machines stretch the globs, add flavors and colors, and then wrap 500 pieces in a minute. A group of fifth-graders petitioned the Jersey legislature to make saltwater taffy the Official State Candy in 2014. The state assembly introduced and passed the measure, but in a story fitting for Jersey politics, the bill got tied up in a senate committee before it could reach the governor's desk. In Ocean City, August sculpting competitions see people molding taffy Ferris wheels, birds, and eyeglasses. Basically, no Shore vacation is complete without a pocket full of the stuff, so if you're aren't willing to shell out the 25 cents for a piece, do everyone a favor and stay home. (Seriously, the traffic is terrible.)
Kolache -- Texas
The Folklore: In the mid-1800s, Central European immigrants settled into central and south-central Texas. At one point, that area had over 200 Czech-dominant communities, who started making kolaches for church breakfasts. The sweet dinner rolls were stuffed with fruits, jams, and cheeses (and later, sausages). In 1952, the Village Bakery opened in West, Texas -- it was the first business to sell kolaches to the public, according to Edible Austin. From there, dozens of other Czech bakeries popped up all over the state, most providentially in the true homes for legit Texas cuisine, rest stops, and gas stations, some open 24hrs -- allowing the thoughtful to bring a baker's dozen home from road trips and spread the love miles beyond kolache storefronts.
The Fandom: There's actually a "Kolache Trail" -- an unofficial, bakery-laden route that runs through historic downtown West and hitting other nearby stops in Central Texas. West itself is home to at least four kolache bakeries, and the annual WestFest has celebrated the Czech pastry with a bake off and eating contest since 1975. The Texas State Legislature gave West the very creative title of "Home of the Official Kolache of the Texas State Legislature."
Palmetto Cheese -- South Carolina
The Folklore: Pimento cheese, that mix of cheddar, mayo, pimentos, and peppers known as "the caviar of the South," has been around since the 1900s. Some food historians hold that the basic recipe most likely migrated down from the Northern states, but that's not important right now, because we're not talking pimento generally, we're talking Palmetto specifically. (Yes, the brand's name is almost the exact same name as the cheese. Except it's not. We'll get to that.)
Sassy Henry, a woman with easily the most enviable name in snack history, would take her version of pimento cheese to Atlanta Braves tailgates, and always came home with an empty bowl. So, when she and her husband, Brian, bought the Sea View Inn in South Carolina, they started offering her cheese as an appetizer (with a few extra touches thrown in by the Sea View's cook Vertrella Brown). It was ordered so much that they took the cheese to market in 2005, and the "Pimento Cheese with Soul" was born.
The Fandom: Palmetto has taken the South by storm, most dominantly in South Carolina's Low Country. The company didn't do any mass marketing, but Sassy and Brian did motivate their fans to call local grocery stores and beg them to start carrying. Apparently, the push is working: that Comic Sans label can be found in 6,000 stores in 35 states. The uptick in sales came on so fast that they were nervous their manufacturing company wouldn't keep up with demand.
The kicker? The name comes from one of the brand's first fans: he complimented Sassy on her "palmetto" cheese at one of those early gatherings. Either it was a mistake, or his mouth was full, but either way it stuck.
"You know he's a local boy if he's eating Spam Musubi."
Spam Musubi -- Hawaii
The Folklore: To Hawaiians, Spam's cherished stature dates back to World War II, when it was rationed out to soldiers stationed on the islands. Locals would also use rations to stock up on the spoil-proof product -- detached from the mainland, food was particularly scarce, so a can of Spam meant food on the table.
Says Hawaiian Chef Mark "Gooch" Noguchi: "Yes, it is a canned meat product that can last forever and it has a bad reputation everywhere else in the world, but to the people of Hawaii, Spam meant precious nourishment in a time of uncertainty and chaos. Thus, they prepared it with an immense amount of love."
These days, Hawaiians go through around 6,000,000 cans annually, and the most common vessel for consumption is the Spam musubi. Reminiscent of a sushi roll, a slice of Spam is typically fried with a bit of teriyaki seasoning, then placed over rice, and wrapped with a bit of nori.
The snack, nicknamed "Hawaiian Steak," is said to have been created by Japanese immigrant Barbara Funamura, who started selling it out of her shop, Joni-Hana, in the 1980s. The first iteration, according to her husband, was triangle-shaped to differentiate the dish from their other popular menu item, the rice-and-chorizo "musuburrito."
The Fandom: From Joni-Hana, the snack spread all over Hawaii, from 7-Elevens to high-end restaurants. Of the 25,000 people attending Waikiki's annual Spam Jam festival, at least half are willing to dress their own children up like Spam musubi on the regular. When then President-Elect Obama was observed taking down two on a public golf course in '08, reporters for dozens of publications used it as evidence that he'd retained his Hawaiian roots. "You know he's a local boy if he's eating Spam Musubi," the course's GM, Peter K. Yamashita, told Time magazine.
Garrett Popcorn -- Chicago
The Folklore: People have been lining up in Chicago's streets for Garrett since its first shop opened in 1949, but the mom-and-pop business turned international corporation actually began a few years before that.
In 1935, the Garrett family in Wisconsin thought they would have a family cook off (pop off?) to determine who could make the best caramel popcorn recipe. One recipe stood out, and it's the one they still use today in their CaramelCrisp flavor. They also perfected their CheeseCorn flavor, and started selling both on 10 W Madison -- with the whole family manning the shop. But their signature "Garrett Mix" wasn't unleashed until 1977, and it's a complete fan creation. It came about after employees started noticing customers buying two bags, one caramel, one cheese, and mixing the two together.
The Fandom: When you ask a Windy City expat what they miss most, the smell of a Garrett Popcorn shop (and the feel of orange cheese dust film on their hands) is normally in the top three. Kathy Griffin says she likes to get a "breakfast popcorn ball" in the morning before the lines start coming. It's one of Oprah's favorite foods. Obama's staffers told the Chicago Tribune he kept a bunch of it in the White House. And, when The Tribune asked its readers to name the "8 Wonders of Chicago," of course they nominated the 12 Garrett Popcorn shops around the city. At Chi's 2014 Mac and Cheese Festival, the chef who took home the "Golden Noodle" made a "Garrett Mix" inspired dish: cheddar mac and cheese, layered with corn bread, salted caramel, and spicy onions.
Juanita's Tortilla Chips -- Oregon
The Folklore: If you ever wondered what the American Dream tastes like, open a bag of Juanita's Tortilla Chips. Juana Dominguez came to Hood River, Oregon with her husband and 15 children in 1953. At the time, they were one of three Mexican families in the city. The family briefly moved to California in the 1960s, where Juana found herself working in a tortilla factory. There, they churned out pricey, frozen tortillas that Juana said tasted too much like lime. So, with almost no money, the family moved back to Hood River, rented a room in the city's Heights District, and started working to create "a good tortilla" by hand. That was in 1977.
In the beginning, every two months, the family would make a 12-hour drive to Madera, California to buy sixty 50lb bags of masa -- the most they could fit in their van. Today, they make 300,000 bags of tortilla chips a year. And the masa? It's bought by the truckload and brought back to the Hood River factory Juanita's operates out of today.
The Fandom: At 40 years old, the cult following the chips have amassed on the West Coast is astounding. A local Fox affiliate stopped a weather segment to discuss whether or not the chips had gotten larger. (They had, actually, a Juanita's spokesperson called in to confirm.) In the Willamette Weekly, they are frequently referred to as "crack chips." On Reddit, there are threads where they discuss uses for bottom-of-the-bag chip fragments -- some people put them in omelettes, others just mix them into salsa and eat the mixture with a spoon. (Don't judge.)
Apparently, it's contagious: Sitka, Alaska started carrying the chips in local grocery stores just a few years ago, and already the town goes through 19,000 bags a year. Sitka's population: 8,800.
It's-It Ice Cream - San Francisco
The Folklore: It's-It has been around longer than the Golden Gate Bridge, and to Bay Area natives it's nearly as iconic. It's-It was the realization of Playland-at-the-Beach amusement park owner George Whitney's quest to make the perfect ice cream treat. History (or close enough) has it that when he took vanilla ice cream, placed it between two oatmeal cookies, and hand dipped the sandwich in chocolate, he shouted "It's it!" as he took a bite, instantly naming the legend.
For decades, seekers would have to head to his pie shop. But the amusement park was demolished in 1972, and the It's-It was purchased by George Marvos, who owned a small business near the original Playland site. The demand for the ice cream, however, reached a fever pitch. Marvos couldn't keep up, so he sold to businessman Charles Shamieh. Just two years later, Shamieh started producing the It's-It sandwiches on a mass scale.
The Fandom: It's-It spends absolutely nothing on marketing, but still manages to sell 14 million ice cream sandwiches annually. For old-timers, the snack brings them back to the smell of the ocean, sliding down the longest indoor slide at the Fun House, and eating an It's-It at the end of the day. And those who never experienced Playland are introduced to It's-It by the sixth grade; the company delivers their product to 85% of the public schools in Northern California. They've also spread all over the West Coast, added five additional flavors (including green tea and pumpkin) -- but the original vanilla is… well, It's It.