Things Only Chefs Notice in Restaurants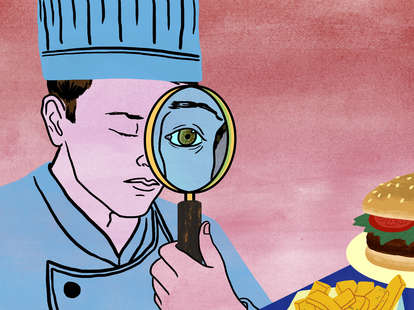 When movie directors watch films, they're not looking at the same things you are. They're paying attention to how the shots are framed, editing, and the quality of the special effects when the Transformers try to kill Mark Wahlberg. All important features of any movie! Chefs walk into restaurants and see different things than the rest of us do, too.
Chefs don't just look at the menu or their server -- they pay attention to the little things that you and I might miss. Like light bulbs, how fast they're being served, and even the dang plates the food is served on. Read on, and maybe you'll pick up on these things next time you're in a restaurant.
Light bulbs
"I think the hardest thing to do is turn your 'work brain' off so you can just be a guest in someone else's restaurant. The first thing I always notice is if there are light bulbs that need to be changed out. You know you're having a great time when none of your own restaurant alarms go off and you're able to just be a guest." -- Renee Erickson, The Walrus and the Carpenter (Seattle, WA)
Pace of service
"It may sound odd, but I'm not the biggest fan of long, drawn-out tasting menus that go for three to four hours. I like to eat quick, so pace is always something I notice. I've seen everything that could possibly go wrong in a restaurant go wrong. I'm actually pretty low-maintenance in a dinner setting -- I understand everything the team around me is going through to create their experience." -- Gregory Gourdet, Departure (Denver, CO & Portland, OR)
Water
"I always notice water. Either I'd like water to be easily accessible if it's a quick-service spot, or I'd like it available from my server at the table. Nothing worse than being thirsty without water, and then being at the mercy of catching the eye of the server to get more." -- Josh Kulp, Honey Butter Fried Chicken (Chicago, IL)
Bathrooms
"If it's a hole-in-the-wall sort of place, the bathroom should be Lysol-clean. If it's an expensive place, it should be insane. It should smell like my fancy friend's parents' powder room. Cool decor and mirrors are added bonuses. I also like to peek in the kitchens when I can. Clean floors, busy-looking staff -- that kind of thing is important. There are tons of great restaurants that are under $15 for a meal that have all these things. There are also lots of expensive restaurants that don't." -- Emily Seaman, Dizengoff NYC (New York, NY)
Enthusiasm
"When I go out to eat, I look for enthusiasm and confidence. You can feel it almost the second you walk into a place, so when I see confident and excited people working, I generally know I'm in for a good time." -- Michael Scelfo, Alden & Harlow (Cambridge, MA)
Stressed-out staffers
"I intentionally take a seat facing a wall so I don't spend the whole experience trying to ascertain why a person is in the weeds. Are they being inefficient? Is there something going on with the kitchen that's slowing things down?" -- Andrew Graves, Terra & Vine (Evanston, IL)
Smell
"If it doesn't smell like food, it means they're cooking in bags too much." -- Tandy Wilson, City House (Nashville, TN)
Clean floors
"I always notice the floor. I know, I know. You'd think it would be the food and service, which are two things I definitely notice, too. But it's always the floor (and the stuff that is on it) that pulls my attention. I'm talking food, scraps of paper, bottle caps, mud, bags, crayons, etc. There's going to be a steady stream of debris on the floor -- it's the nature of food service. But I'm always watching to see if anyone notices it and cleans it up." -- Christine Cikowski, Sunday Dinner Club (Chicago, IL)
That super-special part of a chicken
"One thing I absolutely love is a really good chicken dish at a restaurant, whether it be a whole roasted chicken, or a half grilled chicken. If they take the chicken off the carcass, I always notice if they include the oyster muscle when they fabricate. If a kitchen takes the time to make sure the oyster (aka tiny pieces of dark meat aside a chicken's backbone) is included, you can bet they take care of a lot of other little details as well." -- Justin Yu, Oxheart (Houston, TX)
Plates
"My wife and I always peek under cool-looking plates to see who makes them. Most times we can guess pretty accurately from the glaze, thickness, and style." -- Chad Brauze, The Living Room at Park Hyatt New York (New York, NY)
Sign up here for our daily Thrillist email, and get your fix of the best in food/drink/fun.
Lee Breslouer is a senior writer for Thrillist, and will start to notice all this stuff now. Follow him to secrets of the universe: @LeeBreslouer.