Meet the Restaurateur Waging War on Yelpers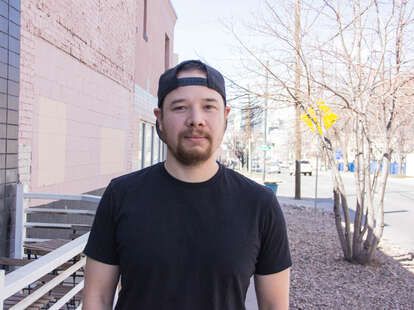 Yelp is where America goes to celebrate the restaurants they love and trash the ones they hate, because everyone needs to read a 5,000-word screed on why a local McDonald's has bad service. But in an age where every Yelp reviewer has a megaphone to shout their complaints about restaurants to the world, one owner is fighting back when he feels he's been bullied. The customer isn't always right, and we spoke to the owner of Denver's best new breakfast spot of 2015, Onefold, about his unique counterattack.
Man vs. Yelp
Earlier this week, Eater Denver ran a story highlighting the entertaining ways Onefold co-owner Mark Nery has replied to people who've given his year-old, 38-seat breakfast and lunch spot bad reviews. The whole thing is worth a read, but suffice it to say he's not apologizing if they felt they had a bad experience. He goes after them. Hard.
Here's his response to a long Yelp review slamming Onefold's food:
"You can review our restaurant but I can't review your writing? You do write with a prose that reminds me of a high school valedictorian that try's way too hard to sound intelligent. However that's my opinion just like your opinion of our congee. To be fair I would like to review your visit as well, I won't make it as long and boring as yours. Creepy guy walks in, creeps out workers and customers. Asked for wifi password ducked behind computer, other customer walked up complained that you may be watching PORN confronted you and verified told you to turn off, you tell me how important of a food critic you are and write a bad review after you demolished all of the food I gave you. Verified with other restaurant friends of mine how creepy you were on your visits to their establishments and how you requested special treatment because you are a 'food critic'."
And when he responds to a woman who had a good experience the first time and not a good one the second:
"You didn't like our food the second time, thats cool... We make everything from scratch so of course we will have some inconsistency. The uncool part was how you acted towards our staff who were more than accommodating to you, they happily refunded the drinks you didn't like and listened to all of your complaints and tried to make it better. However after all that you didn't even leave a tip, its not their fault you didn't like the food. So if your were thinking that you 'might give us another shot' do us favor and not."
When a Yelper says she won't be recommending her friends:
"...not recommending this place to your friends is a purely hypothetical situation. First you will probably need friends then second you will have to be likable enough for them to visit you in Denver. I hope we can survive without your theoretical friends visiting our establishment."
Nery does admit, however, that he's sometimes privately engaged with Yelp reviewers who had a bad experience and tried to make it right. He's refunded people's bill if they had a bad experience that he felt was legitimate. "I made [my responses] private because I'm not trying to be the nice guy on Yelp," he says. "Part of it was when I first got in the business, I'd read other restaurant's responses to assholes who would just say the meanest shit. It's just a restaurant. If you don't like it, don't go back. And then [restaurant owners would] come back and write a lengthy apology. Fuck those people. Why would you do that?" It's because of money, Mark! Money!

Whiny Yelp reviews are "a waste of time"
"Sure, reviews can be good for small businesses if they're highly rated," he says. But for people who complain about the food or service? "It doesn't do anything," he says. "I think it's a waste of time. People read the bad reviews only because it's kind of funny to read what people's image of their position in the universe is. Like [the restaurant] was built for them. I know a lot of vegetarians are happy with this place, but I think most of them just say, 'I'll just go someplace else.' I'm not going to write a horrible review of a place and expect you to read it and change your whole concept."
"I think Yelp users think they're the guy who can make or break a business. And it's not true at all," he says.
Since the Eater story came out, he's been trashed on Yelp (you don't say!), celebrated on Facebook by fans, and gotten plenty of kudos from people in the service industry. "They work in restaurants and deal with these [types of] people all the time. It's fun. I didn't think people [who post negative reviews] would recommend us to their friends anyways, so why not have fun with it?"
Losing business is not a concern
Unlike restaurant owners who quickly try to resolve complaints on Yelp in order to keep their ratings up, Nery's not afraid of the backlash. "Hopefully for every one of those people who think, 'Fuck this guy, I'm not going to go there,' I'll gain someone who thinks, 'This guy's funny. Someone needs to stand up to these types of people.' Hopefully it's a good balance." After he finished that sentence, a patron interrupted us to tell him how good the food was. Balance achieved!
"I go to restaurants, and I get shit service," he says. "I just don't go back. I don't have a vendetta against them."

Complaining in person is a better move
"Back in the day, if you had a problem in a restaurant, if they got your order wrong [or something], you'd just go to the manager," he says. "Now, people go on these rants online, no one reads it, no one cares, and you don't get your money refunded."
That's not entirely true, as he's refunded people himself! Strangely, however, he says that "no one's ever come up to us and said, 'Can I talk to the manager or the owner?' Not once."
So here's his modest proposal: instead of posting an angry Yelp review whilst sitting on the toilet about an awful experience you had at a restaurant, just speak to a manager in-person. They'll probably make it right. The other option is for people to continue to post Yelp reviews like, "The servers are ugly and rude, the restaurant smells like a garbage dump, and the food succcckkkkkssssss!!!!!" Or just never go there again.
But why talk to a real live person when you could passive-aggressively shit on them online? Where the hell's the fun in that?!
But if you have bad things to say about Onefold online, don't expect a response from Nery. He says he's done replying to bad Yelp reviews.
Sign up here for our daily Thrillist email, and get your fix of the best in food/drink/fun.
Lee Breslouer is a senior writer for Thrillist, and enjoys Onefold's breakfast tacos. Follow him to face-to-face conversation: @LeeBreslouer.