How Your Favorite Restaurant Went From Hotspot to Failure
iStock / Jennifer Bui/Thrillist
Like man's evolution from ape, a restaurant's journey from concept to opening night to impossible-to-snag reservation always comes with growing pains. But with a lot of flavor and a little luck, a savvy restaurateur can navigate the industry's troubled waters to operate the hottest seat in town. And then lose it all just as quickly. This is the inevitable evolutionary arch of a great, hyped restaurant.
Drew Swantak/Thrillist
Rumors
Johnny Hotchef has an idea. Over craft cocktails in a dimly lit steampunk saloon, he mentions it to a service industry friend, who plays the telephone game with it around town until every foodie is sure that the next Hotchef concept is going to be a fusion ramen taqueria in a just-gentrifying neighborhood.
 
The first blog mention
The rumors have crystallized into a quick 50 words announcing that Mr. Hotchef is expecting a savory child, but hasn't yet chosen a name. He is also moving away from ramen and more interested in udon, but don't hold him to it.
 
Splash page and social media buildout
Hotchef is so busy tip-toeing through permitting that a real website is the last priority, but he seems to have plenty of time to spam people's newsfeeds with photos of interior construction.
 
Opening date announced
Perhaps via that splash page, a due date is projected. Generally it's marked by a season (spring 20never) to give a little wiggle-room.
 
Opening date delayed
Spring becomes summer, summer becomes fall, fall becomes winter. Nothing opens when projected. And that wishful splash page is never updated.
 
Media preview
To help get the word out, "influencers" are given a free meal. They're sworn not to tweet about it just yet, which makes them all the more excited to tweet about it once they're let out of their cages.
 
Friends and family night
Sometimes combined with media night, the friends and family preview gives the staff a forgiving environment to work out the kinks, before opening their doors for real and spending three more months working out the kinks.
 
Soft opening
Initial rumblings from the media preview have been let out of the bag, the friends and family have told their friends and family, and trend-hopping foodies descend on the fresh meat.
 
First impressions
The Yelp reviews roll in, trigger-happy bloggers fire off opinions, and a buzz begins to grow.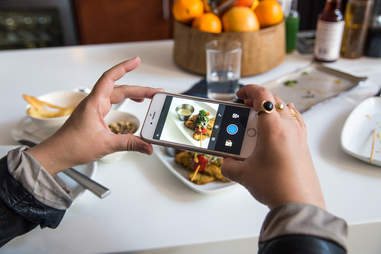 Dan Gentile/Thrillist
The hype
If all has gone to plan, this is when a restaurant's star begins to rise. Hipsters flock like moths to a flame, well-composed and tastefully filtered photos flood Instagram, and one specific dish captivates everyone's attention. It's either simple like biscuits or ultra complicated like eight different preparations of young goat.
 
Grand opening
Party time. The insiders now have to rub elbows with the neighborhood crowd, the floodgates are officially open, and it's no longer just a cool kids party.
 
The anti-hype
The allure of newness has worn off and thus the hipster-to-normie ratio has fallen dramatically. A restaurant with a similar concept that Hotchef's hotspot eclipsed in buzz now seems like a much better option.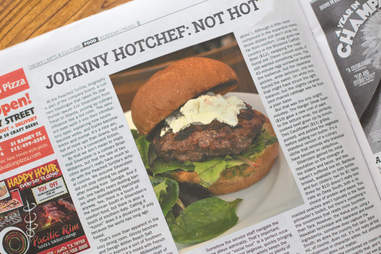 Shutterstock / Ruth Tobias/Jennifer Bui/Thrillist
Newspaper review that makes or breaks it
Word of mouth and initial Internet rumblings build up the steam, but the first review in the alt-weekly or daily newspaper is the real test.
Dan Gentile/Thrillist
Start of brunch service
Whether it's to recycle unused ingredients, or just make a play for the weekend crowd, brunch is bound to attract at least 35 different people.
 
Public disaster
The beginning of the end. There's a kitchen fire, a car that crashes into the exterior, a flood, or a crazed employee trashing the interior. One of these is bound to happen, and it's the harbinger of more bad luck.
 
The new chef
Johnny Hotchef is growing restless. His backers are at odds with his contemporary fusion flair and think that his udon noodle tacos are just confusing people. Months of arguing over the menu culminate in Hotchef abandoning his concept. The sous chef takes charge, and tries his best to right the ship.
Dan Gentile/Thrillist
Desperate happy hour
The bloggerati have a new reason to hop on their old favorite: you can order the entire bar menu for $12.
 
The rebrand
The problem with the bar menu wasn't the price. After the new chef wasn't able to salvage the noodle taco concept, the owners are on their last straw, but the lease is far from through. Rather than fully abandon ship, they rebrand, ditching the Asian tacos for a New American bistro with an affordable wine list and farm-to-market flair.
 
Rinse and repeat
New staff, updated decor, a second media/friends/fam press blitz. At the opening this time around, the hype is drowned out by the anti-hype. The bloggers will still hop on board, but the newspaper reviewers will be doubly skeptical. With a lot of luck, the restaurant is able to turn it around and endear itself to a cast of regulars and become a fixture in the neighborhood. If not, Johnny Hotchef's dream location will shutter and have a newly designed splash page up before you know it.
Dan Gentile is a staff writer on Thrillist's National Food and Drink team. His favorite part of the restaurant lifecycle is the desperate happy hour. Follow him to $12 everything at @Dannosphere.