The Chain Restaurants Open for Brunch on Easter Sunday
Not that I would compare my mom to Jesus, but there was a point in my life where she would wake up early to hide our Easter baskets, attend morning mass, come home, then proceed to cook a full ham brunch for our entire family -- which, if I do say so myself, is a time-crunching, labor-intensive feat comparable with rising from the dead.
This Easter -- whether you celebrate the religious way by attending church, or the pagan way by worshipping a giant bunny -- you might want to cut you and your saintly mother (or whoever bears the responsibility of Easter cooking in your household) a little seasonal slack by schlepping the family to one of these fine chain restaurants instead. They are open. Some have Easter specials. And all of them will surely welcome you with open arms and stocked kitchens.
After all, nothing says "He is Risen!" like a steaming plate of baby back ribs and a round of spicy margaritas.
Bob Evans
Bob Evans is like that friendly uncle you really love, but only see during holidays. You know he's always there, waiting for you to visit. And you also know that his fridge is always stocked with an alarming amount of ham. Except in this case, you have to pay for it. Sorry. Bob needs to make ends meet, too.
Do they have ham?: Obviously! Bob is offering an Easter Farmhouse Feast menu (to go, or stay) featuring ham, turkey, and enough sides (think corn, green beans, stuffing) to make your new pastel-accented springtime khakis burst at the seams.
 
Boston Market
The poultry-centric chain formerly known as Boston Chicken is ditching birds and embracing pigs this spring to make sure that anyone in the market (hehe) for a fast casual, ready-made dinner is satisfied. They'll be open all day on Easter Sunday. Good for them!
Do they have ham?: They do. And, Boston Market is even offering a specialty ham meal (to stay or go), on Easter Sunday. They'll even slice your ham for you, if you really want to embrace that hedonistic, ham-centric lifestyle your parents always warned you about.
Cole Saladino/Thrillist
Buffalo Wild Wings
There will be no football on this particular Sunday -- but B-Dubz will still be fully operational. So if you're feeling frisky, you can just ask your bartender to switch all 14,000 TVs in the building to Sunday Vatican Mass. They probably won't get mad. Probably.
Do they have ham?: We tried every single wing flavor, and not a single one was "ham." Though, I feel like Asian Zing might be the closest.
 
Chili's
My favorite Instagram account's favorite casual Tex-Mex chain is open and fully operational all Sunday long. Rejoice. Joy to the world. And so forth.
Do they have ham?: No, not in the traditional sense. But they do have a ton of baby back ribs. Which, if you squint your eyes, kind of look like ham strips. And they are just as delicious.
Cracker Barrel
Have you ever wanted to enjoy Easter like your ancestors, kicked back on an artisanal rocking chair on the porch, perhaps whittling away at a stick, with not a care in the world? Well, Easter Brunch at Cracker Barrel is kind of like that... except, you know... you're at Cracker Barrel.
Do they have ham?: Are these quaint, handcrafted peg games annoying as hell? Of course Cracker Barrel has ham! They even offer a full Easter dinner to-go with sweet potato rolls, mashed potatoes, and a gallon of iced tea. So, you can pretend like you actually made the meal yourself. And just happened to find some iced tea, too.
 
Denny's
America's national diner is naturally open on Easter... as they are open literally every hour of every day of the year. They are the ol' reliable of chain restaurants. So why not reward their years of free-wheeling generosity with your hard-earned cash? Tis the season of giving. Actually, no it's not. But still. It would be nice of you.
Do they have ham?: They certainly do, a la carte. But also -- because bacon is still pig -- you can probably just eat a lot of bacon and still consider yourself to be fully ingrained in holiday spirit.
IHOP
The International House of Pancakes never closes its doors, so obviously they are open on Easter Sunday -- and ready to cater to all your pancake-slurping needs.
Do they have ham?:They 100% do. And even though they don't have an "official" Easter meal, you can just add that slice of ham to any IHOP offering to make your own special brunch, dinner, lunch, linner, or breakfast. Ham and pancakes go pretty well together. Just saying.
Honeybaked Ham
Easter is more like Christmas for this ham-focused chain, as nearly everyone who needs a quick, cooked ham looks to Honeybaked first. You can get a full, half, or even quarter ham, depending on how many ham-hungry mouths you need to feed. Our advice: always go for the full ham. Think of all the sandwich possibilities on Monday. They also have extended hours on Friday and Saturday in some locations, just in case of ham emergencies. Consider this your one-stop shop for all your ham needs.
Do they have ham?: ... what do you think?
McCormick and Schmick's
This upscale seafood and steak chain is fully buying into the Easter Festivities with a specially prepared Easter brunch. Which is nice, because they really didn't have to do anything at all. While reservations aren't required, they are strongly encouraged. So we also strongly encourage you to put your name down, too. Lest you miss out and have to eat saltines and butter again, like last year.
Do they have ham?: No. Just steak and seafood. But feel free to also pick up a ham on your drive home!
 
Morton's Steakhouse
If you take your Easter brunches with a side of old-school class (and potentially a few glasses of whiskey), you might want to opt for brunch at Morton's Steakhouse. What better way to celebrate the dawn of spring than stuffing your arteries full of satisfying meat juices?
Do they have ham?: No. It's not called Morton Hamhouse, right? But they do have a steak and lobster special for $63 per person during the holiday, which is a divine miracle in itself.
Shoney's
The popular Southern-cooking casual chain is going all-in this Easter with a fresh food bar, packed with Easter-centric favorites like sliced ham, fresh smoked turkey, and sides like beans and mashed potatoes. They also have non-traditional Easter foods like fried chicken... which is really an "anytime" meal, so we'll allow it.
Do they have ham?: Sliced ham is an integral part of their Easter fresh food bar. So yes, they have ham.
 
Texas Roadhouse
Though it sounds like the type of place a Patrick Swayze might run into a bunch of rough and tumble grifters (all with hearts of gold, of course) Texas Roadhouse is actually a family-friendly steakhouse with locations all over the country. Some select restaurants are even hosting Easter Egg hunts for the little ones. Or the big ones who lack shame.
Do they have ham?: No. But you can just start calling steak "cow ham," if you want.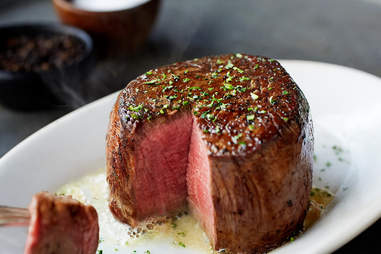 Courtesy of Ruth's Chris
Ruth's Chris Steakhouse
This upscale steak chain is so ready and willing to have you over for Easter Brunch, some locations are even going to be open early to accommodate your post-church (or no-church) plans. They are even offering their iconic surf and turf for just $49 on Sunday. Jesus may have fed the masses with just a few fish and some bread, and Ruth's Chris is kind of doing the same thing! But with more steak. And more fish. And you'll have tablecloths and place settings. Actually, it's not very similar at all.
Do they have ham?: No... but surf and turf? And wine? It's a worthy trade-off.
 
Waffle House
For a true no-frills, homey diner experience, the Waffle House should be an obvious and more than acceptable choice for Easter brunch. While I cannot prove this (and all the historians I tried to ask hung up on me), I truly believe if Waffle House had been around in 32 AD, Jesus and his apostles would have hit it up for a late night Last Supper. Who knows how different history would have been?
Do they have ham?: They have "city ham" and "country ham." Truly the best of both worlds. Waffle House is a blessing.  
Sign up here for our daily Thrillist email and subscribe here for our YouTube channel to get your fix of the best in food/drink/fun.
Wil Fulton is a staff writer for Thrillist. If you told him he could only eat one food for the rest of his life, he'd be frightened and confused. Follow him: @wilfulton.