10 Restaurants Taking Farm-to-Table to a Different Level
Courtesy of Cooper's Hawk Winery and Restaurants
Where: Florida, Illinois, Indiana, Missouri, Ohio, Virginia and Wisconsin
Fresh Specialty: They make everything on their wine list.
If you don't think Illinois screams "wine country", think again. Prairie State-based Cooper's Hawk Winery might not be growing grapes in their own backyard, but the country's most successful restaurant-winery chain does make their own vino there -- and plenty of it. The multi-million dollar outfit is considered the country's fifth largest winery outside of California, and produces around 600,000 gallons of wine each year, mostly from grapes grown in California, Washington, Oregon, and other American wine regions (think New York and Michigan). Their most popular wine is the Cabernet Sauvignon, sourced from California grapes and made in Illinois (yes, Illinois!), where winemaker Rob Warren oversees the winemaking production for their whopping two dozen restaurants. We'll drink to that.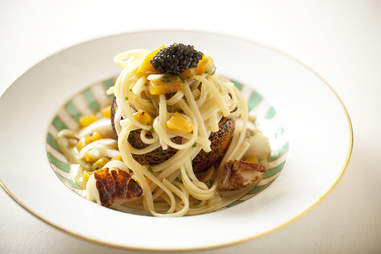 Steve Legato/Courtesy of Vetri Family Restaurants
Where: Philadelphia, PA
Fresh Specialty: These guys make their own pasta… and pasta flour.
Chef Marc Vetri, one of the country's top Italian chefs and the man behind many vaunted Philly restaurants (Vetri Ristorante, Pizzeria Vetri, and more), takes the fresh philosophy to an extreme. With the guidance of wheat expert Dr. Stephen Jones, Vetri spent years experimenting with heirloom grains (varieties that were first domesticated many moons ago) in the service making the very best, most delicious and wholesome pasta. He even installed a grain mill at his restaurant Vetri, where head miller, Claire McWilliams, oversees production of flour, made from mostly local Pennsylvania grain. That means pasta gets made from flour that's a couple days old, tops. A few other flour-based items, like biscotti, go straight from whole grain to the finished product in just a few hours. Now that's one fresh cookie.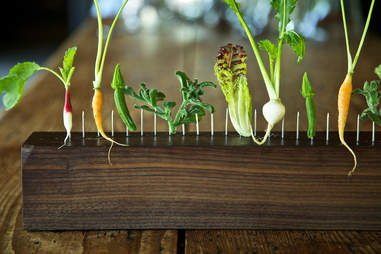 Andre Baronowski
Where: Pocantico Hills, NY
Fresh Specialty: They consciously plant soil-enriching crops.
Making yet another list about fresh, local cooking is James Beard award-winning chef Dan Barber of Blue Hill and Blue Hill Stone Barns. There are about a million reasons we could have featured him in this article -- like the fact that he sources everything from his own farms and that his famed restaurants have no menu, but instead a "Grazing, Rooting, Pecking" offering that brings you a variety of plates straight from the farm. But his biggest innovation in the realm of freshness was going directly back to the source: the soil. Barber wanted his plate to paint the whole picture of what makes a farm thrive, and that's when he started incorporating more "soil-building crops" -- barley, millet, buckwheat, which enrich the soil and build a foundation for growing the more sought-after crops -- into dishes like his "rotation risotto," made with soil-enriching grains.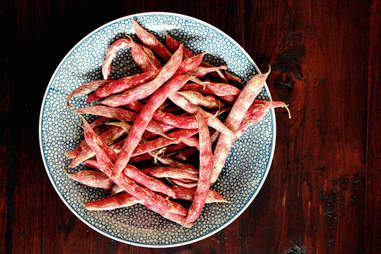 <a href="https://www.flickr.com/photos/stijnnieuwendijk/318652578/" rel="nofollow" target="_blank">Stijn Nieuwendijk/Flickr</a>
Where: Portland, OR
Fresh Specialty: Bespoke beans!
Are there types of produce you're dying to cook that don't grow in your neck of the woods? Ask a farmer to grow it for you! That's what chef Cathy Whims did when she tasted a type of cranberry bean called borlotti lamon while on her first trip to Venice, named for the town where it's grown and typically used in pasta e fagioli. As soon as she got back home she hit up her friend, farmer Anthony Boutard of Ayers Creek Farm in Gaston, Oregon, about this rich and creamy revelation. It turns out cranberry beans are native to the Americas, and the beans from Italy took well to the conditions on Boutard's 144-acre farm. Ten years later, Boutard sells the bean at local farmer's markets, and Whims is still serving Ayers Creek Farm borlotti lamon on her menu, saying they get better each year.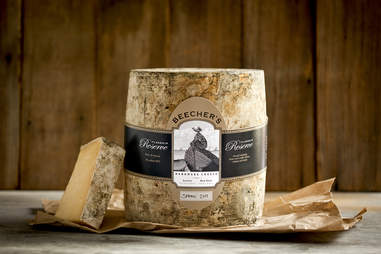 Rina Jordan/Courtesy of Beecher's Handmade Cheese
Where: Seattle & New York City
Fresh Specialty: Homemade cheese as fresh as you can get.
Yes, you CAN have your fresh cheese curds and eat your poutine, too. That's because Beecher's Handmade Cheese makes their very own cheese curds right in their stores (along with other award-winning dairy) from local milk sourced from cattle that haven't been given antibiotics and growth hormones. Both locations also serve delicious eats made from said cheese, like those glorified disco fries from up north.
Courtesy of Olympia Provisions
Where: Portland, OR
Fresh Specialty: Salami, man.
Salumi king Elias Cairo learned from the best -- his first education came from his native Greek dad who taught him old world skills like butchering whole animals. Now he makes all kinds of charcuterie, from fresh brats to franks to smoked chorizo, to other European classics he picked up while staging (interning in the food world) in Switzerland. All are made using local, antibiotic-free meat and traditional curing methods that encourage salt, meat and bacteria to take their time and do their thing. Though you can try this at home, you can also get your fill at one of Olympia Provisions' restaurants, where meat boards are served alongside some finely composed dishes.
Courtesy of Jockey Hollow
Where: Morristown, NJ
Fresh Specialty: Oysters sourced from their own Oyster farm.
In a landmarked New Jersey mansion, restaurateur Chris Cannon is offering decadent eats. Among the caviar and Alaskan king crab on the raw bar menu at Jockey Hollow Bar & Kitchen are the meaty Virginia oysters grown in nearby Mantoloking, on a farm that Cannon partly owns. Word has it he invested in Forty North Farm after the disaster that was Hurricane Sandy, and now the restaurant is reaping the rewards with its super local, ultra fresh seafood.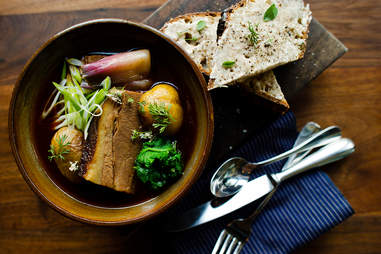 Chad Robertson/Courtesy of Bar Tartine
Where: San Francisco, CA
Why it's fresh: Their greens are sourced from just one farm that grows only what this particular restaurant needs.
If you want to take a relationship to the next level, try being exclusive. That's what Nick Balla and Cortney Burns of Bar Tartine in San Francisco did when they started to only use produce grown at Full Table Farms in Yountville, CA. The cozy partnership has encouraged all kinds of experimentation (that's what you get when you're seeing someone long-term, right?). Farm owners Mindy Blodgett and Juston Enos plant unusual ingredients by request, such as green walnuts, which get fermented and served in salads at Bar Tartine, and a special pepper breed destined for the restaurant's house-made paprika.
Adam Creech/Courtesy of Harvest Louisville
Where: Louisville, KY
Fresh Specialty: The restaurateur is a farmer.
"Full-time farmer and part-time restaurant owner" Ivor Chodkowski keeps his pantry stocked with stuff he grows. If it's a veggie or a grain or even a bean (half of his Field Day Farm is devoted to them), chances are he grew it. If he didn't, it came from a farm within a 100mi radius of the restaurant. And Chodkowski not only provides for chefs; his farm is also part of the Food Literacy Project, a local initiative that shares farm-to-table experiences with local kids (for instance, Chodkowski and Harvest chef Patrick Roney welcome young farm volunteers to participate in produce prep at the restaurant). The project is cool enough that a certain royal couple named Camilla and Charles requested a tour on a recent Stateside visit.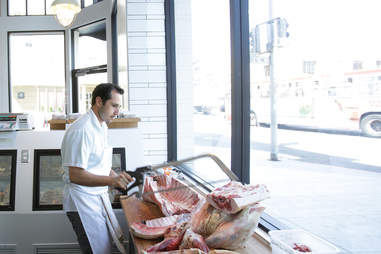 Clay McLachlan/Courtesy of Belcampo Meat Co
Where: Los Angeles, Marin, Palo Alto, Santa Monica, West Hollywood
Fresh Specialty: They're a farm, a processing plant, a butcher shop, and a restaurant.
If you want to know where your food came from, this is your place. Run by CEO Anya Fernald, the people behind Belcampo make sure your burger, bacon, or steak was bred by Belcampo, raised by Belcampo, slaughtered and butchered by Belcampo, and cured and cooked by them too. The animals are humanely raised, of course, and there's an emphasis on heritage breeds -- the traditional livestock used before industrial-era farming. Accountability at its meatiest.