Food & Drink
Sponsored by

5 Restaurants That Are Revamping Classic Food in Bold New Ways
Sponsored by

Every so often you hear a song that sounds both brand new and like it came from another era. It's somehow got novelty and timelessness, hand-in-hand -- and more often than not, it ends up being a hit. Restaurants sometimes do this, too, taking a classic culinary style and updating it for the current era, adding modern touches and techniques to traditional cuisine to create something new and delightful. We found a fistful of such places around the country, starting with Cafe La Trova in Miami (the subject of our updated-classics video), which echoes 1950s Cuba in its vibrant cocktail program and inspired riffs on Cuban fare. We're also shining a light on a Mexican restaurant where they use masa, an ancient ingredient, alongside modern, locally sourced touches; an Upstate New York diner that is unlike -- and somehow also still very much like -- any diner you've ever eaten in; and a Miami spot taking traditional Southern food to tasty new places, to name a few. Whichever of these restaurants you choose to visit, you're guaranteed to find the old and the new combining in ingenious, delicious fashion. 
Phoenicia, New York
Formerly a scenery builder for theater and television in Manhattan, Mike Cioffi ditched the big city in 2011 to try his hand in the restaurant biz upstate. "I was looking for my next adventure -- my family calls it a midlife crisis," Cioffi says with a chuckle. "Usually it's a Harley Davidson, but mine was a diner." That diner, currently set in the bucolic Catskill Mountains, actually began its life in Garden City, Long Island, in 1962. It was disassembled in the early 1980s and moved to its current location on Route 28, where Cioffi happened to stop in one day and inquire about buying the place. Turned out the owners were very much ready to sell. Within a week, Cioffi was the "proud owner of a 1962 diner. I'm born in 1962, as well, so it all made sense," he says. Today, the place is a wildly popular destination restaurant, and Cioffi honors its 57-year legacy with all-day breakfast and items you'd expect in a diner -- and then tweaks it with others you wouldn't, like bourbon milkshakes, locally-smoked trout, and avocado toast. And that formica you see in the lovingly restored bar area? That's not a phony "retro" touch. It's the genuine article, emblematic of how The Phoenicia has retained loads of vintage charm while being pleasingly modernized.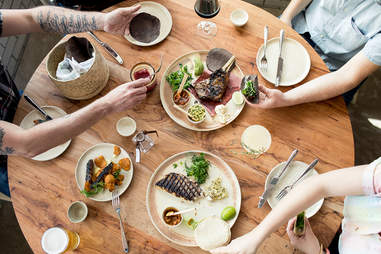 Andrew Reiner
Austin, Texas
There's classic cooking technique, and then there's ancient cooking technique. Masa, the dough often described as the backbone of Mexican cooking, dates to the country's pre-Hispanic period. At Suerte in East Austin, they make their own masa everyday, and it shows up all over the menu -- in tortillas housing confit brisket tacos; in paper-thin blue corn tostadas; and in tlacoyos stuffed with pork belly carnitas. Executive Chef Fermín Núñez and owner Sam Hellman-Mass have combined age-old Mexican culinary techniques with contemporary Texas influences to create a restaurant whose "first language is English, but is fluent in Spanish," as Núñez puts it. A prime example of their approach is their mole. "We make mole inspired by how people make mole in Mexico, especially in Oaxaca," Núñez says. "But it's all driven with ingredients that are within arm's reach. We don't put plantains in our mole, because plantains are not grown in Austin. Instead we use peaches when they're available, we use apples when they're available." The made-to-order, masa-based tortillas they make at Suerte hew close to tradition, but "what we put on top of them, it'll be our take on what a taco can be," he says. One taste of their wood-fire-cooked redfish taco with bacon-and-tomato salsa veracruzana, and you'll be all in with Suerte's idea of what a taco can be.
Courtesy of Hometown BBQ
Brooklyn, New York
Back in the day, there was a TV commercial for a brand of salsa that claimed its chief competitor's product was made in New York City. To which the salsa lovers in the ad responded, "New York City?!" The very concept was appalling, and that was for salsa. Imagine the response when you tell barbecue lovers -- an even more orthodox group -- that some of the most top-notch 'cue in the nation is being made in… Brooklyn. But it's true: Billy Durney, a self-described "Brooklyn street kid," became fascinated with barbecue a few years back, so he went on a pilgrimage to learn the craft. He apprenticed at the legendary Louie Mueller in Taylor, Texas, acquiring virtuosic skills in the ways of brisket, pulled pork, and beef ribs. Having gained a serious handle on the classics, Durney started pushing the envelope to "manipulate the flavors after the meat comes off the fire, and represent the multi-ethnic cultures of Brooklyn," he has said. The result is Hometown's Brooklyn-style barbecue (that's right), a compelling new spin on tradition that features all the classic components -- including a sensational brisket and fall-off-the-bone Texas-style ribs -- alongside Caribbean jerk baby back ribs, fried Korean sticky ribs, Oaxacan chicken, Vietnamese wings, and lamb belly banh mi.
Grove Bay Hospitality Group
Miami, Florida 
Founded by Top Chef alums Janine Booth and Jeff McInnis, Root & Bone is a "tribute" to Southern cooking that takes classics like fried chicken and ribs and spins them into elevated riffs such as barbecue bruléed spare ribs and sweet tea-brined fried chicken. After launching in New York City, the duo turned to Grove Bay Hospitality Group to open a larger restaurant in Miami that emulates the homey, welcoming decor of the original but adds high ceilings and a beautiful bar. The menu, according to Booth, "is very approachable. We have lots of classic items such as deviled eggs, shrimp & grits, and short rib meatloaf, but it's the unique techniques we use and flavors we produce that set us apart." Those deviled eggs, for example, are pickled in beets and topped with pickled roots and chips, while the meatloaf consists of braised and pulled short rib that's pressed into bricks and seared, then topped with house-made tomato jam. There's also a decadent brunch burger with pork belly, egg, and pimento cheese. "Pair it with a Bloody Mary and you have, in my opinion, the best meal ever," Booth says. And we'd be remiss not to mention Grandma Daisy's Angel Biscuits with honey chicken jus. Because it wouldn't be Southern cuisine, updated or not, without biscuits.
Acharuli Kchachapuri
Portland, Oregon
When's the last time you savored the unique flavors and traditions of classic Georgian cuisine? Mind you, that's Georgian, as in Republic of -- not The Peach State. At Portland's Kargi Gogo, owners Sean Fredericks and McKinze Cook have attracted national attention for their authentic and interpretive takes on Georgian food, which they first encountered during a Peace Corps stint in the former Soviet republic from 2010 to 2012. They focus primarily on khinkali (Georgian dumplings), khachapuri (stuffed breads, usually with cheese), and a few salads and sides, while offering the largest selection of Georgian wines on the West Coast (Georgia has an 8,000-year-old winemaking tradition). To keep their dishes authentic, Fredericks says, "we go to great lengths to import spices directly from Georgia, specifically a special type of coriander seed, blue fenugreek, and crushed dried marigolds." They also remix classic Georgian flavors and ingredients. "Our current potato khinkali dumpling is stuffed with potatoes, garlic, and smoked sulguni -- a traditional Georgian cheese," he says. "Then we make a sauce of pumpkin, roasted garlic, caramelized onions, and cream. Finally, we roast sliced leeks with sunflower oil and adjika -- a spicy and salty traditional Georgian condiment -- and put a pile of them in the middle of the dish. These are all ingredients you might find in Georgia, but combined in a way that isn't traditional."