Restaurants That Want to Throw You a Dinner Party
Capture the intimate essence of a small gathering—sans the post-meal cleanup.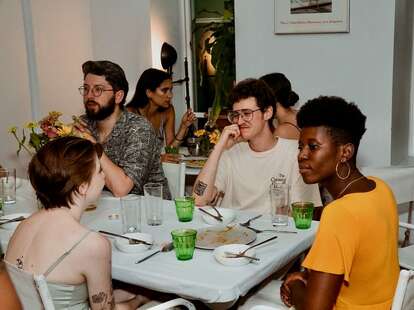 Roaming restaurant series Hera

| Photo by Savannah Lauren
Roaming restaurant series Hera

| Photo by Savannah Lauren
Welcome to Thrillist 50, your guide to fun and adventure in 2023. Think of it as your comprehensive roadmap for checking out exciting events and new attractions coming over the next 12 months, going on bucket-list trips, reconnecting with yourself and your community, expanding your mind, and of course, experiencing the flavors we're most excited about this year. There are so many reasons to live like there's no tomorrow. Start here.
My most treasured memories have taken place at a dinner table. Whether I was cramped in my grandmother's tiny dining room amongst plates of falafel and loud relatives, or lounging in a living room with my best friends and a pizza, these moments were, in the words of Lebanese poet Kahlil Gibran, an act of worship and love. Regardless of the circumstances, we are together, feasting in harmony and taking our time, because we know it is precious. This is the essence of a dinner party—what we try to capture and recreate at intimate gatherings with food and drink.
"Eating together is something we shouldn't take for granted just because it's something we do so casually every day. We should slow down and celebrate it," says Ayo Balogun, the chef behind Nigerian restaurant Dept of Culture in Brooklyn.
At Dept of Culture, everyone eats the same thing, at the same time. Seated on picnic benches around a large, wooden communal table, guests listen to Balogun introduce the dishes he treasured growing up in Kwara State as records spin on a vintage turntable. Surrounded by whoever you came with as well as strangers, Balogun stands before his guests and reflects on his personal connection to each dish in the four-course meal he serves as patrons drink complimentary wine and get to know each other.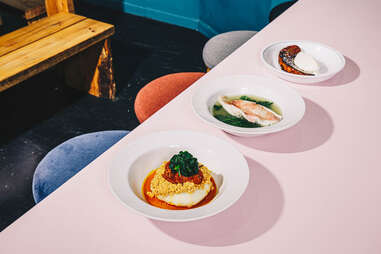 "We've had moments where we've had the whole place exchange numbers, and they get up and just go to another bar after eating. People form fast friends," Balogun says.
Dept of Culture is one of several spots channeling this inviting, homey atmosphere. Also in New York are restaurants like the aptly named Dinner Party, where the delicious food is only a mere sidekick to the roaring conversation amongst strangers, and Hera, a roaming tasting menu taking place in people's apartments.
"[For us], the communal aspect was partly out of necessity, given the close quarters we're working in," says Cami Jetta, the co-founder and owner of Dinner Party in Brooklyn, who runs the kitchen with sous chefs Joy Watts and Ryan Del Franco. "But there was also a desire to return to a more old-fashioned way of dining out—elbow-to-elbow, usually at big tables, like people would at inns or trattorias."
And the concept is becoming more and more ubiquitous across the country. At Tailor in Nashville, chef Vivek Surti wants his restaurant to feel like walking into a friend's home with the confidence of knowing you're not leaving anytime soon, a refreshing reprieve from the fast, in-and-out culture we are accustomed to when going out to eat.
"To me, a dinner party is never just a 30- or 45-minute experience. At my place, you're not out in an hour and a half. There's always some snacks on the table, and maybe we'll pop open some champagne or have our next dish with a Riesling," Surti says. "It's casual; this is something I want to share with others." This informal atmosphere is perhaps what sets these meals apart from other coursed dinner menus, which often tend toward pretension. Whereas a mysterious, electric intrigue pervades at the communal table—some love this energy, others dread it.
At Tailor, the tables are separate, but the service is still completely synchronized. Surti serves comforting dishes from his parents' native Gujarat in India. Surti doesn't want there to be any pressure on his guests—from the more laborious chores of cleaning up after the meal to something as simple as the pressure of choosing what to order. "I was talking to a guest, and she was like, 'I make so many decisions all the time. To be able to come to dinner and not have to make any decisions is like a dream,'" Surti relays.
Elsewhere, other spots likewise employ dinner party-esque elements into their establishments, encouraging celebration, conversation, and lingering. Southern hospitality and fostering connection are the pillars of Daily Gather in Houston. Spacious and adorned with sizable tables, charming interiors, and comfy seating, Daily Gather's entire ethos is to "stay awhile." Guests will even find conversation cards on their tables, with light, engaging questions.
"Even if you go to dinner or lunch or brunch with somebody that you've known for 20 years, you're going to learn something new about that person," says the restaurant's founder Aaron Lyons. "Some of the best moments in my life have been going to dinner with close friends and then looking up and realizing we're the last table left and they're mopping the floors, and we've been there for six hours. Where you just lose track of time and you just really enjoy one another."
In a fast-paced world of time limits on tables and quickly being ushered out of restaurants, there's something special about pulling up a seat, taking a breath, and eating and conversing at your leisure, no matter the company nor the circumstances.
"We eat with people we love. We eat with people we don't love. That's one of the things we share as a people," Balogun says. "It should be something special."