14 great restaurants that specialize in one perfect dish
Some restaurants stretch themselves thin by cooking up (ugh!) multiple menu items, but others achieve excellence by specializing in one thing -- and making it perfectly. With the trend of single-item restaurants spreading across the US, we decided to pull together a list of 14 paragons of particular provisions that you've gotta check out.
Now, some of these places have sides and variations of their specialties available as well, but the main attraction is where it's at. Without further ado, it's time to very selectively feast your eyes: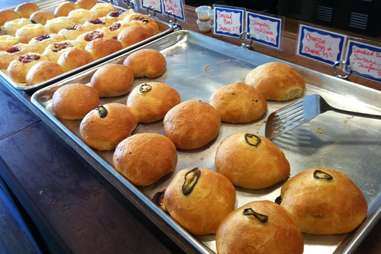 Brooklyn Kolache Co. (Brooklyn, NY)
What it's serving: Kolaches
The deal: Traditionally a Czech dough containing fruit, the humble kolache has been innovated and re-purposed by the Brooklyn Kolache Co., founded by a group of pastry brains who've decided to fill them not only with fruit, but also eggs & cheese, spicy chorizo, and a host of other sweet and savory options that rotate day-to-day. The dough is sweet and light, and a perfect complement to their hearty breakfast varieties, which keep even finicky Brooklynites coming back time and time again.
Xooro (California and beyond)
What it's serving: "Spanish fritters", aka churros
The deal: Described as "churros on steroids" by TheNew York Times, this California-based fast-dessert chain slings giant, gourmet filled churros like maple bacon, vanilla citrus, triple chocolate, and tiramisu to customers from Los Angeles to Qatar.
The Meatloaf Bakery (Chicago, IL)
What it's serving: Meatloaf cupcakes called "Loafies"
The deal: Doing crazy stuff to meatloaf that that chick in the "I'd Do Anything for Love" video never dreamed of, The Meatloaf Bakery in Chicago takes the old-hat meatloaf recipe and turns it on its ketchup-crusted head by making carefully crafted Loafies (also the name of Michael Lee Aday's children) out of bread and slices of meatloaf with a "frosting" of mashed potatoes, cheese, and/or dressing. Comfort food just got a lot hipper.
Johnny Casserole (Chicago, IL)
What it's serving: Casseroles
The deal: Casseroles, or "hot dishes" as they're known to many Midwesterners, have been a mainstay in American home cookin' (the "g" is optional) since home cookin' started bein' a thing. Now Chicagoans can get them in a restaurant setting at Johnny Casserole, which offers huge platters of shepherd's pie, jambalaya, chicken pot pie, tuna noodle, and more at their supremely homey North Center digs.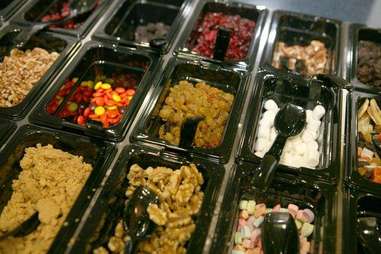 Cereality (Dallas, TX)
What it's serving: Cereal
The deal: If you've ever been a child (and who hasn't, weirdo?), you probably wanted to mix-and-match the best components of your favorite cereals into one super-mondo-cereal creation. Well, Cereality in Dallas does just that -- or rather, pajama-clad cereal-crafters take your order and mingle Cocoa Puffs with walnuts and marshmallows to make your breakfast dreams a... cereality. Sorry about that one.
Bun Bo Hue Duc Chuong (Houston, TX)
What it's serving: Bun bo Hue
The deal: If you're one of the sheltered few who haven't tried bun bo Hue (a Vietnamese beef stew that occasionally includes pig knuckles, but always includes noodles, lemongrass, and fermented shrimp sauce), one of Duc Chuong's three locations in Houston is the ideal place to start your tasting journey. They only offer up either small or large bowls of the stuff, and allow you to doctor your order up by adding spice in the form of chili oil, Sriracha, fish sauce, and a host of other no-nonsense accoutrements.
Paul's Pel'meni (Madison, WI)
What it's serving: Pelmeni
The deal: Pelmeni are small Russian dumplings that can be filled with just about anything, but this single-item greasy spoon in Wisconsin offers 'em up with either ground beef, potato, or a mix of both. They also offer you the option of getting them topped with "the works", a mix of melted butter, sweet chili sauce, minced cilantro, and some curry powder on top with sour cream on the side to make this the best treat on the bloc.
The Meatball Shop (New York, NY)
What it's serving: Meatballs
The deal: Understandably dominating the New York scene with its awesome and varied ball preparations and requisite double entendres, The Meatball Shop is pretty much the gold standard of a specialty restaurant because you can choose your own meatball adventure; they've got five types of meatballs, six sauces, and five ways -- naked (hehe), sliders, heroes, smashed sandwiches, and salads -- to enjoy any combination thereof. Plus, they've got great ice cream sandwiches & floats, too! Which don't involve meatballs, but let's face it -- The Meatball and Ice Cream Sandwich & Float Shop doesn't quite have the same definitive ring to it.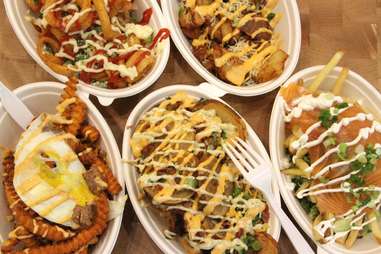 Potatopia (New York, NY; Edison, NJ)
What it's serving: Potatoes and lots of 'em
The deal: Started by a New Jersey potato-fanatic who was originally focused on making different sauces, Potatopia is a temple to all things starchy. They offer potatoes fried and baked in a variety of ways (curly, au gratin, shoestring, etc.), with enough crazy toppings -- five cheeses, 10 other vegetables, five proteins, and 14 sauces -- to send all of Ireland into a coma.
Rice to Riches (New York, NY)
What it's serving: Rice pudding
The deal: Stepping into Rice to Riches is like a journey into some futuristically-outfitted pudding heaven, with more than 22 flavors of rice-y goodness available in cups, bowls, or vats designed for two (or three... or four... or five) of your friends. Choose from French toast, cheesecake, coconut, caramel... or just get a scoop of everything in one big bowl.
S'MAC (New York, NY)
What it's serving: Macaroni & cheese
The deal: Macaroni & cheese is already one of the undisputed kings of the food world, but S'MAC in New York elevates it even further by offering 12 wildly divergent versions of the ultimate comfort, ranging from Brie & fig "Parisienne" to the hearty Gruyere & slab bacon "Alpine". They're served up in skillets ranging in size from "Nosh" to "Partay!", though the party'll end pretty quickly if you don't allow the skillet to cool.
Taquitoria (New York, NY)
What it's serving: San Diego-style taquitos
The deal: Taquitos, those crunchy, deep-fried rolled tacos of San Diegan (San Diegoan?) extraction, have been enshrined in NYC thanks to three Restaurant Marc Forgione veterans who wanted to bring the addictive street food to the East Coast. Their small, graffiti-splashed space offers a bevy of customizations (four fillings, two topping styles, and an all-topping "chronic-style" available for those who're indecisive), and is perfect for stopping by after a night out on the Lower East Side, uh... working up an appetite.
Nong's Khao Man Gai (Portland, OR)
What it's serving: Khao man gai
The deal: Don't know what khao man gai is? That's because hardly anyone else in the US makes it (or does it as well as Nong) -- it's a Thai take on a Hainanese dish consisting of poached chicken & rice with a special chili sauce, and it's incredible. Order it up with extra chopped liver and fried chicken skins (if they've got 'em) from Nong's lunch window or carts... when you get home, unwrapping the little, paper-wrapped parcel makes dinner like Christmas... complete with Yuletide classics like liver and extra skin!
Medium Rare (Washington, DC)
What it's serving: Steak frites
The deal: Choices can be pretty daunting, so this steakhouse in DC takes care of all those pesky questions and boils it down to one: "How do you like your steak?" The dinner menu is a fixed-price package ($19.75) including a perfectly cooked steak with secret sauce, French fries, bread, and a salad. That's it. Their brunch menu is a little more varied, but still keeps the focus on steak -- if you cooked it this well, wouldn't you, too?
Adam Lapetina is a food/drink staff writer at Thrillist, and his kitchen makes a pretty perfect piece of toast. Read his musings on Twitter at @adamlapetina.