Going to a restaurant or bar can be a dull affair, despite how many "wacky" buttons the waiters wear. These are eight restaurants that have started a war against boredom… and conducted it to a point beyond reason. They dropkick diners in the gut with joy.
Play League of Legends while you eat
First up, a literally legendary experience. Going out to get food severely cuts into your gulp-Taco-Bell-at-your-computer-desk-as-you-shout-at-other-online-game-players time. The minutes that you spend going over a menu and waiting for waiters to come by are precious moments that could be used establishing your League of Legends empire.
To keep your head in the game at all times, China has devised Demacia, a restaurant named after a nation in League, where servers dress up as game characters just in case you find yourself forgetting that a whole world not devoted to League of Legends is a wasted one. You can even play League there, so there's really no reason to ever leave. You could, with some minor finagling and a sleeping bag purchase, be born, live, and die in Demacia.
And if you find League to be for filthy, casual millennials, there is also a similar restaurant devoted to World of Warcraft.
Do a round of shots
If you've seen a fifth of a John Wayne movie, you're aware that drinking and gunplay very rarely combine to create anything worthwhile. Usually you're left with a lot of broken chairs and some remorseful cowboys. But Shooting Bar EA in Tokyo has fine-tuned that environment so that you can have a few beers and shoot a few cool guns without worrying about Lee Marvin drawing on you because you were lookin' at him funny. First, they moved the shooting range off to the side, so that the people who don't consider Magnum Force to be an American classic can drink in peace. Second, they only give you air guns that look a heck of a lot like real guns. Let's face it, you're shooting a round of shots in between every round of shots. The fact that there aren't any real bullets isn't a problem.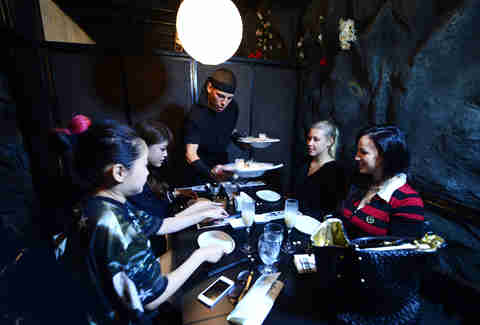 Glimpse real ultimate power in Manhattan
Is Ninja New York even a real restaurant? These are ninjas after all. You have just as much of a chance of watching the restaurant disappear in a smoke pellet cloud as you do of eating there. But there are actual reviews of the place, so people have to have eaten there before. And when they do, they find themselves under assault from the most pleasant ninjas around.
Dropping from the ceiling, sneaking up behind you, or performing magic as you feast on an Angus NY Strip Steak, you never have to worry about that awkward moment in every bad date where you realize that you only packed enough conversation to last ten minutes. Even if said date never texts you back, like Humphrey Bogart and Ingrid Bergman will "always have Paris," you guys will always have ninjas.
Sadly, nobody has spotted Daredevil there yet. Guess he doesn't go as far south as Tribeca.
Eat while the world ends
Everything seems fine when you go into the Disaster Café in Spain. Sure, naming the place "Disaster Café" is a little out of the ordinary, but when you glance at the outside of the place, which looks like someone converted a strip club into an Olive Garden and then abandoned it in 1987, "disaster" could have many meanings.
You ride down an elevator, you notice that some of the employees are dressed like a construction crew, and you get portions that are a little heavier than you're used to. Portions that would look quite dramatic if they were to… become victim to violent shaking. And then, without any kind of warning, you experience a 7.8 magnitude earthquake. Disaster Café has become extremely successful through answering the question "What would dinner be like if you ate it during a tragic natural disaster?"
Enjoy a drink and a conjuring
There are a bunch of death-themed restaurants in the world, because as soon as mankind invented fine dining, they immediately set forth trying to figure out ways to incorporate ghosts into it. But the Yurei Izakaya bar in Tokyo is a bit different. Sure, they have all the rubber bats and skulls that are required for any normal dive bar that refuses to admit that music kept going after Rob quit White Zombie, but they also have ghoulish waitresses that not only look dead, but are totally willing to tell you how they died as well.
They're also totally willing to show you potential ways to die yourself, by stuffing people in a coffin in the middle of the restaurant. Going to pee brings no respite from the madness. The bathroom is haunted by human faces that seem to have been enveloped by the wall, doomed to watch you defecate for all eternity. True horror. True awesomeness.
Suffer a plague of waiters
The Royal Dragon Restaurant in Bangkok is massive. It's 8.35 acres, which would normally lead us to assume that it would follow the Golden Corral/Mall Food Court Law of Awful Dining, where the bigger the restaurant is, the lower it drops in quality.
But despite any preferences of food, there's no denying that their waiters do their best to make sure that you never have to apathetically ask "Ugh, where's our waiter?" That's because if they're not rollerblading up to you, they're running across the water to get to you, or zip lining towards you. Even if you don't enjoy it, you've at least seen a powerful protest against the traditional use of floors.
Do another round of shots
You don't need a costume or fire to kick things up a notch (but it helps). Break out the Jose Cuervo tequila and raise a round of shots to the wild times to come, then see what happens next. With any luck, you'll have a story you'll tell years later.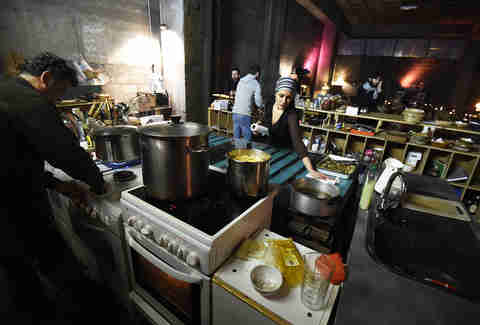 Eat literal junk food
Wasting food is an awfully rampant problem. For every red apple that you buy, there are a hundred that get thrown out because no one bought them before 9pm. At the Freegan Pony restaurant in Paris, you don't have to worry about the tons of food that get discarded because they stopped being perfectly shiny. Most of the food items are bought from a wholesale market, just before the end of their shelf life.
While this may lead you to believe that Freegan Pony serves literal garbage, the reviews are great. So you don't just get the satisfaction of helping the earth become something other than a dumpster for abandoned produce. You also get one of the best meals in Paris.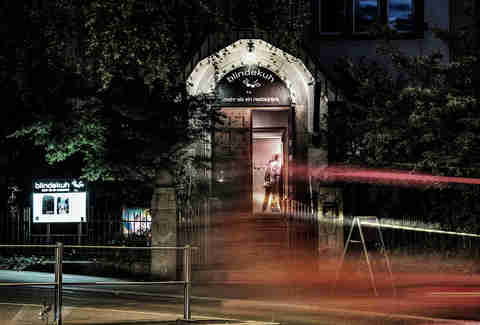 Conduct a blind taste test
At the Swiss restaurant blindekuh, all of the waiters are visually impaired. Invented by the Blind-Liecht foundation, blindekuh is part of an ongoing project to provide more job opportunities for the blind. But it doesn't stop there. If you eat at blindekuh, you'll be temporarily blinded as well, because they dine in total darkness. You can look at the menu beforehand, or be treated to a four-course dinner of the restaurant's choice. Either way, it's a far more fun and noble option than going to a normal restaurant where you see pictures in the menu, and then are disappointed with what they actually look like.

Daniel Dockery is a columnist and editor for Cracked. You can read all of his stuff at his blog. He really loves you.