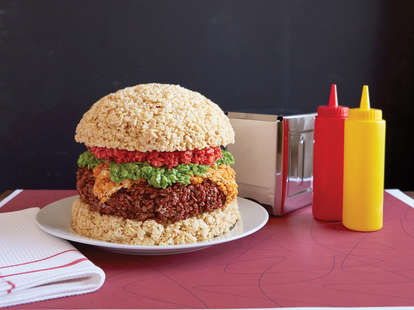 The 3-Ingredient Dessert That Will Impress Anyone
Jessica Siskin is the first to admit that she cannot cook ("like, not at all"), but that hasn't stopped her from building a small empire on a foundation of cereal, marshmallows, and butter. Siskin is the force behind the popular @mister_krisp Instagram account, a place where she demonstrates her ability to sculpt literally anything out of Rice Krispies Treats -- and we do mean anything. A quick scroll reveals everything from a portrait of Harry Potter to a wedding cake to a fidget spinner (though it doesn't quite spin). And in Treat Yourself, her new book from Workman Publishing, she will teach you how to make over 90 variations at home.
Siskin didn't set out to become a professional maker of Rice Krispies Treats. Before her current gig, she spent seven years working in fashion and feeling creatively unfulfilled. "I started doing weird art projects at night," she says. And because she can't actually cook, whenever she would have friends over for dinner, she would make the one thing she knew how to. Instead of serving the Treats in the typical rectangular form, Siskin would mold them into simple geometric shapes like stars. But her epiphany came one night after she was tasked with making a dessert for a potluck. Her friend suggested she make a surfboard out of Rice Krispie Treats for their ocean-loving host.
"When I realized you could add food coloring to Rice Krispies Treats and it could look so stunning, I got an overwhelming impulse to craft a cheeseburger," recalls Siskin. The next evening she figured out how to put one together and, naturally, Instagrammed her result. "I broke 100 likes for the first time," she says with a laugh. "I brought it to work and everyone in the office freaked out over it and loved it."
She started experimenting with Rice Krispies Treat versions of other foods (a bagel and lox, giant tacos, and s'mores), eventually gaining enough of a following (and enough orders for her Treats) to leave her fashion job and support herself while she got an MFA. Now, she runs @mister_krisp -- which she named after her favorite villain in Sister Act 2 -- full-time.
What initially drew Siskin to the world of Rice Krispies Treats is just how easy they are to make. "They look complicated but the highest number of ingredients I'll ever use is pretty much five, and that is if I'm using candy or whatever to decorate it." At the end of the day it's "basically just butter, marshmallows, and cereal," she says. As long as you melt the marshmallows around 75% (so that they are liquid-y but still hold their shape), you'll have perfect, chewy treats every time.
If you don't know where to start, just flip open to any page. According to Siskin, nearly every recipe in her book is meant for beginners (yes, even the replica of van Gogh's "Starry Night"), but she recommends starting off with the avocado or the donuts. "They are the most impressive dinner party dessert," she says. "And best of all, you don't have to turn your oven on. I literally haven't turned my oven on in five years." Get the recipe for the Rice Krispies Treat Cheeseburger below:
Rice Krispies Cheeseburger

Yield: Makes 1 cheeseburger, 8 inches in diameter and 9 inches tall
INGREDIENTS:
Equipment
Large stockpot
Parchment paper
Cheeseburger template
Cooking spray
1 C batch:
8 cups of cereal
6 cups of marshmallows
4 tablespoons of butter
1 E batch:
4 cups of cereal
3 cups of marshmallows
2 tablespoons of butter
6 drops of brown food coloring
1 H batch:
1 cup of cereal
3/4 cup of cereal
1/2 tablespoon of butter
1 drop of orange and 1 drop of yellow food coloring
1 H batch:
1 cup of cereal
3/4 cup of cereal
1/2 tablespoon of butter
3 drops of green food coloring
1 H batch:
1 cup of cereal
3/4 cup of cereal
1/2 tablespoon of butter
3 drops of red food coloring
Special Ingredients
Pearl sugar
DIRECTIONS:
1. Mix the C batch recipe: In a large stockpot, melt the butter over low heat until it's 80% melted (see photo), about 1 minute 20 seconds. Note: If the butter begins to sizzle, lower the heat. It should melt very slowly.
2. Add the mini-marshmallows and stir gently, coating them with melted butter, about 30 seconds.
3. When the marshmallows are about 80% melted (when you can still see the individual marshmallow shapes but they are beginning to run together), add the food coloring, if using. Stir for another 15 seconds and then turn off the heat.
4. Stir gently until the color is well distributed but the marshmallows are still only about 80% melted, about 35 seconds (you should still be able to identify individual pieces within the melted ones). Note: If the marshmallows melt too much, the mixture will be too hot to handle -- wait 1-2 minutes and then mold quickly!
5. Add the cereal and mix well, until the marshmallows and cereal are fully combined, about 40 seconds. Do not overmix! Once done, pour the mixture onto your work surface.
6. Pour the mixture onto the parchment-covered template on the work surface. Generously coat your hands with cooking spray. Split the mixture into two parts, in an approximately 3-to-5 ratio for the bottom and top of the bun.
7. Mold the smaller portion into a flatter circle (the bottom of the bun), and the larger portion into a rounded dome shape (the top of the bun).
8. Gently press pearl sugar into the top of the bun to look like sesame seeds.
9. Repeat steps 1-5 to make the E batch recipe and pour it onto the bottom of the bun. Mold the mixture into a patty shape that fits comfortably on the bun.
10. Repeat steps 1-5 to make the orange-yellow H batch, then press a thin layer of the mixture into a rough square for the melted cheese, as shown.
11. Repeat steps 1-5 to make the green H batch, then press a thin layer of the mixture over the cheese to make the lettuce, as shown.
12. Repeat steps 1-5 to make the red H batch, then press a thin layer of the mixture atop the lettuce to make the tomato, as shown.
13. Carefully lift the top of the bun with both hands to place it on top of the tomato.
14. Press down gently on the top bun to fuse the layers and complete the cheeseburger.
Treat Yourself!: How to Make 93 Ridiculously Fun No-Bake Crispy Rice Treats hits shelves August 8.
Sign up here for our daily Thrillist email and subscribe here for our YouTube channel to get your fix of the best in food/drink/fun.
Khushbu Shah is a Senior Food Features Editor at Thrillist and would very much like a cake made out of rice krispies right now. Follow her on Twitter.