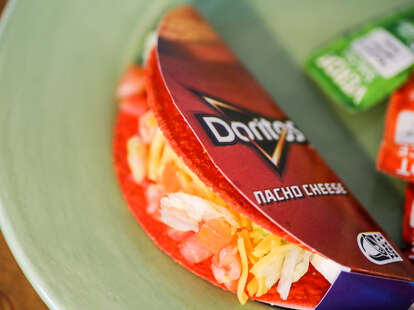 It is with heavy hearts and even heavier stomachs that we bid farewell to Todd Mills, the creator of Doritos Locos Tacos. The 41yr-old visionary passed away on Thanksgiving due to cancer, but his legacy is still very much alive in drive-thrus across America. To properly commemorate the man, you should definitely take a few minutes to check out his Facebook page that started it all, Taco Shells made from Doritos Movement.
See, Todd was just a guy with a great idea, not a Taco Bell or Doritos employee, so when Frito-Lay rejected his initial proposal for a taco with a Dorito shell, he grassrooted the whole thing through Facebook. Tapping into his Photoshop skills, Mills posted a series of hilarious pictures of movie stars, athletes, and even memes cradling a Dorito taco.
Obviously Taco Bell hit a point where they couldn't resist anymore, and called Mills up to be one of the first Doritos Locos Tacos taste testers in 2012.
After Doritos Locos Tacos finally dropped, Taco Bell made serious bank -- over $1bil this year alone. Some of Mills' friends told him to ask for a cut, but he passed. He just wanted his tacos, says one of his friends. Honor his spirit by clicking through the rest of Todd's Photoshop masterworks, preferably with one of his cheesy, crunchy babies in hand.