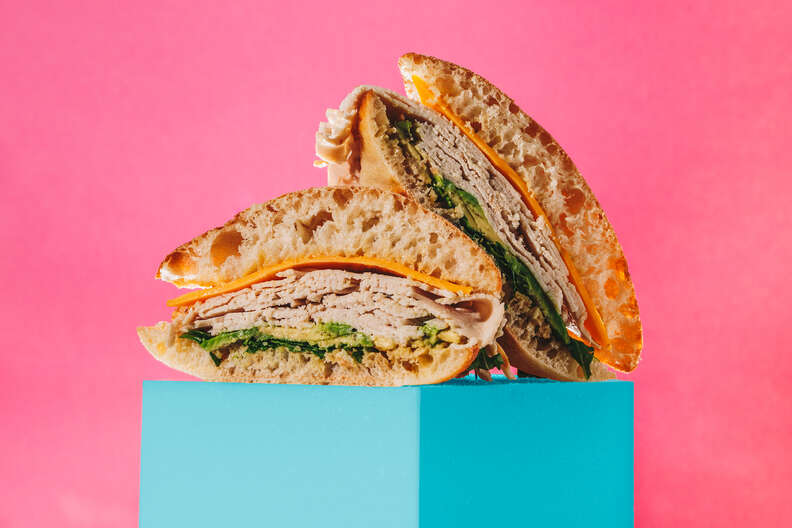 Cole Saladino/Thrillist
Cole Saladino/Thrillist
How Savvy Chefs Changed Sandwiches as We Know Them
Tommy Habetz just wanted to make a good sandwich -- something that fused his years growing up in Connecticut and his adulthood bouncing around the New York culinary scene. Nothing too fancy.
When he opened Bunk Sandwiches in 2008 with his partner Nick Wood, he didn't intend to help change the sandwich shop as we know it. He just worked with what he had. It just so happened that what he had to work with was a fine-dining background that included a stint at pre-scandal Mario Batali's flagship Pó and a turn as a star chef at Portland, Oregon's white-hot Gotham Tavern alongside fellow luminaries such as Beast's Naomi Pomeroy and Le Pigeon's Gabriel Rucker.
When Bunk first threw open its doors, Habetz said it was met with confusion, and some derision. Here was a chef with fine-dining cred, slinging sandwiches out of a hole in the wall on a slightly sketchy Portland thruway. He had gone from prix fixe menus to meatball subs. And what was this pork belly bullshit he was putting in a Cubano?
"We got a lot of backlash," Habetz recalls. "I had so many people and friends and colleagues in the restaurant industry that were like, 'OK when are you gonna go back to real cooking?'" he continues. "I even had a friend who's a food writer from New York came out, and I could see the disappointment in her face when she came into Bunk. She was just like, 'This is what you're doing?'"
The confusion was short lived. Lines began stretching down the sidewalk. Local food media gushed about the miracles wrought by chefs who made pretty much everything in house, and could tell you who made everything they didn't. Pork belly -- a key ingredient in Bunk's iconic Cubano riff -- had its David Chang moment on the west coast, gaining near-instant city-wide ubiquity. Then the national media came calling. Bunk became a sensation, a paragon of the so-called "chef-driven" sandwich.
Bunk would eventually expand to a half dozen restaurants and launch a fleet of food trucks, fitting in beautifully with the food-cart explosion that all but defined Portland's national food identity for a decade. And all the while, Habetz and Wood were just doing what they knew. "We were just using the techniques and the skills we had both learned in the kitchens that we had come from," says Habetz.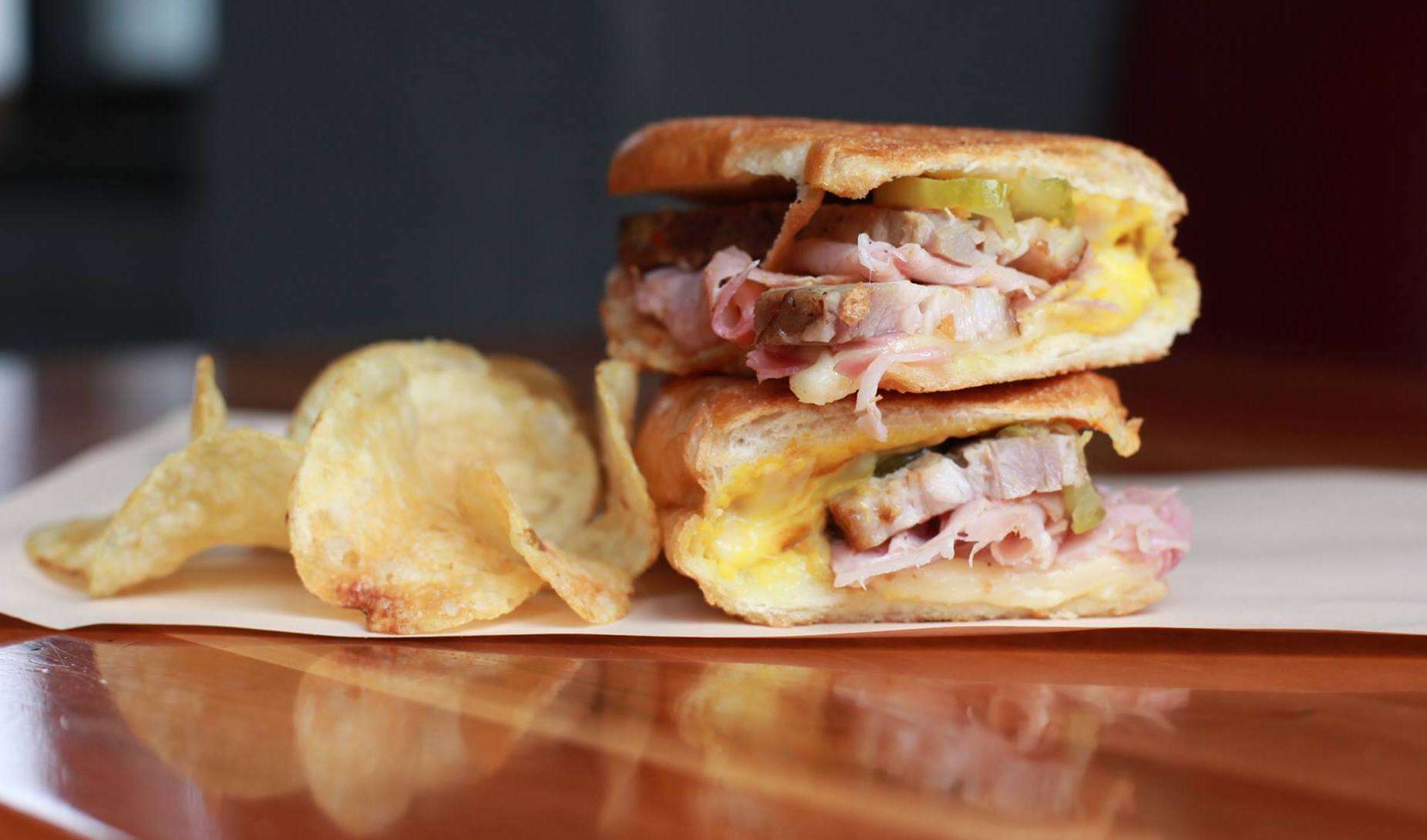 Habetz's story mirrors dozens of other chefs across the country. Some were stepping away from high-end dining to reconnect with their roots. Others were taking what they had learned in culinary metropolises back to their hometowns and repackaging it between bread.
Meanwhile, the financial crisis played its own part. Fine dining became harder to pull off with markets tanking. But sandwiches? They were cheaper to make and cheaper to buy. So it makes sense that chefs would cut costs on labor but still keep their creativity and quality from behind a counter. For consumers in the ever burgeoning food-obsessed decade, it offered a great compromise: They might not be able to afford a meal at a fancy steakhouse, but they could spring for a perfectly made steak sandwich from the new sandwich shop down the street.
Chef-run sandwich shops began to spring up across the country. In Nashville, Mitchell Delicatessen joined Bunk as 2008's sandwich standout, an instant hit selling all-natural, house-made everything. In 2010, chefs John Bates and Brandon Martin ditched Michelin-recognized kitchens to start packing chorizo and smoking duck pastrami at Austin's Noble Pig. Two years later, Publican Quality Meats became an institution in sandwich-rich Chicago. Banh mi started appearing in hipster kitchens with fancy ingredients and double-digit price tags. Food truck staples became stars at places like Hector Santiago's El Super Pan, where the Atlanta chef uses his skills from upscale Pure Vida to make impossibly layered tortas.
Last year, a New Orleans joint called Turkey and the Wolf followed up its win as Bon Appétit's best new restaurant of 2017 with a 2019 James Beard nod… on the strength of its chef's fried bologna on white bread.
We have achieved peak sandwich. And there's no sign of slowing down.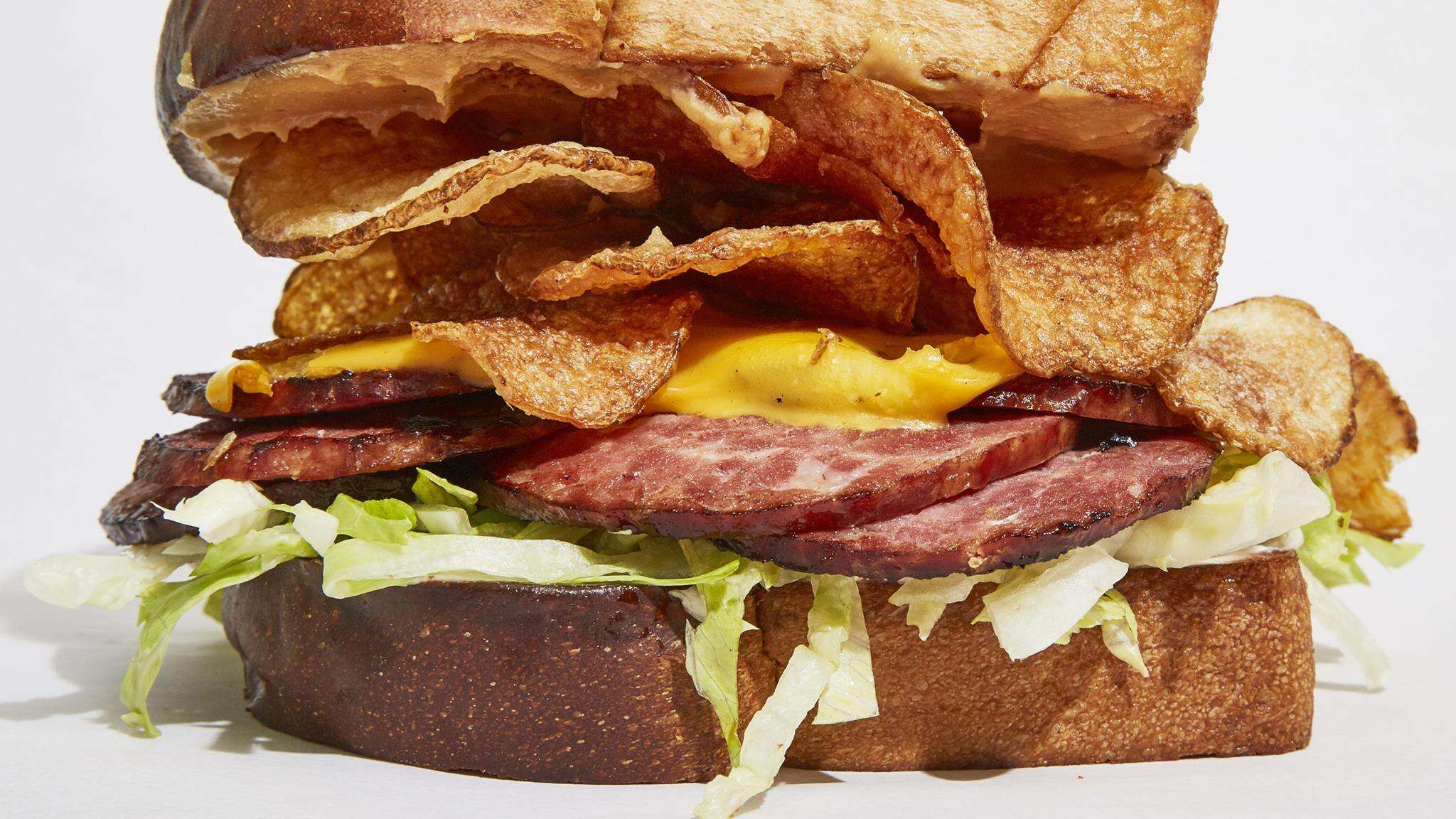 At the root of almost every chef-based sandwich shop, there's a personal story, a certain memory that was missing in the founder's life that they wanted to recreate. For Mason Hereford of Turkey and the Wolf, it was the sandwiches he grew up with in Charlottesville, Virginia.
"New Orleans has a lot of po' boys, but they didn't have a ton of sandwiches that weren't po' boys, and so that was kind of an obvious opening," says Hereford, who ended a seven-year stint at New Orleans' Coquette to start Turkey and the Wolf in 2016. "I grew up in a town that had a ton of sandwiches that I was eating pretty much all the time, but I didn't ever think about that as irregular or special. I just I noticed that I was no longer doing that when I moved here. It was a void that could be filled."
To the untrained eye, Turkey and the Wolf's menu looks like it was designed by a latchkey kid at right around 4:22, highlighted by a gloriously indulgent fried bologna sandwich with melted American and Duke's mayonnaise on white bread. But that bologna -- along with an indulgent pork shoulder served with crispy pig ear on roti and a nostalgic roasted turkey made in homage to his childhood favorite -- managed to garner the attention of Bon Appétit, whose editors declared Turkey and the Wolf the best new restaurant of 2017.
"It seemed simple at the time, but nothing is simple in our world."
But when chefs get into the sandwich-making business, a sandwich isn't just a sandwich. They obsess over each and every ingredient, which can make something as simple as mayo a time-intensive endeavor. That's something that Nancy Pugh says she had to balance at Duckfat, the Portland, Maine-based sandwich shop she opened with her husband -- French Laundry alum and 2009 James Beard Best Chef: Northeast winner Rob Evans -- back in 2005, three full years before the chef-driven sandwich movement really took off.
"It seemed simple at the time, but nothing is simple in our world," says Pugh. "Everything was from scratch. We were smoking our own meats, making our own duck gravy, making stocks for our soups, making our own mayonnaise, fermenting our own pickles. It sounds so simple when there are six ingredients in the sandwich. Then we're making all six ingredients, and there are six sandwiches… it became far more complex than we thought."
Such attention to detail seems impossible to scale, but as it became apparent that there was a vast demand for elevated sandwich shops, the mainstream followed suit. Localized chains started to spring up around the US, offering more discerning eaters alternatives to Jersey Mike's and Subway.
Southern California's Mendocino Farms has opened more than two dozen shops over 15 years based on demand for spiffed-up takes on popular sandwich styles including pork belly banh mi and a Brazilian steak sandwich on a pretzel roll. Homegrown, meanwhile, takes an au natural approach to sustainably farmed meats and vegetables, a unique fit for its growth across Washington state.
It's a trend that Dallas entrepreneur Hunter Pond seized upon. In 2012, the law school dropout with no restaurant experience took a hard right turn into sandwich culture with the launch of East Hampton Sandwich Co. It was a restaurant that did everything the chef-driven sandwich shops were: He had trending sandwiches like the lobster roll sitting next to fried chicken carb bombs. The ingredients were fresh and local. The food was photogenic. The only thing it was really missing? An actual chef. Pond had come up with the blueprints of his menu, hired pros to figure out how to effectively scale it and keep things tasty, and opened the doors to huge acclaim. He created a self-driven sandwich shop in a chef-driven era.
Now, the "fine-casual" East Hampton has nine locations across Texas and is showing no signs of stopping. It helps that it launched as social media was becoming something of a modern messenger pigeon for food nerds to spread the word. After all, in an age where you could instantly see what money was going to buy you, the proof was in the pixels.
"I think everyone is glued to their phone and glued to Instagram and constantly seeking what is best in class," Pond says. "I think that has allowed fine-casual concepts to beat the preconceived notion that $12 dollars for a sandwich is ridiculous. I think that people now say, 'Oh well, East Hampton's the best sandwich I can find within 100 miles of my house. I'd pay $15 dollars for this sandwich because it's the best.'"
But not everybody is willing to pay $15 for a sandwich, regardless the pedigree or how Instagrammable it is. Even in an era where sandwiches can comfortably sit on a magazine page next to a fine dining spread, the movement is still relatively young, and old sandwich habits die hard. For many eaters, a sandwich should never cost a certain price threshold. And for many, spending double digits on a sandwich is just a barrier they aren't willing to break.
But here's the thing: take the ingredients from Duckfat's signature Overnight Duck Confit. It's got fresh-baked bread. Duck confit that takes hours to perfect. Mayo prepared from farm-fresh eggs. House-pickled daikon. If you were to take each of those ingredients and plate them, a restaurant would be justified in charging $20-$25. At Duckfat, they're piled together for $14. And that's a hard sell for somebody who still thinks a sandwich is just a handful of things slapped between bread.
"Yes, in this town, we have always been pushing the envelope. And yes, in this town our sandwiches are probably 20% higher than others. But it felt like it was obvious why," says Pugh.
Still, it's not always obvious to the consumer. Duckfat's price point comes with a 15-year legacy behind it. But if you go all-in on a chef-based concept in a city that hasn't slowly stepped up its game, mortality rates are high. Case-in-point: Rubbed, an artisan restaurant that unleashed smoked-mushroom sandwiches and house-cured meats on a newly hip Detroit neighborhood in 2014. It was arguably the city's best sandwich shop. It lasted under 2 years. The price point was too high. But it had to be to sustain the quality. So it goes.
Not every city or market is able to sustain the idea of a $12-$20 sandwich, no matter what goes into it. And in the cities that are, saturation can take a toll. A sandwich shop is, by nature, a place that depends on repeat visitors. But often a flashy sandwich is competing with bigger, flashier sandwiches clogging fickle eaters' Insta feeds. Why would you repeatedly plunk down $12 for an artisan French dip when another chef is shilling wild boar banh mi down the road, right next door to the place with the fancy katsu sandos? The "gotta try 'em all" mentality is simply unsustainable in a big market.
"People's attention spans are decreasing and the thirst for something new is increasing," says Pond. "The only way to hold onto your customer base is to be authentic [to yourself] and maintain the same quality control that you had at the beginning."
Portland, Oregon is now a full-blown sandwich town. Since 2008, chef-based sandwich shops have popped up all over the city. Following in Bunk's footsteps, Lardo exploded onto the scene, wowing eaters with chef-crafted meat concoctions like a kimchi-kissed Korean pork shoulder and housemade mortadella. At Stacked, fine-dining vet Gabriel Pascuzzi unleashed creations like an oxtail french dip. Torta shop Guero joined Turkey and the Wolf on Bon Appétit's 2017 best new restaurants list. Chicago native Melissa McMillan made waves with the one-two punch of the Pastrami Zombie food cart and Italian beef-emporium Sammich.
Across the country, sandwiches have changed dramatically. Everywhere you look, the chef-driven craze has shown its influence. Chains like Starbucks are dropping chorizo and gouda on their grab-and-go menus. Pork belly and porchetta showed up at Arby's. Everything seems to have gotten just a little more expensive.
Bunk continues to truck along, though in the intervening years things have slowed. The Pork Belly Cubano's eased into icon status alongside Pok Pok wings as a food taken for granted by locals. The mobs have waned. An expansion to Brooklyn's Williamsburg neighborhood -- a place where Habetz's influence seems alive and well -- was short lived. Recently, he closed the original Bunk location, replacing it with the second location of his celebrated red-sauce joint Pizza Jerk. The chef who helped raise the bar of sandwiches now finds himself looking at a packed field that he himself was instrumental in setting.
"There is a certain thing about being the first persons doing something, which in some respects I do think we were," he says, with a sigh. "We weren't the first people to do sandwiches. But from a business perspective how do you stay new and relevant? I don't know. We're just trying to keep doing what we're doing and do it well.
"I'm definitely kind of sandwich weary at this point," he adds.
But the world at large? It isn't sandwich weary at all. What was once daring is now the norm. Chef-based sandwiches are still popping up. The sandwich boom continues. As things progress, specialized, chef-inspired sandwiches are just getting more granular, as with the rave-garnering katsu and egg salad specialties of LA's Konbi and David Chang's Fuku, a fried chicken sandwich concept making a national play after finding success in New York and Boston (next stop: LA).
We have achieved sandwich singularity. Fast, casual, fine, high, low -- they've all collided at the convergence of tastes, styles, and traditions. Where once a chef turning to sandwiches was thought of as radical and new, it's now the norm -- and our stomachs are better for it.
Sign up here for our daily Thrillist email, get Eatmail for more food coverage, and subscribe here for our YouTube channel to get your fix of the best in food/drink/fun.
Andy Kryza is a senior editor at Thrillist. His favorite sandwich of all time is neither cheffy nor upscale, but it's definitely personal. Follow him to steak & cheese @apkryza.