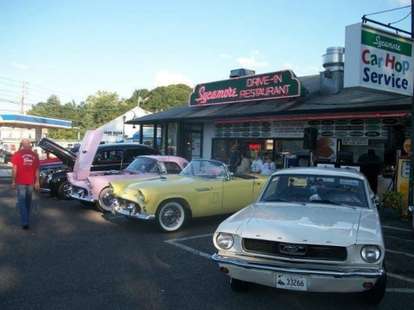 Let's face it: our styles of democracy, movies, and even burgers have all been extensively copied. But (!) because America's coming-of-age coincided with the rise of the automobile, we do have something those pesky, mass transit-loving Europeans never successfully stole: the drive-in restaurant. From the very first spot in Dallas in 1921, the drive-in has been as iconic a piece of Americana as Route 66 and Ed Begley, Jr.. So here are the best our country has to offer:
Avi's Screamers; Wickenburg, AZ
In Snatch, Avi was kinda an unsavory dude caught up in diamond smuggling. In Wickenburg, AZ, the only thing Avi's is smuggling is decades of non-frozen BBQ burgers, nacho fries, and pineapple shakes.
The Original Dick's Drive-In; Seattle, WA
Back in 1954, Dick Spady had a hard time convincing bankers that 19-cent hamburgers would sell like hotcakes, partially because they didn't yet know how hotcakes would sell, and partially because he was selling burgers for 19 cents. Nearly 60 years later, Dick's son Jim is thankful his dad didn't name him Little Dick still running his dad's successful chain of Seattle burger joints.
Classic 50's; Norman, OK
Norman, OK, is known for things like margaritas swirled with sangria, wishbone offenses, and fried pickles, and Classic 50's has been serving the latter to some of the hottest sorority girls -- along with the #3 BBQ burger -- since 1957. Amazingly, the truck on the left has been parked there almost as long.
Mac's Steak in the Rough; Albuquerque, NM
For over 50yrs, just about everyone in Albuquerque that isn't a meth-addled Breaking Bad fan has hit up Mac's Steak in the Rough for everything from taquitos and cheeseburgers, to the semi-eponymous Double Meat Rough.
Keller's Drive-In; Dallas, TX
Three reasons Keller's lays claim to the best drive-in in America: The same deliciously greasy burgers for over 50yrs? Check. A prime place for vintage car gatherings? Check. A burger place where you can still have car hops bring ice cold beer to your car? Check.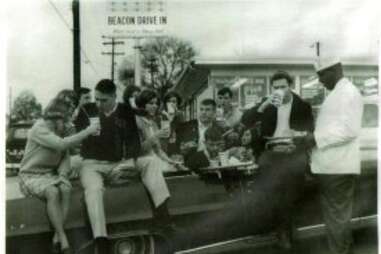 The Beacon; Spartanburg, SC
Spartanburg, SC, may be the current home to BMW's US factory, but predating that by decades is The Beacon, a place which has seen plenty of social change, muscle cars, and even helicopters, because their burgers are so well-revered locally that they had to build a friggin' helipad to handle fly-in customers.
Sycamore Drive-In; Bethel, CT
Nestled in little Bethel, CT -- hometown to P.T. Barnum and Duracell batteries -- Sycamore Drive-In's actually a pretty progressive place, having done the '50s-style thing since '48. Even more progressive: to make their onion burger, they literally roll the meat around on chopped onions to create a "special sauce".
Circus Drive-In; Jersey Shore, NJ
The Circus of Jersey Shore is about more than just trying to block Snookie and The Situation from your memory; it's about nearly 60yrs of lobster rolls, that freaky neon clown, and sandwiches like the open-faced, chicken-loaded, mozz-/ cheddar-/ peppers-/ shroom-topped Bareback Betsy.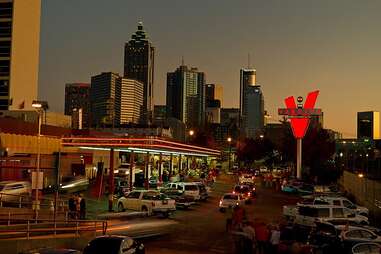 The Varsity; Atlanta, GA
Newsworthy events in 1928 -- the year Atlanta's Varsity first opened -- include Lindbergh's flight, the discovery of both DNA and penicillin, and the birth of Mickey Mouse, but there's nothing Mickey Mouse about a place that can comfortably park over 600 cars full of chili dogs.
Dari-ette; St. Paul, MN
St. Paul's Dari-ette is known for a) a mozz-loaded pizza burger, b) being a sweet old drive-in where you can get pasta, and c) not exactly being open in the winter, because Minnesota.
Wayne's Drive Inn; Lawton, OK
Wayne's Drive Inn in Lawton, OK, has literally been open for more than half the time Oklahoma has been a state, and in that time, thanks to their proximity to a major military installation, their shirts have been around the world, as has, presumably, their mayo-loaded Double Sissy Cheeseburger, which requires more Spacek than your pants currently offer.