Rebecca Feder/Thrillist
Rebecca Feder/Thrillist
You'll probably never be a UFC champion like Ronda Rousey and armbar your opponents into submission (if you're already a UFC champ, congrats!), but at least you can eat like her. Rousey's a strict proponent of The Dolce Diet, a "lean and green" way of eating that a slew of pro athletes have used to get themselves into fighting shape. In the interest of showing you what that looks like, here's what Rousey's been eating in an average day to prepare for UFC 184 against Cat Zingano on February 28th.
(Editor's Note: We didn't provide exact measurements because how much Ronda eats is considered proprietary info. The good news is that Dolce's got a cookbook if you want to make this food yourself. And you do. It's quite tasty.)
8am -- Breakfast bowl
Key ingredients: Oat bran, chia/hemp seeds, blueberries, strawberries, almond butter
11:45am -- Post-exercise smoothie
Key ingredients: Spinach, kale, chard, celery, carrots, beets
12pm -- Farmer's scramble
Key ingredients: 2 eggs, spinach, turkey bacon, avocado, Ezekiel 4:3 toast
4pm -- Skinny Sumo Stir Fry
Key ingredients: Grilled steak, asparagus, broccoli, mushrooms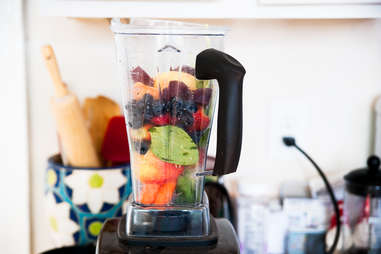 7:45pm -- Post-exercise smoothie
Key ingredients: This is the second half of the huge smoothie she has in the morning.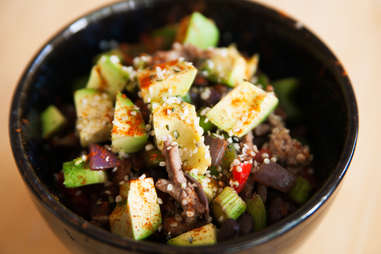 8pm -- Turkey chili
Key ingredients: Ground turkey, beans, peppers, hemp seeds, cayenne
Before bed -- Power Pudding
Key ingredients: Greek yogurt, chia seeds, blueberries
Lee Breslouer writes about food and drink for Thrillist, and could survive on Power Pudding alone. Follow him to Vitamix tips at: @LeeBreslouer.