DANIEL FISHEL/Thrillist
DANIEL FISHEL/Thrillist
How Food Is Bringing the Rust Belt Out of Its Decades-Long Recession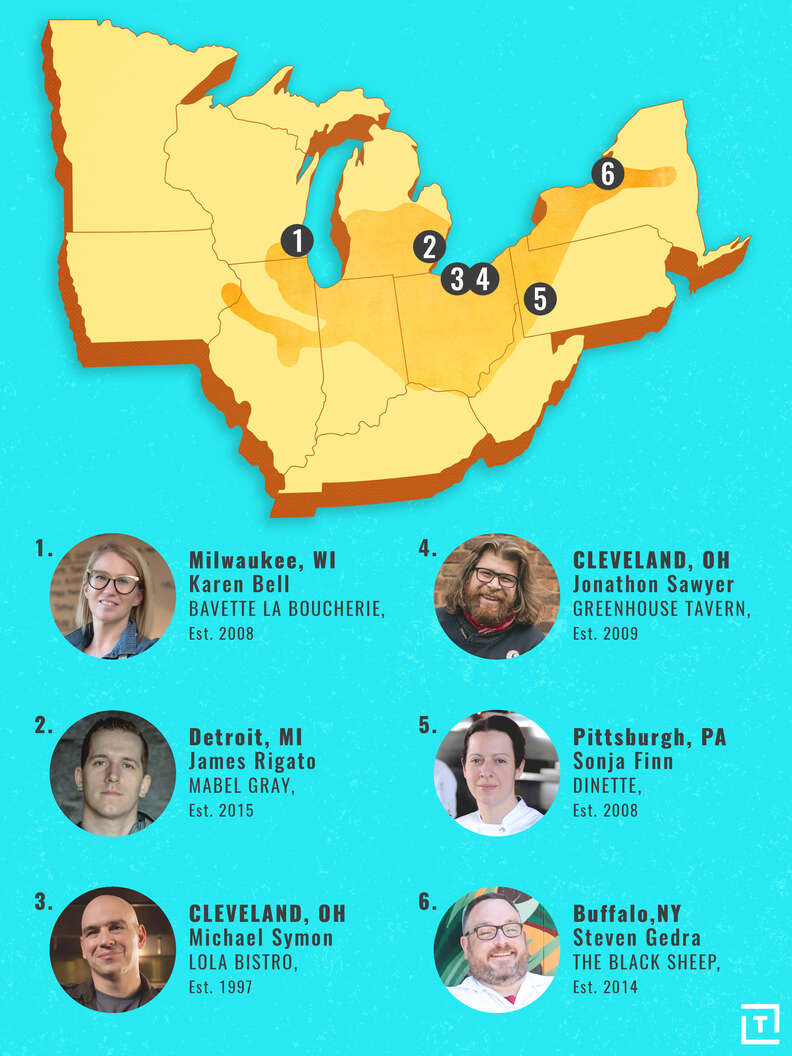 Cleveland and Detroit are hardly unique. All across the Great Lakes region, cities long thought to be on life support have bounced back after decades of decline to reveal thriving, diverse, and firmly rooted food scenes to those willing to look beyond antiquated narratives of urban decay. It wasn't easy, and it sure as hell didn't happen overnight. To appreciate just how far cities like Cleveland, Detroit, Pittsburgh, Milwaukee, and Buffalo have come, it's helpful to recall just how far they had fallen. In 1920, roughly half (depending on how you classify Rust Belt) of the 10 most populous American cities were firmly rooted in this highly industrialized region. As the manufacturing plants ditched the region for sunnier states or cheaper nations and middle-class residents traded the gritty inner city for greener-grassed suburbs, the jobs, retail, schools, safety, and overall optimism vanished right along with them.
"I was cooking in Detroit... the country's consensus was pretty much 'Let it fucking burn.'"
Few are more familiar with this storyline than Chef James Rigato, who was working in his hometown of Detroit at the height of the Great Recession, when two of the Big Three automakers were perched on the brink of insolvency. Now, with two restaurants under his control -- the hyper-seasonal Root and the intimate, ambitious Mabel Gray -- Rigato and his colleagues in the food world are part and parcel of the city's recovery, right alongside the artists, entrepreneurs, and big-business tycoons who are working to rewrite history.
"This is our time," says Rigato. "I think we've been the underbelly of the nation's food scene for so long. I was cooking in Detroit in 2008, 2009, and 2010 and the country's consensus was pretty much 'Let it fucking burn.' They were ready to carve us out of the country."
Like his colleagues in Pittsburgh, Milwaukee, Buffalo, and Cleveland, Rigato has watched his beloved Detroit confront the monumental challenges of deindustrialization, suburban flight, and recession to establish the kind of food and drink cultures long reserved for much bigger markets. Dubbed the "Rust Belt Renaissance," the burgeoning hospitality industry all across this region has helped to revitalize broken neighborhoods while helping plug the employment gap. According to the National Restaurant Association, the restaurant industry will add another 1.7 million jobs over the next decade, reaching 16.3 million staffers by 2027. The hospitality industry in many Rust Belt cities is so hot, in fact, that demand for employees is exceeding supply.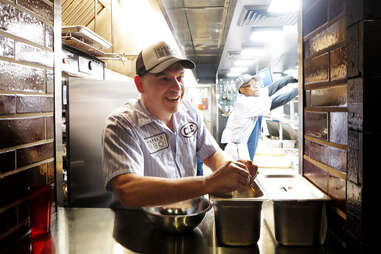 The prodigal chefs come home
Lured by affordable rents, access to abundant agricultural assets, and the ever-important quality of life, chefs increasingly have been swapping the big cities where they rose to prominence for a little place called home.
Steven Gedra has worked in Boston, Nantucket, Colorado, and New Mexico and cooked alongside chefs like Le Bernardin's Eric Ripert and French Laundry pioneer Thomas Keller. But when it came time to open his own restaurant, it was Buffalo that made the most sense. Recently named a 2017 James Beard Award Semi-Finalist for Best Chef: Northeast, Gedra followed the now-familiar tack of returning to his hometown to set up shop -- even if the move stunned his big-city contemporaries.
"We moved back seven years ago because we didn't need a moneyed investor to get started," says the chef, who runs the progressive farm-to-table eatery The Black Sheep. "You go to the big cities to learn your trade, but then realize what it would cost to open your own place. I had to explain to all my friends back in Boston why the hell I was buying a restaurant in Buffalo, but they've never been here, they don't get why we choose to live here."
Once riding high thanks to its standing as the Western Terminus of the Erie Canal, Buffalo had been in steady decline since the construction of the Saint Lawrence Seaway way back in 1959, which made the Canal all but obsolete. But if Buffalo was hit hard, the West Side of Buffalo was hit even harder, a condition made worse by the construction of an interstate that all but guaranteed depopulation. But thanks in large part to the influx of new immigrants -- many of them refugees from Bhutan, Burma, and Somalia -- the neighborhood is adding residents, restaurants, and urban pioneers like Gedra and his wife and partner Ellen.
In 2013, the couple purchased multiple properties on the city's west side, converting a decrepit old tavern into their beloved bistro. They have plans to open complementary businesses in the other parcels in the hopes of further accelerating the urban renewal.
"We bought four lots and two buildings on the west side of Buffalo, which was still kind of just coming around," Gedra reports. "It's still a little dicey, but it's certainly making a transition. That's going on all over the place."
It had been years since Karen Bell escaped Milwaukee for greener pastures in Chicago, San Francisco, Paris, and Madrid, where she owned a restaurant. Like many people who put their childhood home in the rearview mirror, she assumed that the city's culinary identity had been preserved in amber since the day she left.
"To be perfectly honest I wasn't that excited to come back to the food scene here," admits Bell, who opened the butcher shop/bistro Bavette La Boucherie in the city's Historic Third Ward. "But then when I got here I was pleasantly surprised because it was way different from what I remembered."
Traditionally, if a young cook in a smaller market didn't land a gig working for one of the few great chefs in town, he or she had to leave the nest in order to learn. But thanks in large part to this "second generation of chefs" -- those who left and returned like Bell -- the mechanism for growth is changing.
"If you were a young cook in Milwaukee 15 years ago, there were only a couple of really good restaurants," Bell relates. "If you wanted to get great experience, you had to leave. But now, chefs aren't leaving as much. In the last six years, things have really taken off. It's the snowball effect."
There's moving back to your hometown, then there's moving back to your childhood stomping grounds. After graduating from the Culinary Institute of America and working alongside such luminaries as Ben and Karen Barker of Durham, North Carolina's pioneering Magnolia Grill and Judy Rodgers of the famed Zuni Café in San Francisco, Sonja Finn returned to her native Pittsburgh to open a restaurant five blocks from her childhood home. She did so with the specific purpose of helping to revitalize the formerly blighted neighborhood of East Liberty, even if she was on the bleeding edge of urban renewal when she did so.
"In San Francisco, where I was working, food is so important -- and important to all age groups," says Finn, who runs the perennially busy Dinette, a meticulous cafe serving a daily changing menu of seasonal pizzas. "But when I first moved back and opened the restaurant, everyone who was coming in to eat was my parents' age or older. The young people who lived here were just going to the bar at nine o'clock and not going out to eat."
Finn opened Dinette in 2008 and almost single-handedly jumpstarted East Liberty's food scene, which became an integral part of Pittsburgh's current status among the nation's destination food cities. She has since been joined by spots like Spoon and BRGR, led by Chef Brian Pekarcik, the fun-spirited Muddy Waters Oyster Bar from Diana Strekalovskaya and Adam Kucenic, and the pan-European Whitfield, located in Pittsburgh's shiny new Ace Hotel. In fact, there are so many great restaurants in the area now that the neighborhood is sometimes referred to as "Feast Liberty."
These days at Dinette, Finn is happy to report, the collection of people who come in to eat ranges from Instagram-happy co-eds on up to folks in their 80s and 90s. What she never expected, however, was to be visited by the likes of The New York Times.
"When I moved back to Pittsburgh to open a restaurant, I didn't think I would get any national press -- not because I didn't think I'd make food that was worthy of it, it's that I didn't think that anyone would pay attention," says Finn. "It's really only been in the last five years that we started getting a lot of national press. But now we're the underdog; we're cool."
Farm-to-table is a tradition, not a trend
Now that people are paying attention to the Rust Belt food scene, what are they going to find? By and large diners will discover a cuisine that has been farm-to-table for longer than that phrase existed, prepared by thrifty, salt-of-the earth folks who know what deprivation tastes like. Old Jewish bubbies were blending chicken livers with schmaltz (rendered chicken fat) centuries before some clever scribe coined the phrase "nose-to-tail." What is Polish kielbasa, after all, other than a way to make fresh pork last longer by curing and smoking it?
"The farms have always been here and the people have always eaten with a certain frugal predilection, whether it's the Jewish or Germanic or Hungarian or Polish immigrants who landed here," says James Beard Award-winning chef Jonathon Sawyer, a Symon protege who also worked with famed New York chef Charlie Palmer. "I feel like the frugal Eastern European narrative runs deep in Cleveland and throughout the Rust Belt."
At Greenhouse Tavern, which was named one of the Best New Restaurants by Bon Appétit in 2009, Sawyer takes that "frugal predilection" about as far as one can go. His famous whole roasted pig head is, quite literally, the "nose" in "nose-to-tail cooking." The macabrely interactive feast consists of a half head that is cured, braised, barbecued, and served with buns for sandwich-making. That's a long way from Cleveland's famous pierogis.
To a zero-waste chef like Sawyer, the thought of tossing in the bin any usable part of an animal is heretical. But getting customers to pay for the dish is another matter entirely. A good chef does that by gaining a diner's trust and then pushing them, bit by bit, to the point that plucking succulent cheek meat with their fingers from the noggin of a pig is a logical follow-up to an appetizer of chicken wings.
"I do some weird shit... you can't come right out of the gate with a pork-heart schnitzel."
Like Sawyer, Chef Gedra reveres the local, pasture-raised animals that come in nearly whole through the back door of his Buffalo eatery, so he isn't about to squander any of it. At The Black Sheep, hogs are transformed not only into chops and roasts, but also the pâté, head cheese, and rillettes that bedeck the charcuterie boards. Pork liver, traditionally concealed deep inside the casing of liverwurst, finds its way into delicate dumplings. Pig hearts -- long stuffed and stewed by sturdy home cooks -- are ground into tartare. Those foods are quite a departure from typical Buffalo fare like hot dogs, chicken wings, and beef on weck.
"I do some weird shit," says the chef, who admits to routinely handing out samples of his more ambitious fare to tentative guests. "There is definitely an educated populace who are willing to go down the road with you, but you certainly have to earn their trust; you can't come right out of the gate with a pork-heart schnitzel."
The Midwest -- home to the majority of the Rust Belt cities -- is one of the most important and productive agricultural regions in the country, blessed with abundant farmland, boundless supplies of fresh water, and four distinct seasons, which forces cooks to be creative, resourceful, and prudent. In Wisconsin, farm-to-table goes far deeper than simply waiting until spring to serve asparagus and August for red, ripe tomatoes.
"A lot of Rust Belt cooking is farm-to-table, whether we call it that or not, because there are a lot of farms, agriculture, and animal husbandry around us," Chef Bell explains. "That's why we cook more seasonally. If you come to a restaurant here it's going to be different from a restaurant in San Francisco, but I also hope it is. I think we should cook from where we're from, where you grew up. We are definitely still Midwest and we always will be. But that's not necessarily a bad thing. Things like pickling and preserving have always been around here, long before they became a fad."
Since opening Bavette in 2013, Bell has brought in whole animals from nearby farms. Those products are broken down in the middle of the room in plain view of the customers. "Dinner and a show," she calls it. Depending on the week, shoppers might find flat iron steaks, baby back ribs, and pork porterhouses in the display case and barbecue-rubbed chicharron, pork belly banh mi sandwiches, and steak tartare with chimichurri on the menu.
Bell's Milwaukee-based compatriots in the farm-to-table crusade include Dave Swanson, who opened Braise in the up-and-coming Walker's Point neighborhood, Ross Bachhuber of the five-year-old Odd Duck, and Ardent owner Justin Carlisle, who himself is a farm-to-table product, having grown up on a family farm a few hours west of town.
What's resulted across the board for these cities is a renewed sense of community, with rivalries tossed out in favor of helping to elevate the overall status of the cities. The trouble is, sometimes the communities become so large, the areas struggle to sustain them.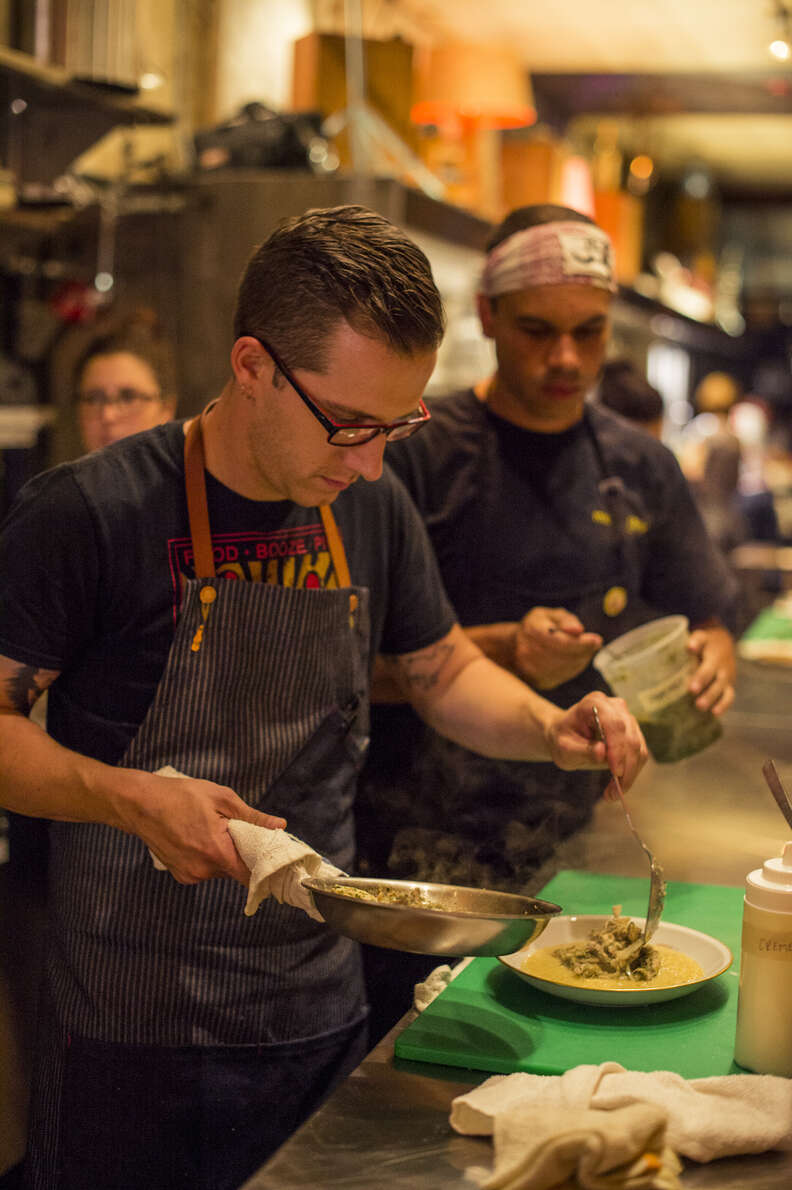 Growth vs. saturation
Rust Belt cities like Detroit, Cleveland, Pittsburgh, and Milwaukee are illustrating how to upend the narrative of loss and decay into one of optimism and opportunity. To a scrappy young chef, an empty storefront isn't an eyesore: It's a big break. Slowly but surely, the cities that comprise the Rust Belt have co-opted that term, flipping it from a pejorative symbol of urban decay to a badge of honor.
"Rust Belt translates to very blue collar, very industrial, so you get a work ethic and a grit and a survival mentality when you cook around here," explains Detroit's Rigato. "Thomas Keller could walk around downtown Detroit in a chef's coat and nobody would know who the hell he was." But the challenge right now for these newly minted polestars, warns Rigato, is to keep the industry growing in the right direction as opposed to simply growing, especially now that the Rust Belt is so top-of-mind.
"The dilemma here is that we have a lot of vacancies and a lot of itchy fingers when it comes to investing," he says. "I think we need to be careful about just opening restaurants because it's hot. There's a responsibility right now to seek out higher quality. If we have 100 new restaurants open up in a year and only two or four are good, that's not healthy, and that's what we're seeing. I don't want to rain on our parade, but we need to be careful."
Detroit boasts a bumper crop of hot culinary talent and fresh new restaurants, many of which are less than five years old. Stellar examples include Dave Kwiatkowski's crisply tailored Wright & Co.; Selden Standard, helmed by Symon protege Andy Hollyday; and the uber-trendy Corktown Thai spot Katoi (temporarily closed due to a fire). These join newly minted mainstays like nose-to-tail institution Mabel Gray, Symon's Roast, pawn shop-turned New American sensation Gold Cash Gold, upscale Americana purveyor Parc, and a slew of others in shaping Detroit's new culinary identity.
"At a certain point, even if you're consistent, it's just not interesting."
Cleveland, which can be argued to be about a decade ahead of Detroit in terms of its chef-driven restaurant scene, continues to see unprecedented growth in terms of new bars and restaurants. In fact, one of the most popular pastimes at local watering holes -- other than cursing the Cleveland Browns -- is debating the existence of a restaurant bubble. Owners and managers struggle to attract and retain passionate staffers, while diners increasingly end up on the short end of the stick in terms of service and food quality.
Also, while a vibrant and dynamic restaurant scene is exciting for diners, it can be a source of pain for the operator of a more mature restaurant. When new restaurant openings continue to outpace population growth, that can be a problem for chefs like Dinette's Finn.
"It can be difficult on restaurants like mine that have been around for a long time," she admits. "You are going to see a drop in customers when new restaurants open because everyone wants to go try the new thing. And they should. But that's the scary part of being a hot city. My wish is that all places have staying power."
Sawyer certainly has experienced similar behavior in Cleveland, home to his trio of eateries Trentina, Noodlecat, and Greenhouse. Weekly, it seems, another new restaurant or taproom or bakery nearby opens to loud, but often brief, fanfare.
"It's cyclical and it's fast-paced," he says. "We stop paying attention to the restaurants that deserve attention because they are no longer news. At a certain point, even if you're consistent, it's just not interesting."
Staying bright as the spotlight dims
Chefs who work in the long-ignored cities across the Great Lakes Region all say they appreciate the newfound attention and would never dare to look that gift horse in the mouth, though they recognize that sometimes things change when the spotlight shifts elsewhere.
"Exposure is wonderful and we want our story to be told," says Rigato.
The limelight often translates to unexpected culinary tourism, which is great for restaurants that have become mainstays in "next big thing" articles. But for those who do plan to schedule a visit, chefs like Sawyer would encourage you to book an extra day, hit some of the less-obvious spots, and get a better lay of the land. There are way too many great spots -- new and old -- to cram into a round-up or listicle.
"When people write about our city, I want them to write about some of the more interesting cultural places that people who live here go to all the time," says Sawyer. "You always read about Symon, you always read about that dickhead Sawyer, and a few other names. It's not that I'm against that storyline, it's that I feel there's a much more authentic part of Cleveland that sort of gets missed in all the stories."
But locals need to do their parts, too, say chefs. For the cities of the Rust Belt to continue to evolve into mature, serious restaurant markets -- to advance, say, from fourth-tier to third or second -- diners need to seek out quality over novelty. By cultivating an appreciation for those restaurants that honor traditional foodways, quality local ingredients, creativity, and a commitment to improve, shoppers can help steer the ship away from the rocks.
No city is immune to restaurant closures. Last year, Eater reported 75 shutterings in Portland, Oregon, a prime example of a city that transitioned from downtrodden industrial town to hot food city at a rapid clip that saw openings outpace demand. But the hope is that quality will win out, that cream always rises to the top, that new never beats well-seasoned. When that happens, those successful restaurants can continue to employ residents while helping the neighborhoods and cities and family farms around them survive, thrive, and attract attention (for the right reasons) for decades to come.
Buffalo chef Gedra, for one, is thrilled about the prospects.
"Check back in 10 years," he says. "We are still in the infantile stages of this thing. It's exciting, but the real work is just getting started."
Sign up here for our daily Thrillist email, and get your fix of the best in food/drink/fun.
Douglas Trattner is a Cleveland-based writer, editor, and cookbook author. His work on Michael Symon's
Carnivore
and
5 in 5
earned him back-to-back titles as a
New York Times
bestselling author. Follow him on Twitter @dougtrattner.