People love chasing restaurants with impossible reservation lists, but for some diners, a tricky table isn't enough. No, they want to eat at a restaurant so exclusive, its very location is a secret. And it's not just trendy speakeasies -- dinner spots across the nation are hiding themselves in temples, gas stations, or even other restaurants to provide patrons with a grown-up version of hide-and-seek. Lucky for you, we hunted down a few key picks to save you the trouble, so it'll be more like hide-and-seek where the other person is wearing a tracking device.
Ready or not, here are nine restaurants with better covers than James Bond: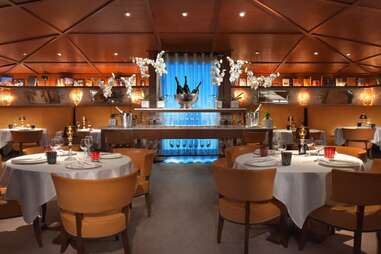 Saam (Los Angeles, CA)
Nestled in the back of Spanish master chef José Andrés's The Bazaar, Saam smells of rich mahogany and features many leatherbound books -- no, seriously, the place is styled a bit like Donald Trump's study. The prix-fixe menu is always rotating and offers plenty of dishes you can't get at The Bazaar, making this library exponentially cooler than P.S. 115's.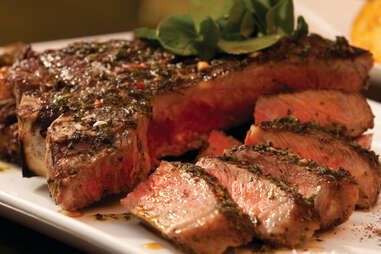 Bogie's Place (Boston, MA)
This Beantown pick is buried inside the beloved gastropub JM Curley, and advertises itself as an "adults only" destination. But that doesn't mean a 7pm burlesque show; rather, it refers to the grown-up 1920s steakhouse vibes that would make a guy like Bogart feel at home, if he weren't extremely dead.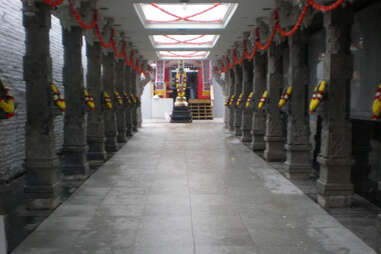 Ganesh Temple Canteen (Queens, NY)
Though this spot's relative secrecy isn't as calculated as its peers', the Canteen exists quietly within Flushing's historic Ganesh Temple. Its eats have gained serious cred among New Yorkers in the know, and their prices don't hurt, either -- every order there runs under $10, making for some divine dosas.
El Carajo International Tapas & Wines (Miami, FL)
Normally pulling up to a gas station with your date would earn you a swift rejection, but rolling up to the BP station off Miami's 17th Avenue is actually a good call, as it boasts a secret wine and tapas joint. At El Carajo, you've got a staggering 2,000 vinos to choose from, and everything from calamari to paella to pair them with. Trust us, it's all way better than a BP hot dog and a handful of pills.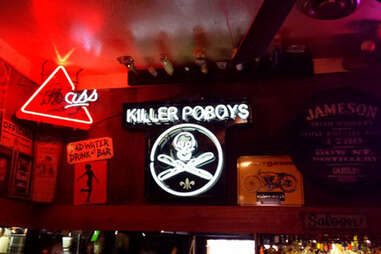 Killer Poboys (New Orleans, LA)
It may be hard to keep po'boys a secret in their native land, but this place did a pretty good job by setting up shop inside the established watering hole Erin Rose Bar. Run by the unstoppable duo of Cam Boudreaux and April Bellow, the shop slings modern spins on the classic sandwich, and even manages to sneak in such non-canon picks as a Jameson grilled cheese.
é by Jose Andrés (Las Vegas, NV)
Because Andrés loves a secret restaurant almost as much as patatas bravas, the man has another bonus eatery hidden inside one of his more-established outposts, this time the Jaleo at Vegas's Cosmopolitan. The single bar seats just eight, but that's unsurprising given the serious $195-per-person, 15-course tasting menu. Included in that menu are these caviar and meat-wrapped "tacos", as well as a gelled, slurpable sangria with watermelon and mint.

The Vintage Cave (Honolulu, HI)
Don't let its entrance in the parking lot of a shopping center fool you -- this "cave" is far fancier than your ritziest above-ground restaurants. Yes, even White Castle. Ladies and gents are expected to wear evening and semi-formal wear, respectively, to this swanky, subterranean spot, where the chef is CIA-trained and the art collection costs more than your life. Oh, and the wines in the "Sommelier's Court" aren't half-bad, either.
Ampersand (Chicago, IL)
Serving as both a pop-up space and test kitchen, all within the walls of seafood-slinging Kinmont, Ampersand plays host to supper clubs, classes, and preview events from some of the city's brightest culinary minds. It's already booked through July, so if you wanna get in on a cookie tutorial or a ramen birthday bash, snag your tix now.
Safe House (Milwaukee, WI)
The grandaddy of hidden restaurants, Safe House has been running since 1966, and takes its name quite literally with spy-themed decor all over the space. Everyone knows the unmarked address by now, so that cover is long blown, but you do need a password to get in. If you don't know it, the doorman will have you complete a ridiculous task to gain entry. Anything worth acquiring requires a little work, anyways.
Kristin Hunt is a food/drink staff writer for Thrillist, and sometimes likes to whisper passwords at the maitre d' just to see what happens. Follow her at @kristin_hunt.