Hey Preppy, the 'Saved by the Bell' Restaurant Is Going Nationwide
JIM VONDRUSKA/THRILLIST
JIM VONDRUSKA/THRILLIST
The dates and exact locations are unknown at the moment, but major cities (New York, LA, Boise, etc.) are a safe bet to land Saved by the Max after it leaves Chicago on May 6th.
Till then, you can enjoy these photographs of the Chi original and dream of a date with Lisa Turtle. Or maybe Violet Bickerstaff, who we're sure really blossomed after Screech went to jail.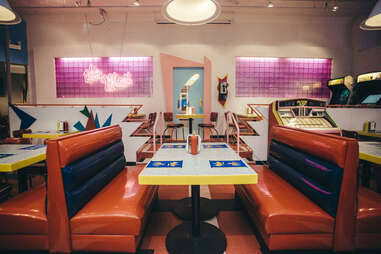 Sign up here for our daily Thrillist email, and get your fix of the best in food/drink/fun.
Wil Fulton is a staff writer for Thrillist. He actually blames Gwyneth Paltrow for most of the world's problems. Follow him @wilfulton.