Fact-checking 7 popular food and drink urban legends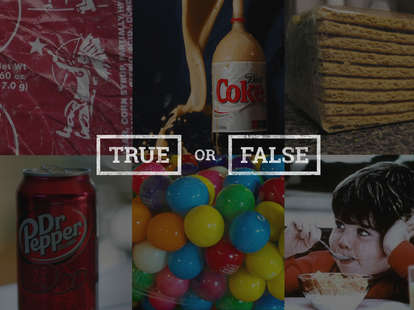 The urban legends you heard back in the day are still making the playground rounds, though these days kids spread the rumors by hammering out a series of emojis. Since we've already debunked Willy Wonka once and for all, we decided to turn our attention to some of the more persistent food and drink-themed legends that just won't die. Don't lose any more sleep over the fate of Little Mikey the Pop Rocks kid -- we've got all the truths and lies right here.
The legend
Life cereal poster boy Little Mikey died from mixing Pop Rocks and Coke.
True or False?
False
The facts
This one is easy to shoot down since the guy who played that ridiculously picky Little Mikey, John Gilchrist, is still alive and well. The rumor was so bad when it first circulated in the '70s that the FDA had to set up a hotline for freaked out parents assuring them that the candy was safe, and Little Mikey's mom had to tell her sobbing neighbors that her son was totally fine. Today, Gilchrist is director of media sales for Madison Square Garden, the place basketball goes to die.
The legend
People's stomachs have exploded from drinking Coke with Mentos.
True or False?
False
The facts
Just like the Little Mikey myth, this thing's total BS. As Snopes points out, the chain emails that claim kids in Brazil died from this lethal experiment offer no specifics beyond "Brazil", "little boy", and "last week", and there probably would have been more intel from a police report or the local press if a kid actually busted his intestines with Mentos. What's more, the Mythbusters guys debunked this. And you do not question the science whiz with the walrus 'stache.
The legend
Tootsie Pop wrappers featuring a Native American chief with a star get you free candy.
True or False?
False
The facts
For decades, kids listening to their conspiracy theorist friend Trevor have been laboring under the delusion that finding a Tootsie Pop wrapper with a Native American chief shooting at a star scores them free candy. Unfortunately, Trevor's always been full of it (Tim Allen is not your dad, Trevor!). No one's sure when the rumor started, but the company has never offered any kind of finder's prize. Kids sending in letters demanding comped treats might get "the legend of Chief Shooting Star" back in the mail, which is basically like getting a toothbrush on Halloween.
The legend
Graham crackers were invented to curb sexual appetite.
True or False?
True
The false
Sylvester Graham, the inventor of the graham cracker, was a Presbyterian minister who was very concerned about people's booze habits and sex lives. He recommended a whole lifestyle system for keeping people abstinent and sober -- wear loose clothing, take cold baths, and eat his very own graham cracker, a food so bland it would (supposedly) suppress his followers' wild libidos. He probably wouldn't have approved of adding chocolate and marshmallow to the mix, as that's a straight up three-way.
The legend
Dr. Pepper is made with prune juice.
True or False?
False
The facts
The soda barons running Dr. Pepper have been denying this rumor for ages -- they even include a disclaimer in their FAQ section online. But could it be one of the 23-ingredients in their secret recipe? Sure could. THE TRUTH IS OUT THERE, Scully.
The legend
Gum stays in your gut for seven years.
True or False?
False
The facts
That Bazooka gum you accidentally swallowed on field day in 3rd grade didn't stick around until you got your learner's permit -- it was probably gone the next day. Though the gum base is insoluble (as in, your stomach enzymes can't break it down), the same can be said for popcorn kernels or sunflower seeds. They still all get dumped out in a timely fashion, and won't cling to your stomach lining.
The legend
Coca-Cola was originally made with cocaine.
True or False?
True
The facts
There was a very small trace amount, and it was completely gone by 1929. Here's the deal: Coke contains extracts from the coca plant, which is also where cocaine comes from, and back in the early days, they didn't have the cocaine extraction process we have in place today. That was partly because it wouldn't be perfected until '29, but also because people drinking the first Cokes in the late 1800s didn't know the drug was bad for them. Once everyone wised up, the soda company figured out how to remove the traces. Nowadays you just get high on the 44g of sugar.
Kristin Hunt is a food/drink staff writer for Thrillist. Some of her strongest friendships are built on cheeseburgers. Follow her at @kristin_hunt.