Today's school cafeteria is a battlefield, but not in the fun way. Everyone seems to be freaking out about youngsters' waistlines these days, but despite my obsession with junk food in school way back when, I turned out okay.
Before I write about my love of Zebra Cakes and other sugary candy-in-pastry clothing, let's do some housekeeping. I'm generally in favor of progressive government policies aimed at the health of the republic. And I understand the ballooning insurance cost of obesity-related diseases (and that fat kids are only okay on Fridays). But I have my reasons for not thinking junk food is the devil, so sit down with a snack and find out why.
Okay, back to my brace-faced adolescence. I was very skinny. Concave chest skinny. And I don't know how this happened, because the most balanced meal I would eat for lunch was a fun-size bag of Chex Mix. My midday calories came from a vending machine. Or the nook next to the chicken nugget line that was basically a government-subsidized Little Debbie bomb shelter. This is not because my parents were irresponsible. They didn't know that I didn't actually eat lunch.** I simply ate what tasted good to me, which happened to be food loaded with sugar and sodium.
Most people over the age of 17 and under the age of married-with-children don't think much about school lunches. But I do, because I have two relatives who work on the cafeteria battlefield. They're not angry lunch ladies, but rather a very nice school district lunch director and a saintly aid to handicapped children. They have given me reports from the front-lines. And the kids are definitely not eating their government veggies. Especially now that pizza's lost its vegetable status.
**Mom, if you're reading this, I'm sorry!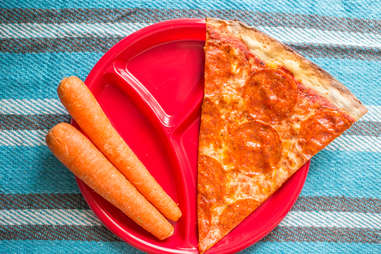 I concede that pizza should not be considered a vegetable by any nutritional scorecard, but whole-grain crust should not be considered pizza by any human with taste buds. 100% of grains sold by schools now need to be whole. My lunch director aunt firmly believes that if you could make a whole-grain roll that tastes good, you would be a millionaire. Kids are only going to eat what they want to eat, and they don't want to eat cardboard dinner rolls. I wanted to eat Pop-Tarts. Exclusively. For every day of the 10th grade.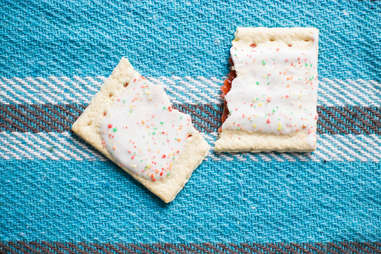 But you can't get Pop-Tarts anymore. As of this year, the nutritional content of all snacks is regulated by the federal government. Donuts have been replaced by low-fat tortilla chips. Fruit-flavored candies with "light popcorn." I could go on, but I'll save you the heartbreak. On a base health level it's hard to argue against these swaps, but sometimes those low-fat snacks are loaded with more chemicals than their counterparts. For instance, the artificial sweeteners in the diet sodas sold in schools can be more harmful than regular ones. But most importantly, the kids just don't want to buy them.
To quote my Mom's sister, 50% fewer kids want to buy food the school provides. Their sales are down by half. School lunch programs are supposed to break even revenue-wise, and the selling of saccharine temptations was one of the main tricks schools had to balance their budget, and if the stars aligned, turn a minor profit. Any profit is required to be reinvested for purchases of new equipment, furniture, or upgraded food products. This means that the quality of the cafeteria experience suffers as a result of those low-fat tortilla chips.
Although it's tough to stand up to an unfair system that deprives kids of stuff they actually want to eat, somebody's gotta make like Neo and wire-fu the hell out of the idea that junk food is turning kids into forever-fatties who bottom-feed on empty calories the rest of their lives.
I was an American kid who ate brown sugar Pop-Tarts every day. And I somehow didn't turn into a lab rat who perpetually smacks a button that feeds him frosted breakfast pastries. But seriously, if you know where I can get such a button, tweet at me.
Dan Gentile at staff writer on Thrillist's National Food and Drink team. He still loves a good Zebra Cake. Follow him to more Little Debbie-related confessions at @Dannosphere.