Fast-food workers are sick of eating their own restaurants' fast food. Between dealing with insane customers and being inundated with brainwash-y "feel-good" music, employees gotta eat to have the energy to deal with whatever crisis comes their way. But think about it -- In-N-Out's menu has approximately two items, and those employees have no choice but to eat them day In and day Out. It's no wonder that some of them get creative and use the ingredients that are already lying around to make new and interesting dishes.
We tracked down employees who transform and remix their restaurants' food to make brand-new, usually off-the-menu meals. (But you can absolutely order some of them!) Here are all the secret food items fast-food and chain restaurant employees are making for themselves when you're not looking.
Recommended Video
Ghost Kitchen: Restaurant Gets Help From Community During Coronavirus Pandemic
Migas de Applebee's
The casual restaurant that sells neither apples nor bees (what a ripoff!) employs staff that's cooking breakfast before any guest arrives. "Before the lunch service starts in the morning, we like to make our version of migas," says Thomas, an Applebee's cook in Los Angeles. "We scramble together a few eggs with corn tortilla chips, our house-made chipotle lime salsa, and smoked bacon. It's really good with some pico de gallo on top." But our boy Thomas is not done spilling the (Apple)beans on what the employees eat. Family meal is what the chefs make for the staff before they work a long shift, and you certainly won't find those dishes anywhere on the menu. "Our family meal is usually some combination of grilled protein and fresh veggies (like zucchini, grape tomatoes, yellow squash, red bell peppers, red onions) -- it's whatever we're in the mood for," he says. "There's no real name for the dish, as everyone customizes it with different sauces or toppings, like pico de gallo or black bean corn relish."
Sonic Sunrise
If you don't get a crazy soft drink when you go to Sonic, it's like going to Walt Disney World and not getting Belle from Beauty and the Beast to sing a Céline and Peabo Bryson-style duet with you. There are 1.3 million different drink combos at Sonic, and Mackenzie in Oklahoma City has a good one. "My favorite is Sprite, Orange Juice, real cherries, and fresh lime," she says. "We drink it in the morning for a carbonated and citrusy morning boost." She has plenty of other sippable concoctions in her arsenal, too. "I also like to combine Sprite, vanilla syrup, sweet cream, and then add different flavored syrups," she says. "I'll add blue coconut to make it a 'Blue Gentleman,' or cherry for a 'Pink Lady.' Both are sweet, creamy, and addictive." You could also bring your own maple syrup and turn it into a 'Canadian Lumberjack.'
Tomato sofrito breakfast sandwich
You might know Panera as that place with the bread bowls and sandwiches, but it's gone through a bit of a menu rehaul in the past year. Part of the new lineup are a few (breadless) broth bowls (otherwise known as soup), including a Southwest chicken tortilla version. That is decidedly not a breakfast item, but it does have a component that fits nicely with the morning meal: tomato sofrito, an all-purpose staple sauce in Latin America. "I love to get bacon, egg, and cheese on a whole-grain pan loaf," Chase from St. Charles, Missouri says. (Fun fact: Paneras in Greater St. Louis are all still called St. Louis Bread Company.) "And I add tomato sofrito to it. That's a phenomenal way to start your day." If we can be so bold as to suggest a phenomenal way to end your day: Panera's double-fudge brownie. Don't you dare settle for those cut-rate single-fudge brownies out there.
Tacos
It's not just Chipotle managers who have loose lips. We got the lowdown on what employees of America's favorite cult burger chain eat when no one's watching. It's still uncertain if they dance like no one's watching. But one thing we do know: They make "bomb-ass tacos," one former manager says. She says that during the early shift before the restaurant opened, her co-workers would bring in taco shells from home and then "create a pico de gallo with onions, chilies, and tomatoes." The ground beef normally used for the hamburgers would be utilized too.
Carne asada lettuce cup fajitas
CPK brought back its dearly departed carne asada pizza late last year, and it's the critical ingredient in what Jamie, a CPK cook in Boulder, Colorado, likes to make for herself. "I made this last night, actually," she tells us. "I chop up some carne asada along with white onions, cilantro, and red chili peppers to make it spicy." She then takes the lettuce from the shiitake lettuce wraps and makes adorable little lettuce cups to scoop the carne asada mixture into. "I usually top it with Sriracha ranch, too," she says.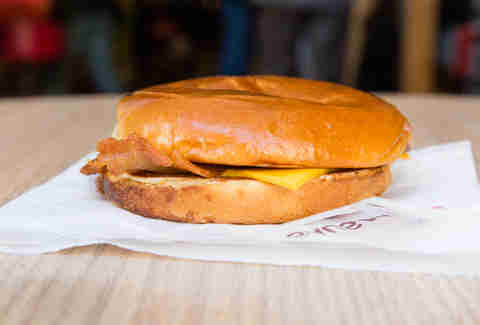 Bacon grilled cheese
Mickey D's has a ton of secret menu items we've already told you about, but the ones here come with a twist. Jasmine Nathaniel, a McDonald's employee, wrote in a Quora post that she likes to take the secret menu grilled cheese and throw some bacon on it. We recommend getting it on a sesame seed bun… because where else can you eat a sesame seed bun grilled cheese? Nowhere. She also says that she's made herself a ton of quesadillas. Since McD's already has a tortilla for the sausage burrito, you can order one without the egg and sausage, and have a decent quesadilla made with cheese, green chiles, and onions.
Crunchwrap Supreme
While Chipotle employees will usually make a customer a quesarito (even though they hate doing it), it's unlikely you'll ever get to eat this reinvention of the Taco Bell gem. We spoke to an ex-manager at a Chipotle who said his store liked making a Crunchwrap Supreme, which included a honey-infused barbacoa burger with bell peppers and a bun made of tortillas. That same manager also talked about actually selling a Mexican pizza to customers, made from two open-faced tortillas with medium salsa, cheese, and steak cooked on the grill. He said he'd be fired if upper management got wind of it, so don't expect to be able to order that anytime soon. But we can dream.
Pickle-filled grilled cheese
The dill pickle chips are the secret weapon in Chick-fil-A's beloved chicken sandwich. The buttered bun ain't bad either. Kyle, an employee in San Jose, California, says that a grilled cheese is a filling secret item employees order "when they're extra-hungry," but it can also be ordered up by regular folk. He recommends piling on those pickles, bacon, and plenty of cheese between that buttery bun. If the cashier gives you a look, Kyle says to ask them to charge you individually for each component, and you should be good to go.
Mexican-style KFC dinner
Fair warning: This must be done at a combination KFC and Taco Bell. (Not a combination Pizza Hut and Taco Bell, no matter what Heems says.) Since employees in both restaurants are swamped all shift long, it's tough to make anything elaborate, a KFC worker/Reddit user says. On the plus side, this fast-food hybrid is something you can easily replicate yourself. Simply buy popcorn nuggets and seasoned potato wedges at KFC, then head three steps over to TB to cover 'em in nacho cheese and spicy ranch sauce. This is the fast-food equivalent of Tom Hanks and Rita Wilson -- a beautiful marriage bound to stand the test of time.
Sub-turkey options
Though it's the only national fast-food joint that carries venison, Arby's isn't exactly known as a place that's loaded with healthy options. After all, it has a sandwich called the Meat Mountain. But Gary, an employee in a Los Angeles-area location, says that it's fairly easy to make an Arby's meal relatively healthy if you do some swapping. "I try not to eat a lot of red meat," he says. "So I make a brisket sandwich using turkey instead. It still has BBQ sauce, onions, Gouda cheese, and mayo." He also says turkey is fantastic in the Fire Roasted Philly, which has Italian seasoning, provolone, red and yellow peppers, and a roasted garlic aioli. "It almost tastes the same," he says. "But it's a little healthier." No big deal, Gary's out here dispensing secrets and potentially saving people from heart disease. Just another day in the life of a fast-food employee.

Sign up here for our daily Thrillist email, and get your fix of the best in food/drink/fun.