There are certain ingredients that everyone has in their kitchen, like a bottle of Sriracha with a petrified cap. But long before cock sauce was a staple of the home cook, chefs gushed about the condiment as a secret weapon. 
To find out what other secrets they keep up their sleeves, we asked a group of chefs from around the country to tell us one of their favorite home-kitchen ingredients, and what they use it for. Some are so common they're available at every grocery store, while others are so deep-cut they require serious industry connections to procure.
Son fish sauce
"I always keep Son fish sauce. My friend gave me a bottle of extra-virgin press and I can't live without it. It's made on a family island in Vietnam and it's the best fish sauce I've ever had. I use it for dressings, marinades, or simply with lime, soy, and serrano pepper as a dipping sauce for fish. It's awesome because the ingredients are just anchovies and sea salt, the flavors are so pure." -- Andrew "Dru" Betita, Aestus (Santa Monica, CA)
 
Plain yogurt
"One ingredient I always have at home in the kitchen is plain yogurt, because of its versatility. Add honey and berries for breakfast or make a quick sauce or marinade for grilled meats for dinner. My kids love to dip quesadillas in it, too." -- Paul C. Reilly, Beast + Bottle (Denver, CO)
Furikake rice seasoning
"Every variety of JFC-brand furikake makes plain rice or steamed broccoli a quick tasty meal." -- Tom Moorman, founder of McGuire Moorman Hospitality (Austin, TX)
 
Shirataki tofu noodles
"I always have shiratake tofu noodles in my pantry!" -- Jesse Schenker, The Gander and Recette (New York, NY)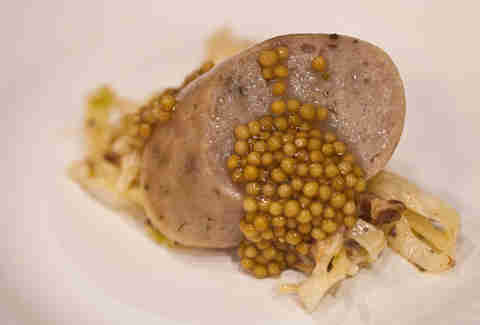 Pickled mustard seeds
"I have a couple of long-lasting staples that I love to keep on hand to add to dishes as an extra flavor and texture boost. For example, I love keeping pickled mustard seeds in the fridge to enhance vinaigrettes, to spread on toast and top with prosciutto and manchego cheese, or to add to a quick pan sauce for steaks." -- Jimmy Bradley, chef/owner of The Red Cat (New York, NY)
 
100% pure tomato powder
"I sprinkle it on grilled pork chops or use it as a dry rub on ribs. And adding a dash in tomato sauce takes it to a deeper state of tomato." -- Tony Mantuano, Spiaggia (Chicago, IL)
Nam prik pao sauce
"I always keep a bottle of my favorite nam prik pao sauce, which I love to use on wood-fired meats, in stir-fries, warming noodle soups, and more. I love to make my own and store it in the refrigerator, but there are also a lot of authentic bottles you can find in specialty stores and online." -- Ford Fry, The Optimist and many more (Atlanta, GA and Houston, TX)
Sicilian dried oregano
"I always keep Sicilian dried oregano that's still on the branch on hand for making quick vinaigrettes or finishing sauces. For the former, try adding it to a dressing made with red wine vinegar, olive oil, lemon juice, garlic, and shallots, which is great for an Italian chopped salad." -- Michael Fiorelli, Love & Salt (Manhattan Beach, CA)
 
Shrimp paste
"I mainly use it to make shrimp toast at home, or I'll scramble it in with eggs and green onions with some white pepper." -- Eric Silverstein, owner at The Peached Tortilla (Austin, TX)
Piccalilli
"It's the best condiment ever: pickled onions, pickled cauliflower, mustard, and turmeric. It goes on everything, from sandwiches to grilled chicken." -- Julia Doyne, executive chef at The Forge (Miami, FL)
 
Bourbon Barrel soy mash
"I visit Matt Jamie of Bourbon Barrel Foods in Louisville, KY (the only microbrewed soy sauce in the United States!) and take the leftover spent soy mash off his hands to use in my kitchen at Lockbox. This is the by-product left behind after the fermented beans have been pressed for their juice. I tend to keep at least a quart of this mash in the fridge at home to add to the front end of a soup or slow cook I'm preparing. Dry the soy out and pop it in a blender and it makes an amazing cure or dry rub for meats. The mash adds a depth and umami funk that people can't put their finger on when they come over for a meal. They love it!" -- Jonathan Searle, Lockbox at 21c Museum Hotel Lexington (Lexington, KY)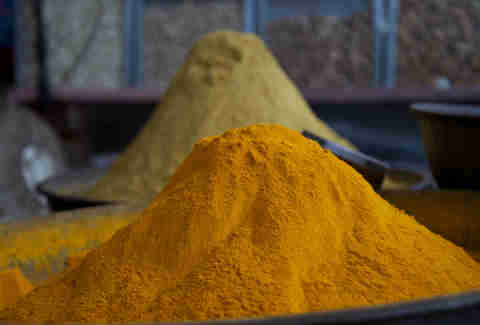 Turmeric
"I use turmeric for color and medicinal superpowers." --  Bethany DiBaggio, chef de cuisine at The Peached Tortilla (Austin, TX)
 
Dashi soup base
"Frozen or prepared dashi soup base purchased in stores is perfect for whipping up a quick meal." -- Thomas Chen, Tuome (New York, NY)
Yuzu kosho
"My go-to ingredient at home is yuzu kosho, a spicy, salty, and citrusy Japanese paste. It's a great replacement for standard hot sauces." -- Chris Jaeckle, Uma Temakeria at Gotham West Market (New York, NY)
Hearts of palm
"You can eat them raw, make a salad, dip them in Tabasco, and even grill them. They are light, refreshing, and healthy." -- Michael Schulson, chef and owner at Sampan, Independence Beer Garden, and Izakaya (Philadelphia, PA)
Kewpie mayo
"I always keep Kewpie mayo because its uses are endless, it's Japan's number-one best-selling condiment." -- Travis McShane, executive chef/partner at Adele's (Nashville, TN)
 
Dried shrimp
"I always keep dried shrimp in my kitchen, and I blend it with spices like salt and pepper or chili flakes. I like to sprinkle them over things like stir-fry veggies, steamed broccoli, or spinach to give them a depth of flavor and umami." -- Timon Balloo, executive chef/partner at SUGARCANE raw bar grill (Miami, FL)
Sign up here for our daily Thrillist email, and get your fix of the best in food/drink/fun.
Dan Gentile is a staff writer at Thrillist. His secret-weapon ingredient is a bagel of everything bagel crumbs. Follow him to everything salmon at @Dannosphere.