About a year into dating, my now-wife and I decided to opt out of Valentine's Day. Fine, we weren't so non-conformist as to disregard the "holiday" completely, but we were most certainly done with the hustle: hustling to score a reservation at an overcrowded restaurant that's hustling to turn over two-top after two-top and serve up a prix fixe menu that's never as good as the regular one. Instead, we decided to stay home and cook up a Valentine's Day dinner of our own, and now it's become an annual tradition that I highly recommend.
The act of cooking for someone is inherently intimate, but some meals are more conducive to romantic evenings than others, and it has nothing to do with dubiously scientific "aphrodisiac" properties. Here are my criteria for making Valentine's Day dinner:
1. It has to be attainable. Yes, it's a special occasion, but that doesn't mean you want to spend the evening fussing with your new immersion circulator or whatever. As long as your level of kitchen competency isn't "how do I make this water boil again?" the meals should be well within your cooking comfort zone.
2. It still has to feel fancy. Maybe you both love a good box of mac & cheese with some hot dogs cut up in it, but it's going to bring a little more magic to the equation if you stretch yourself a little beyond what you'd serve on a typical weeknight.
3. It won't put you in a food coma. You should come away from the meal satisfied, but not "let's just watch Property Brothers in sweatpants" satisfied.
So what qualifies? Here are my go-to special occasion meals that'll help you break free from the Valentine's Day Reservation Industrial Complex.
Recommended Video
Sofia Reyes Tastes The Best Lumpia in SF
Duck breast
These days you can find duck breasts at most Whole Foods-y type establishments and even some of your mainstream grocers. Bonus: they usually come two to a pack! People often find duck intimidating because of the big layer of fat covering the breast, but that just means it takes a little extra time spent gently sizzling before it crisps up beautifully. Done right, it comes out pink and juicy and looking like a steak and a chicken had a baby. (Note: This is not how ducks are actually made.) When you make someone duck it always elicits a "whoa, look at YOU" reaction even though it's only marginally more complicated than making a chicken breast, while tasting infinitely better. You can go many different directions with sauces and accoutrements, but I particularly enjoy this preparation.
New York strip steak
There's something undeniably primal about cooking and eating a steak, and if you're doing so for a Valentine's Day or some other romantic occasion, I recommend a couple of modifications. No. 1: split a good-size steak (say 12-16 ounces depending on your level of carnivorousness) so as not to violate the food coma principle -- strip steak's relative uniformity makes it easy to cut it into adorable slices for some next-level restaurant plating. No. 2: If you have the time and means, splurge on a beautiful hunk of prime beef from a real butcher. As for cooking the thing, people love to argue about the best way to cook a steak but the reverse-sear method is both mind-meltingly delicious and really hard to screw up.  Arrange your slices on a little mashed cauliflower, throw an obligatory vegetable in there, and go to town.
Pork tenderloin
Aside from the obvious wordplay involved with "pork" and "tender" and "loin" that we are FAR too classy to engage in around here, pork tenderloin also allows for a more budget-friendly meaty alternative to the two proteins above while still feeling a bit special since you're roasting a whole cut of meat. They're sold everywhere, they're damn near impossible to screw up, and once you've sliced off a few pieces for you and your dining companion, you can save the leftovers for some far-less romantic pork fried rice the next day. Depending on how you season it you could go all sorts of directions with the rest of the plate, but here's a good primer on how to cook the main event. This is an excellent option if you're a bit timid in the kitchen and want to push your boundaries.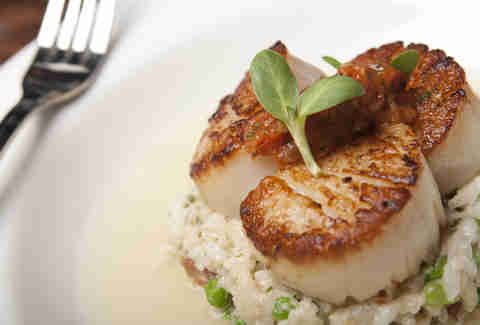 Scallops
Enough with the land animals! Scallops cook in next to no time, impart a minimal amount of decidedly unsexy "seafood smell" upon your kitchen, and lend themselves to all manner of "look what I did" fancy plating and sauce drizzling. They make for a particularly strong choice if you're worried about overfeeding yourself. This is another case where, if you're able, you should absolutely seek out a seafood specialist in your area and procure the best, freshest scallops possible -- that said, the seafood counter at your supermarket still ought to be able to get the job done just fine. They'll probably be a little light on their own. You'll want to maybe bring some kind of mashed potato situation into the mix. Or better yet, (see below) risotto!
Risotto
Some words just sound sexy. "Darling, tonight I have prepared for you (dramatically uncovers plate) risotto." There's a false perception among far too many people that risotto is really difficult to make and if you mess it up some Italian nonna will materialize from another realm and whack you with a wooden spoon. Not true! Even if you proceed the tried-and-true traditional route with it, the labor involved is decidedly exaggerated -- especially if you let Ina guide you. There are also numerous shortcuts that still yield fantastic results, especially if you happen to be an Instant Pot household. Just make sure you go light on the serving size and then use the leftovers to eat an irresponsible amount of arancini later in the week.
Cheese fondue
Look, there's a reason most of what is referred to as "food porn" revolves around some type of melted cheese situation. You can even adorably feed each other -- just make sure you don't sneeze and accidentally stab your partner with a fondue fork, which really kills the vibe. Can you shred cheese? Do you have access to fire? Then you can make fondue. If you're a little bit worried about your collective self-control when it comes to cheese and carbs, this little miniature fondue sets for two operate with just a tea candle and make it easy to fondue responsibly.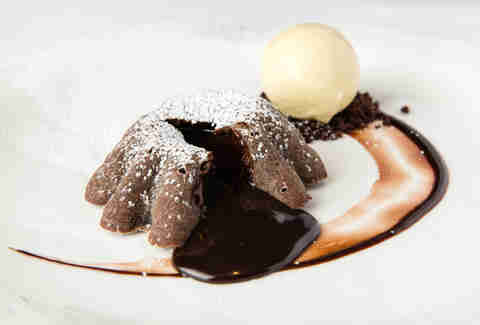 Molten chocolate cake
Special effects! This decadent chocolate dessert has gone a bit mainstream since its fine dining origins, but it still tastes incredible while being sneaky simple to prepare. And yes, the notion of something rich and chocolatey as a "sexy" dessert is a bit of a cliche, but hey, it comes from somewhere. One big bonus here is you can make these ahead of time and just pop them in the oven when the time is right. Another bonus is that if you already expended all your energy making risotto, you can just cheat and scoop some up at Trader Joe's.
Bonus drink: French 75
Champagne (and its various bubbly brethren) is the ultimate special occasion beverage for a reason. Just the act of popping a bottle feels celebratory, it goes with everything, and said bubbles are proven to make people happy. But, just to add a little something extra to the equation, I find that it's an excellent move to bring a little gin and lemon into the equation and start the night off with a French 75, then proceed to drink the rest of the bubbly regular-style for the remainder of the evening, because you're a smart person who doesn't have to drive anywhere tonight.
Sign up here for our daily Thrillist email and subscribe here for our YouTube channel to get your fix of the best in food/drink/fun.