Eat
Sponsored By
Taco Knockout
11 Next-Level Tacos From Famous Chefs
Sponsored By
Taco Knockout
These days you can wrap basically anything in a tortilla and call it a taco. Further proof: the Austin Food & Wine Festival's Rock Your Taco competition, where big-name chefs squared off to create the type of genre-bending and downright weird tortilla'd creations that would send most traditionalists running for the border. The best in show were judged by a celebrity foodie panel featuring the likes of Andrew Zimmern and Gail Simmons. They crowned Tim Love the champion, but for our money, here are the 11 sexiest.
Dan Gentile/Thrillist
Judges' champ: Fried beef tendon, pickled veggies, avocado crema
Tim Love, Lonesome Dove (Fort Worth)
Dan Gentile/Thrillist
Runner-up: Indian-style puffy taco
Chris Shepherd, Underbelly (Houston)
Dan Gentile/Thrillist
Tlacoyo de lengue de ternera taco
Paul Qui, qui (Austin)
Dan Gentile/Thrillist
Duck confit, duck fat tortilla, bacon, jalapeño coulis, crema
Jason Dady, Tre Trattoria (San Antonio)
Dan Gentile/Thrillist
Lamb chili hard-shell taco
Jamie Bissonnette & Ken Oringer, Toro (Boston and New York City)
Dan Gentile/Thrillist
Dan Gentile/Thrillist
Applewood-smoked masu, white corn, green curry, tom kha, honeydew
Tyson Cole, Uchi (Austin, Houston, Dallas)
Dan Gentile/Thrillist
Mushroom polenta, black garlic aioli, Parmigiano-Reggiano
Tony Mantuano, Spiaggia (Chicago)
Dan Gentile/Thrillist
Grilled pork adobo with guacamolito
Levon Wallace, Cochon Butcher (Nashville)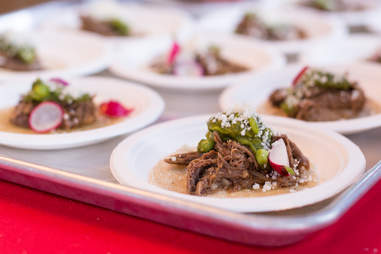 Dan Gentile/Thrillist
Braised lamb, cotija, fava, ramp salsa, white corn tortilla
Hugh Acheson, Empire State South (Atlanta)
Dan Gentile/Thrillist
Crispy octopus, jicama, radish, pickled chiles, achiote
Antonia Lofaso, Black Market (Studio City, CA)
Dan Gentile is a staff writer on Thrillist's National Food and Drink team. He rocks his taco with one of the million hot sauces in his refrigerator. Follow him to choices, choices, choices at @Dannosphere.