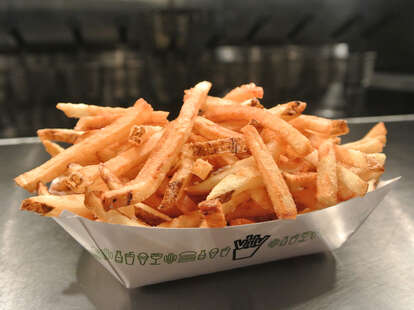 The best burger place owned by a dude who also owns multiple Michelin-starred power-restaurants made a big announcement earlier today, and to our great disappointment it didn't concern the promotion of the apple strudel milkshake to their year-round menu. No, this was Shake Shack's news: They're changing their fries from crinkle-cut to fresh fries
Yes, it's true. The chain's old frozen fries are already a thing of the past at the Upper East Side location in Manhattan, and will be phased out over the next few months everywhere else. Shake Shack's adoring public has now had a few hours to process the news, and needless to say, there's already an 1860s-era house divided situation going down. WITHOUT RIDGES, WHAT IS THE CHEESE SAUCE GOING TO ATTACH ITSELF TO?!?
These were just a few of the passionate outcries to the official Twitter announcement. Some hashtaggers had an especially hard time coping.
Meanwhile, a similar war was being waged on Shake Shack's Facebook announcement...
Though it's comforting to know that someone thought of the cheese in a time like this, the distress kept on pouring in.
This multi-pronged attack featured a notable appearance by crinkle cut fo' lifer Jennifer Beccia, who made sure to make her feelings explicit with an additional thought journal.
And there you have it, folks. Shake Shack's fresh fries: America's biggest controversy since Milli Vanilli.