Taste Test: Shake Shack's "Shacktoberfest" Menu
If we are ranking things I love, I'd place Shake Shack slightly below water, and just above my first-born child.
I'm kidding, I don't have a child -- but I am dead serious about my adoration for the NYC-founded joint that can easily hold its ground against any burger spot, chain or otherwise. So when the opportunity to taste this year's Oktoberfest-themed "Shacktoberfest" menu, I literally jumped at the chance (seriously, I pushed some of my more vulnerable co-workers over). 
This year's selection, available at nearly every national location starting Friday, September 25th (and ending Sunday, October 4th), is packed to the buns with brats, kraut, and everything else we love above German cuisine. And yes, obviously beer.
Thrillist/Cole Saladino
Currywurst
Surprisingly, Currywurst isn't a list of crappy movies starring the guy from Clue -- it's a Shake Shack bavarian brat topped with crispy ShackMeister Ale-marinated shallots and curry ketchup. This was my first experience digging into a Shake brat, and needless to say it tasted like the real deal. The shallots were just the right level of crisp, and were savory enough to perfectly compliment the curry ketchup. You might mistake the shallots for fried onions -- and they are extremely similar. But shallots have a richer, more intense and sweeter flavor that gives it an extra kick. 
Thrillist/Cole Saladino
German Chocolate Walnut Concrete
Next up, I tried the chocolate-centric frozen yogurt (mainly because it was rapidly melting). It's creamy, with hints of malt, and reminded me more of a melted milkshake than any ice cream. It was loaded with coconut-walnut caramel and chocolate truffle cookie dough. Honestly, it was a little hard to differentiate the ingredients, but I cared not: it was a veritable smorgasbord of dessert bliss.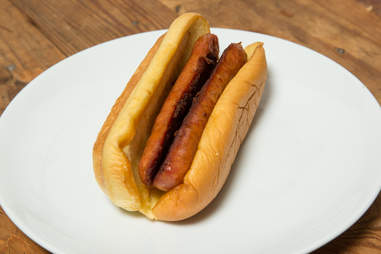 Thrillist/Cole Saladino
Bacon Cheddar Brat
It looks just like a brat split down the middle (like dad used to do on the grill). But remember, looks can be deceiving (have you ever seen The Big Green?) This ended up being my favorite brat, as that middle strip is loaded with griddled bacon and cheddar cheese. Which is pretty much the best combination since...well, The Big Green.
Thrillist/Cole Salad Dino
Apfelstrudel Shake

Hard to say, extremely easy to devour. The Apfelstrudel is vanilla frozen custard, hand-spun with apples, caramel and spices. It literally glows when you pop the top off (as you can see), and it goes down smoother than a polished Granny Smith. It also kinda tastes like what a shake full of McDonald's apple pies would taste like in shake form. In a word: delicious. In my humble opinion, the "Shake" part of Shake Shack is sorely underrated, and this offering proves it.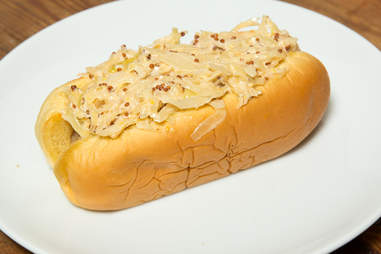 Thrillist/Cole Saladino
Bavarian Brat
Beneath a generous heap of German-style slaw lies a griddled bratwurst, worthy of the name. To be frank, I probably enjoyed this the least of all the offerings. Not that it was **bad** per se, I just found the slaw a little overwhelming. The brat itself is killer, though. 
Thrillist/Cole Saladino
Shake Shack Bier Stein
Filled with ample helpings of Shake Shack's very own ShackMeister Ale, or Brooklyn Brewery's malty Oktoberfest beer. It's 25 ounces, you can take it home, and you can even lug this sucker back to any Shake Shack location during Oktoberfest (remember, it ends on October 4th) for a $7 refill. Both brews perfectly compliment the brats (and burgers), giving you the distinct opportunity to dine out with your stein out for at least a couple weeks.
Thrillist/Cole Saladino
Brat Burger
Yowza. For me, this was the main event. It features Shake Shack's ubiquitous 100% all-natural Angus beef burger, topped with a griddled bacon, cheddar-stuffed bratwurst, and oozing (in a good way) Shake sauce with a light topping of those crispy, Ale-marinated shallots. I'm kind of a classic burger guy (tomato, onions, ketchup, lettuce, cheese) who normally will stay away from stacking Jenga-like proportions of ingredients atop a burger (especially one as good as this). But in this case, all the ingredients compliment and play off each other, and it never seems too overwhelming.
This is the pinnacle of everything on the menu, combined with the tried-and-true Shake Shack burger. if you can only order one thing off the special menu, make it this.
Thrillist/Cole Saladino
The verdict
What are you talking about? It's fucking awesome. It's Shake Shack. What are you doing? Why aren't you going there now? Seriously. Stop reading. Go eat brats and German food!

Wil Fulton is a Staff Writer for Thrillist. He was kidding before, don't stop reading. Follow him @wilfulton
Sign up here for our daily Thrillist email, and get your fix of the best in food/drink/fun.