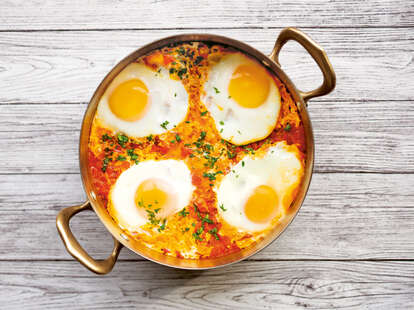 Photo by Infraordinario Studio for Dalcò Edizioni S.r.l.
Photo by Infraordinario Studio for Dalcò Edizioni S.r.l.
Weekend mornings call for lavish breakfasts. But perhaps it's just a little too cold to trek out to brunch, and you're chasing that oh-so-fancy feeling of eating a poached egg. This is where shakshuka comes in—a vibrant, easier-than-it-looks dish to start your day. The ingredients are accessible, and because all the work is done in one skillet, you can take it straight from the burner and dig right in.
The spicy tomato stew has North African origins, nowadays popular all over the Middle East, especially in Israel, where it is said to have been brought over by Maghrebi Jews. Shakshuka can be eaten at any time of day, though it's imperative that you have a nice, crusty bread for dipping. And what makes this dish especially great is the fact that it's naturally gluten free.
This particular recipe comes from The Gluten Free Cookbook, written by Italian chef Cristian Broglia. The former executive chef of Alma (the International School of Italian Cuisine) spent years traveling throughout Europe, Latin America, Asia, and North America, learning about a diversity of dishes that are gluten-free by design.
"When something is naturally gluten-free, it means that there is a tradition behind it," Broglia says. He explains that many of the meals that you'd find in Maghrebian countries are derivative of Shakshuka, using its main components—vegetables, spices, and protein—as a basis. Broglia even grew up eating his own version in Italy, which his mother prepared with peas.
"Shakshuka is a dish that you can prepare very quickly, but you have to pay attention," he says. "You have to understand when all the vegetables are properly cooked, and when the correct time to add the eggs has arrived."
You'll want to start by stir-frying the onion and bell pepper, then add your diced tomatoes and tomato paste, allowing all the vegetables to braise gently in a simmer. Once that mixture has reduced, it's time to add the eggs. Broglia advises being extra gentle with this step. "If you break the yolks into the pot, you can ruin the rest of the dish. The yolk must stay in its entirety on top of the white."
How long you cook the eggs will depend on your desired level of doneness. A hard-cooked egg requires a cooking time of 10-15 minutes, covered, and you need to make sure the sauce does not reduce too much, as that can lead to burning. For a medium to soft egg, cook uncovered for about 5-7 minutes after the sauce has had a chance to reduce just slightly.
To customize this dish, Broglia recommends tossing in some shrimp for added protein and fresh coriander, "to give a touch of freshness." Keeping with the globally inspired, gluten-free theme, Broglia suggests using tortilla chips or Indian papadums as dipping vessels. Or you can switch things up with poached quail eggs to create more of a finger food, or aperitif snack. "This way you're respecting the recipe, but performing a new way of eating it," he says.
Shakshuka Recipe
Preparation time: 10 minutes
Cooking Time: 40 minutes
Serves: 4
Ingredients:
1 tablespoon olive oil
½ onion, diced
1 clove garlic, minced
1 red bell pepper, chopped
4 cups (720 grams) diced tomatoes
2 tablespoons tomato paste (tomato purée)
1 teaspoon mild chili powder
1 teaspoon ground cumin
1 teaspoon paprika
Pinch of cayenne pepper
Pinch of sugar
Sea salt and freshly ground black pepper
8 eggs
½ tablespoon chopped fresh parsley, for garnish (optional)
Directions:
1. In a large frying pan, heat the oil over medium heat. Add the onion and sauté until translucent, 4-5 minutes. Add the garlic and sauté until fragrant. Add the bell pepper and sauté until softened, about 12 minutes.
2. Stir in the tomatoes, tomato paste (tomato purée), chili powder, cumin, paprika, cayenne, sugar, and salt and black pepper to taste. Stir and simmer over medium heat until it starts to reduce, about 10 minutes.
3. Crack the eggs into the tomato mixture, spreading them evenly. When you add the eggs will depend on if you want the eggs cooked soft, medium, or hard.
4. For hard-cooked eggs: Cover the pan and simmer until the eggs are fully cooked, 10-15 minutes. Keep an eye on the sauce to make sure it doesn't reduce too much, which can lead to burning.
5. For soft to medium eggs: Let the sauce reduce for a few minutes uncovered, before cracking the eggs on top. Cover the pan and cook for 7 minutes for medium eggs, 5 minutes for soft eggs with runny yolks.
6. Serve hot. Garnish with chopped parsley, if desired.