Shaquille O'Neal and Guy Fieri actually have a lot in common. Their brash, crass personalities are known to drive polarizing opinions. Each of their instantly recognizable visages seem to grace our screens every 30 seconds. And they both suck at making free throws (in Fieri's case, one can only assume).
Imminently, they'll have another thing in common: both men will be the owners of chicken restaurants.
Naturally, these stories have been covered ceaselessly throughout the annals of the Internet, because when you mention either, people click.
I mean, just look at this.
Or this!
You get it. And if you didn't have the deep-seeded drive to consume any and all materials featuring this duo capable of seemingly infinite levels of self-promotion, you wouldn't be here. So now, we're going to lay out each dude's chicken side hustle, and determine which one actually has the brighter future.
It's the Big Shaqtus vs the Crown Prince of Flavortown. Donkey Sauce vs Diesel. Bald vs Frosted.
And everybody wins.
Recommended Video
Art of the Meal: Chloe Rose Makes Super Mario Bros Art With Hot Sauces
Big Chicken
Wait, who owns this one?: Retired NBA Hall-of-Famer, current announcer, and person you see in approximately 84% of commercials currently on TV
Where will is be?: Las Vegas, Nevada
What is it?: When Shaq isn't bickering with Charles Barkley or thinking about buying things with the Superman logo on them, he's always busy diversifying his assets. And to be, he has proven to be a fairly shrewd businessman. No, seriously. He's already dabbled in food/drink investments, too: he owns stake in Vitamin Water and Muscle Milk, and also personally owns 155 Five Guys restaurants and… 17 Auntie Anne's (so thank the Big Aristotle the next time you're forced to eat a pretzel at an otherwise empty rest stop).
Big Chicken, his inspiringly titled chicken joint, will be an expansive 2,800-square-foot space just off the Vegas strip, due to open in October 2018. Not much is known about the actual operation other than it (obviously) leaning into poultry. Perhaps the most noteworthy facet of Shaq's new chicken venture is that we'll be able to watch the process unfold on Facebook.
Big Chicken Shaq (which actually, should have just been the name of the restaurant in the first place, right?) will document the process of opening the restaurant, and will run for 8 episodes on Facebook Watch. Shaq himself said this to Variety about the project: "It's going to be so much fun designing my own restaurant, and I can't imagine a better group of people to do it with than with my incredibly loyal Facebook fans."
And, he'll be taking questions from those incredibly loyal Facebook fans in-between episodes.
Maybe we can ask him why he didn't name the actual restaurant Big Chicken Shaq. I mean, how could he mess that one up?
 
Chicken Guy!
Wait, who owns this one?: Guy Fieri, noted television host, wearer of flamed shirts, the one man who is still keeping LA Looks in business, and former muffler salesman.
Where will it be?: The Disney World Resort at Lake Buena Vista, Florida
What is it?: First off, yes, there is a Jeb Bush-esque exclamation point at the end of Chicken Guy! So every time you read it, it sounds like it's yelling at you. Chicken Guy!
Fieri's enthusiastic new chicken outlet will feature everyone's favorite edible poultry fried and grilled varieties, brined with pickle juice or lemon, in sandwiches, skewers, salads or just on their own. The rest of the menu will be stuffed with Americana-embracing sides like mac and cheese and fried pickles.
The Guy! himself told QSR Magazine  "I'm stoked to be building Chicken Guy! with my friend, Robert Earl… It's all about the real deal, all-natural chicken, but let me tell you, our sauce game is on point."
Which is important, as the first question we have would have certainly been about the status of Chicken Guy!'s sauce game. Though Shaq's foray into the world of selling chicken will be televised, ironically, Fieri's will not.
Chicken Guy! will open this summer in Disney World's resort in Lake Buena Vista, with reportedly more outposts to come. I can only hope this fills that American Kitchen and Grill-shaped hole in his heart.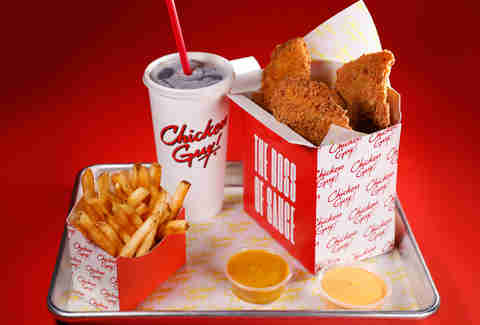 Which one (based on our incredibly premature assumptions) will be better?
While Fieri has a culinary background (don't laugh), Shaq does have more fame -- and a Facebook show to help promote his restaurant. And they both have prime locations, no matter what, people will always flock to both the Vegas strip and anything remotely associated with Donald Duck and Co.
Fieri has more concrete details. But Shaq has more mystique -- a quality highly underrated in fried food. Fieri makes it personal (even though it obviously isn't) by setting up shop in the heart of Florida, where Mr. Diesel started his illustrious career. And Shaq is aiming for Fieri territory by documenting the ordeal, where he no doubt will grab a food with his bare hands, aggressively eat it, then turn to the camera and say some prefabricated catch phrase to the camera. And… who knows, he might just be better at it than Fieri was.
Though there is one gaping, massive, hole in the Big Aristotle's chicken game. For some reason he didn't name the restaurant itself, Big Chicken Shaq, thus missing out on what could have been one of the most deliciously obvious puns in the food world. It makes way more sense to name the restaurant that, than the show. You also could have really just named them Big Chicken Shaq and I really don't think anyone would have cared. I get that maybe he wants to start a chicken empire and the simple "Big Chicken" might be more apt for expansion, but I feel it's more important to give your restaurant a really funny name, than think about the future.
Fieri, in the other hand, landed a branding masterstroke with the simple stroke an exclamation point. And Chicken Guy! is a double entendre with enthusiasm. He's the chicken guy! I get it. I like it. And it definitely helps that the logo looks like the cover of a Jimmy Buffett album. 
So -- until we taste it -- I'm going to have to lean with my guy, Guy on this one, simply because names are kind of important in the restaurant world. It's like old saying, "A rose by another name might smell just as sweet, but if you fuck up a really easy pun, we're going to doubt your chicken."
Sign up here for our daily Thrillist email and subscribe here for our YouTube channel to get your fix of the best in food/drink/fun.