Dunkin' wants you to bite into their new Shark Week donut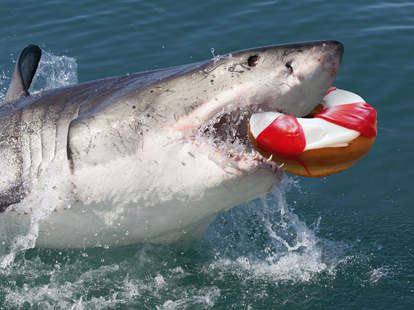 In less than a fortnight, you'll be able to watch some great whites tear up the ocean during Discovery's annual Shark Week. And since watching sharks dine on stingrays is definitely going to make you hungry, Dunkin' Donuts has rolled out a special pastry for the event. The Shark Bite Donut is a yeast ring that looks like a life preserver, owing to its red and white icing, but has the benefit of being much tastier than the real deal.
This donut is just a small part of Dunkin's partnership with Discovery for Shark Week. The chain is also inviting fans to tweet or Instagram photos of themselves chomping into their favorite DD treat with the hashtag #DDSharkWeek to win swag like a $100 gift card or Shark Week prize pack. You might even be featured on Discovery's Shark After Dark, a talk show hosted by comedian Josh Wolf that's running each night of Shark Week -- get your Valencia filter primed.
Kristin Hunt is a food/drink staff writer for Thrillist, and lives every week like it's Shark Week. Follow her to Tracy Jordan truths at @kristin_hunt.