As tried-and-true members of the Seamless generation, we all know what it's like to fall into a takeout rut, our stained countertops overflowing with grease-filled cartons. Those of us trapped in this scummy lifestyle find our bellies perpetually bloated, our bank accounts drained. There has to be a better way to live.
And according to Lucinda Scala Quinn, there is. The former executive editorial director of food and entertaining for Martha Stewart Living has written five cookbooks to date, including the essential Mad Hungry trilogy: Mad Hungry: Feeding Men and Boys, Mad Hungry Cravings, and the newly released Mad Hungry Family. Scala Quinn has dedicated this best-selling series to rescuing chronic kitchen-phobes.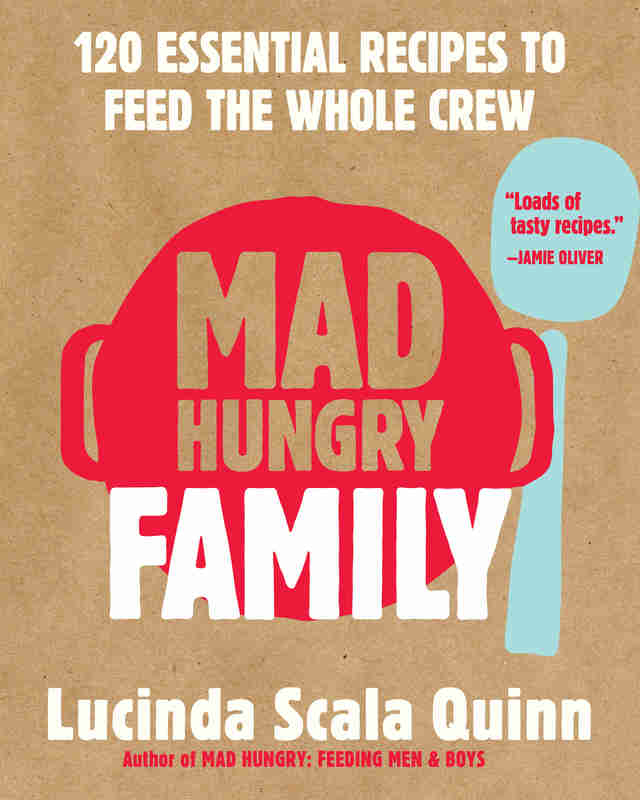 "It's kind of like a car," Scala Quinn says, describing our constant desire to shovel pre-made garbage down our gullets. "Do you put crap gas in your car? No, you take care of your car. There's all sorts of delivery services out there, but if there's an apocalypse, you're going to need to know how to scrape together a meal yourself. You have to get your skill on."
Cooking at home doesn't mean you need hours of chopping practice. "Ninety percent of cooking is grocery shopping, and if you've got your pantry stocked, that's everything," notes Scala Quinn. She suggests arming yourself with plenty of canned tomatoes, tomato paste, dried pasta, olive oil, capers, onions, garlic, shallots, red pepper flakes, cooking wine, chicken broth, rice, potatoes, coconut milk, egg noodles, anchovies, nuts, and vinegar. And be sure to keep some citrus fruits, ginger, Parmesan cheese, butter, sausage, raisins, cabbage, sesame seeds, and Thai curry paste stashed in the fridge.
The 17 recipes listed here represent every basic dish this culinary boss thinks any self-respecting human should have down by the ripe old age of 30. So preheat your oven, grab your knives, and prepare to make your mama proud.
1. Double-decker pork tacos
"This recipe was cribbed from San Francisco's famous La Taqueria, where they melt a layer of cheese between two tortillas before they stuff the taco," says Scala Quinn. "They call it a dorado, or a double decker. I put pork in it, but you can also do chicken or any leftovers, really."
Scala Quinn uses a cast-iron skillet for this guy, too (hint: invest in one of these things, pronto -- they're cheap and last a lifetime). After sautéing the meat and onions, it's the tortillas' turn to hit the skillet. She gets them nice and toasty on both sides, two at a time, dumps her cheese on top, and lets it melt down, grilled cheese-style. Once it's all good and gooey, she scoops her meat and salsa inside, folds it over, and digs in. That beats Taco Bell any day.
2. Scrambled eggs
"Scrambled eggs suck when they're dry and overcooked and brown," says Scala Quinn. "But follow a few little steps, and you'll be good. The biggest one? Don't walk away. Take them off the burner while they're still wet because they'll cook in the heat of the pan for another minute."
Besides keeping an eye on them and removing them from the fire just before they finish, you'll also want to whisk gently (too much beating makes tough eggs), keep the pan medium-high, not high (they'll cook unevenly otherwise), and use butter, not oil, to fry them up. The butter also requires a watchful eye -- make sure to add the eggs when the butter is wet enough to coat the entire pan and just a little foamy, not smoking and brown. Want to really impress that morning-after date? Chop up a teaspoon or two of chives and sprinkle them on top before serving. She won't regret a thing.
3. Braised cabbage
"I call cabbage the king of the crisper," Scala Quinn tells me. "That thing can just languish there for weeks. It's also the cheapest, healthiest vegetable you can buy, and it goes a long way -- you can treat it as a side dish or even throw an egg on it for a complete meal."
You might associate cabbage with bland, unappealing nursing home food, but braised right, it's downright delicious, not to mention cheap. Scala Quinn suggests going with a standard green cabbage, one you'd find in any half-decent produce aisle. Then heat up a large skillet on high, drizzle in 2 tablespoons olive or vegetable oil, wait until it starts to shimmer, and toss in 2 chopped onions, 2 bacon strips (oh yes), and 2 minced chili peppers, and saute for 3-5 minutes.
After that's done, go ahead and add in 2 small cabbages, cored and shredded, 2-3 chopped carrots, a ½ teaspoon salt, and a ½ cup of chicken broth or water. Turn the heat down to medium-low and cook, stirring occasionally, until the cabbage is tender, about 15-20 minutes. Be careful -- if it looks like it's about to burn, add a bit more liquid to soften things up. You'll be a cabbage kid for life.
4. Flat roast chicken
"A regular roast chicken can take an hour and 20 to cook, but mine only takes 40 minutes," Scala Quinn explains. "I recommend buying a whole bird, since it's cheaper and comes out killer either oven-roasted at 425℉ or grilled over indirect heat."
Pro tip: Flat roasting, or "spatchcocking" means the chicken's backbone has been removed to cut down on cooking time. You can buy it pre-boned, or achieve the same effect (as well as markedly crispier skin) by cutting along one side of a bone-in chicken's backbone with kitchen shears, and leaving the other side intact.
To roast, preheat your oven to 425℉, brown the bird in a cast-iron skillet over high heat for 3 minutes on each side, and pop the pan in the oven for 40-45 minutes or until a thermometer stuck in the thickest part reads 165℉. To grill, set up your BBQ for indirect heat (only light half of the burners), place the chicken on the cooler side, skin-side up, open the vents, and cook for 45 minutes or until it also reaches 165℉.
You can also season your clucker any way you'd like -- drenched in a mix of citrus juice, salt, pepper, and butter for a tangy flavor; coated in spices like garam masala; or brushed with barbecue sauce, flipped, and cooked for about 5 minutes on each side just before taking it off the grill.
5. Caramelized cauliflower
"Caramelized cauliflower is a game-changer," gushes Scala Quinn. "It's just high heat, salt, and olive oil. If you thought you hated cauliflower, try this -- it's basically the potato chip version."
She's right. You can prepare this quick and easy side while you're waiting for your protein or grains to finish cooking. All it takes to transform this boring old vegetable into a caramelized treat is a 400℉ oven, a cauliflower head, cored and chopped into ½-inch-thick chunks and coated with olive oil, and salt. Spread those puppies out on a baking sheet, roast them for 20-30 minutes, and enjoy.
6. Pan-fried pork chops
"Pan-frying a pork chop is a skill you absolutely need," says Scala Quinn of this surprisingly speedy weeknight dinner. "The meat takes on whatever seasoning you have. I recommend ginger and spicy-sweet elements -- it's one of my favorite ways to do it."
For hers, Scala Quinn generously seasons a ½-inch to ¾-inch-thick chop with salt. Then, she throws them on a heavy, well-oiled skillet over high heat to brown, about 5 minutes per side, before setting them aside to rest. In the same pan, she sautés garlic, ginger, and hot peppers in another splash of oil for 6-8 minutes over medium-high heat. She tosses the chops back in for a few minutes and, presto, they're done.
Scala Quinn advises serving your chops with rice -- and for good reason. If you start the rice early and then brown your meat when the rice begins to steam, they'll both be done around the same time. That way, you can get right back to that Black Mirror episode with a hot-and-ready plate in hand. It's a win-win.
7. Thai-style pork ribs
"You can make these taste exactly like delicious sweet-and-savory takeout ribs," Scala Quinn says. "And once you realize how easy they are and start doing these at home, you'll flip everybody's lids."
These tasty suckers can either be grilled or baked, depending on your preference and resources. To start, you'll need 6 seeded and minced hot chilies (4 Thai and 2 serrano, if you can get your hands on them), a head of peeled and minced garlic, 6 diced scallions, a ¼ cup rice wine or dry vermouth, ¾ cup sugar, ½ cup fish sauce, ½ cup rice wine vinegar, a teaspoon of toasted sesame oil, and 4 racks of pork spareribs. Whisk everything together minus the meat, then drop the meat into the liquid and leave it in the fridge to marinate for 1-3 hours.
While you wait, prep your BBQ for indirect heat. When the grill reaches 250℉, drop the ribs onto the grill's cooler side, cover, and position vents so that they're just barely open. Baste the ribs in the marinade every 20 minutes or so, turning them to make sure all sides cook through, for the next 2 ½ to 3 hours. They might take a bit longer than ordering Seamless, but they're much, much more impressive.
8. Arroz con pollo (aka chicken & rice)
"Honestly, learn this recipe now," Scala Quinn commands. "Brown the chicken, add some onions, rice, and seasoning, and you've got a one-pan meal that you can eat solo or feed a whole family with, take to work the next day for lunch, scoop out into a container and freeze for later -- you name it."
This versatile crowd-pleaser only requires olive oil, a 3-4-pound chicken cut into 16 pieces, salt, rice, chicken broth or water, and whatever extra veggies you have on hand. First, coat a large skillet in oil, heat on high until it shimmers, and then add the chicken, browning it on all sides for about 10 minutes. Once it's nice and crispy, remove the chicken, toss in your vegetables (a chopped-up mix of 1 onion, 4 garlic cloves, 2 small carrots, 2 celery stalks, and ½ a seeded bell pepper does the trick), and saute them in the bird's juices for 3-4 more minutes.
To finish up, stir in a teaspoon of cumin, 3 cups of rice, a ½ cup sliced green olives, and a handful of chopped cilantro. Once combined, pour in 5 cups of chicken broth or water, nestle the chicken back into the mix, and bring everything to a boil over high heat. Then reduce it to a simmer, cover, and cook until the rice looks tasty, about 40 minutes for white rice or 55 for brown.
9. Chili
"Chili is great because it can be made with minimal ingredients, cooks in record time, and you can serve it any way you want -- just the way it is, over rice, on nachos, or on a hot dog," Scala Quinn says. "Just get yourself going with garlic, oil, and beef, and the rest is as simple as you can get. You don't even have to use one of those gross chili seasoning packets."
Avoid a sodium OD by following the expert's lead here. Blend together 1 teaspoon each of cumin, salt, and oregano, a pinch of crushed red pepper, and a few tablespoons of chili powder and add it to a large pot of sauteed chopped white onions, minced garlic, and 2 pounds of browned ground beef (she likes sirloin) over medium-high heat. Keep this bubbling for a few additional minutes -- the heat allows the spices to infuse the meat with all that amazing flavor. Next, pour in a can of crushed or stewed tomatoes and a bottle of beer (any not-too-sweet style -- save that raspberry beer-garita for later, bruh). Then just set it and forget it over low heat for an hour or so, mix in a drained can of kidney beans about 45 minutes in, and head for the tailgate.
10. Grilled salmon
"I find that fish can turn people off, but a lot of the time it's because people think it'll be too fishy or it'll make your house smell," laments Scala Quinn. "But a balsamic and basil reduction gives it a yummy tangy-sweet flavor that takes the edge off those fish-phobe worries."
Figuring out how not to eff up fish is a mark of adulthood, so you'll want to be able to prepare a pound's worth of skin-on salmon filets with the finesse of a grown-ass person. To really make it pop, combine 1 cup balsamic vinegar, the grated zest and juice from 1 lemon, and 1 large basil sprig in a small saucepan over medium and simmer it for 8 minutes, until about half of it evaporates (that, my friend, is called reducing). Next, fire up the grill or heat up your stovetop grill pan on high, rub some vegetable oil onto the skin of your salmon portions, slap 'em down skin-side down, cover, cook for 3-4 minutes, making sure to brush them with marinade a few times while they roast.
11. Steamed clams or mussels
"You know how restaurants serve those super-flavorful bowls of mussels or clams and you use your bread to dig it up?" asks Scala Quinn. "There's only a few steps you need to follow to make those mollusks taste good, as well as lots and lots of options to make it your own."
Upping your shellfish game is way easier than you thought. First off, wash them well to remove any nasty sand or debris. For mussels, a beard trim and a quick cold water rinse will do just fine. For clams, scrub them down and let them soak in cold water, draining and refilling the bowl until the water runs clear. Scala Quinn's trick is to add a handful of cornmeal to the clam bath -- they'll open up to have a bite and release some dirt in the process.
When you're ready to cook, put the mollusks in a large pot with a tight fitting lid and add a ½ cup of water. Cover the pot and steam the little guys over medium-high heat until they pop open, then take them out of the pot with a slotted spoon, and set them aside. Strain the liquid through a cheesecloth to remove any gross seafloor souvenirs, and voila, there's your broth. Change it up by experimenting with subbing beer, wine, or stock for the water, adding seafood-friendly spices like paprika and celery salt, or starting with a hearty tomato sauce base.
12. Carbonara
Carbonara centers around what breakfast sandwich fans call "the holy trinity" -- bacon, eggs, and cheese. And it's deceptively easy to make.
"This was the first dish all of my kids learned," says Scala Quinn. "My third son made this all on his own at12. It's the kind of thing you cook when there's nothing else in the house to eat." I mean, if a tween boy with an empty fridge can do it, you better have this one down.
Start by whisking together 3 large eggs, 1 cup of grated Parmesan, and a few good shakes of black pepper. Then cook the bacon in a large skillet over medium-high heat until it's crispy and smells like heaven, usually 8-10 minutes, add two smashed garlic cloves and a splash of white wine, and let that simmer for a minute or two. Boil your pasta (spaghetti is a good choice) as instructed on the box until al dente, drain, and quickly add both the bacon mixture and the noodles to the egg bowl. Toss until the pasta is well-coated and the heat from the bacon has cooked the eggs gently, turning them into a rich sauce. Dish it out and top it with some extra Parm and you're good to go.
13. Pizza parlor salad with Rose's vinaigrette
"The pizza parlor salad is really for non-salad eaters," Scala Quinn notes. "The key here is the romaine. The stuff in the bag? Bag that shit -- it just wilts into nothing. You really need a crisp romaine to dig your salad."
That's right, buddy -- if you've always written off salad as pizza's lame friend, this one's for you. Chop up two hearts of romaine, throw it onto a platter, and top it with 3 plum tomatoes cut into wedges, 2 thinly sliced small red onions, ½ cup pitted black olives, and ⅔ cup shredded Parmesan. Then comes the fun part: dressing.
"This is my mother's dressing recipe. My father wouldn't eat salad without it," she continues. "You can make it, put it in a jar, leave it in the fridge, and keep using it." For 1 beloved cup, mash 1 minced shallot in the bottom of a Mason jar, incorporating 1 teaspoon Dijon mustard, 1 teaspoon light brown sugar, ¾ teaspoon salt, ¼ teaspoon black pepper, and ¼ teaspoon Worcestershire sauce as you get your anger out. Then pour in ¾ cup extra-virgin olive oil, 1 ½ tablespoons red wine vinegar, and 1 tablespoon lemon juice. Cap the jar and shake what Scala Quinn's mama gave ya until it looks like salad dressing.
14. Spaghetti and simple tomato sauce
"I learned this from my grandmother," remembers Scala Quinn. "Now my father makes this, my kids make this -- all of us. This is the dish I want when I'm on my deathbed and there's only one thing left I can eat."
Salt the pasta water and get it boiling while you get the gravy (that's Italian-American for tomato sauce) rolling. To make the sauce, add 2 tablespoons of olive oil, 2 minced garlic cloves, and a pinch of crushed red pepper to a saucepan set over medium heat and stir until the garlic is lightly sizzling but not brown, about 30 seconds -- burning garlic is one of the gravest sins you can commit, so be careful. Dump in a 28-ounce can of crushed tomatoes (or whole tomatoes, lightly pulsed in a blender) and a ½ teaspoon coarse salt and let that delicious mess simmer for 20 minutes. At the 10-minute mark, drop your pasta into the pot of boiling water and cook it for about 2 minutes shy of the package's instructions, drain, add it to the sauce, and toss it for another minute or so before dishing it out. Now, you eat (and eat, and eat).
15. Chicken soup
"Who doesn't need to have chicken soup up their sleeve?" asks Scala Quinn. "I also recommend throwing a little chili in there just to kick anything sick out of you."
Her go-to recipe is something she calls "rag soup," a generational hand-me-down made from 1 quart chicken stock, 4 large eggs, ⅓ cup grated Parmesan, 1 tablespoon chopped parsley, a pinch of black pepper, a handful of fresh spinach, and a bit of coarse salt to top it off. To DIY it, whisk together the eggs, cheese, parsley, and pepper while bringing the broth to a boil in a medium pot. When the broth is fully rolling, carefully stir in the egg mixture. The heat will cause the eggs to stick together in soft little clusters, or rags (hence the name). Add the spinach and stir until wilted, about 2 minutes. Shake in a bit of salt -- and chili pepper if you're in need of some sinus-clearing -- and serve hot.
16. Meatballs
"Some of my earliest memories hanging around a kitchen involved a very important question -- whether it was better to brown the meatballs first or to drop them straight into the sauce to simmer away," says Scala Quinn. "My Italian grandmothers lovingly bickered over this subject throughout my whole childhood."
Grown-up Scala Quinn's version is tasty no matter how you cook it, saucy or seared. First, she stirs together a pound of ground beef, a large egg, a tablespoon of grated onion, a minced garlic clove, ½ cup grated Parmesan, and a ½ teaspoon salt, then she rolls the mix into 15 1.5-inch balls. Then it's time to either brown them in a heavy-bottomed saucepan or drop 'em straight into some bubbling red sauce. The choice is yours, bambino.
Take note: Just like their stateside bro, meatloaf, too much massaging equals tough meatballs. Scala Quinn suggests dunking your hands into a bowl of cold water every so often to keep the meat from sticking to your fingers -- that way, you avoid wasting meat and keep your touch soft and nimble.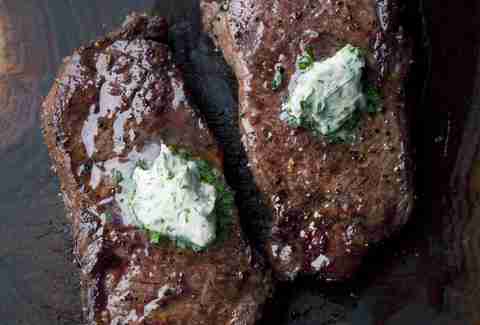 17. Grilled strip steak
"Every dude wants to eat a grilled steak, and every dude asks for a grilled steak to be cooked for them," says the chef. "In Mad Hungry Family, I also include six different ways to make a super-simple, three-ingredient herb butter. It's the best way to take a straightforward steak and rock it without too much effort."
Steaks are a thing of beauty. And, as with any real beauty, they shine brightest when left in their most basic form -- it's like when Alicia Keys ditched her makeup and everyone lost their damn mind over her newfound hotness. Scala Quinn recommends salting before throwing your steak on the grill, then cooking it, untouched, over high heat for 3 minutes on each side for medium-rare. Top that pretty baby with some fresh herb butter, made by simply whipping some fresh-chopped, flavorful herbs or spices (i.e., citrus zest, cayenne, shallots -- your pick) into slightly softened butter, and you're in business, gorgeous.
Sign up here for our daily Thrillist email, and get your fix of the best in food/drink/fun.