Skip the Grill and Throw These Summer Dinner Parties Instead
kkgas / Stocksy
kkgas / Stocksy
Put the tongs down. Untie that ironic "Kiss the Cook" apron. Back away from the grill. It's not that your friends aren't impressed by your ability to flip six hamburger patties at once, it's just...how many barbecues can a person attend? To shake up the summer party scene, throw one of these epic get-togethers — none of which involve macaroni salad that's been sitting out for three hours.
Seafood boil
This buttery, savory crowd-pleaser is a lot easier to host than you might think. Since practically everything gets prepared in the same pot, both cooking and clean-up couldn't be easier. And lobster is downright delicious.
Menu: Lobsters, mussels, crabs, and crawfish. Oh my! Break up the seafood with some corn on the cob and potatoes. And everything gets a good squeeze of lemon, a sprig of thyme, and a dusting of Old Bay.
Decorations: We weren't kidding when we said this is truly one of the simplest parties to throw. Since the food itself is so eye-catching (think bright red and beautiful lobster and slices of lemon), you don't need to do much to make your table look great. Just spread some newspaper out and lay your provisions on top of it. For a pop of color, try some nautical-themed blue and white napkins, and hang an anchor or lifesaver on the wall if you're feeling extra kitschy.
The one thing your guests won't see coming: Everyone knows wine goes perfectly with seafood, so get the party going with a wine tasting. Since experts can't seem to agree on what the best pairing is, grab some Chardonnay, some Sauvignon Blanc, a few others, and decide for yourselves.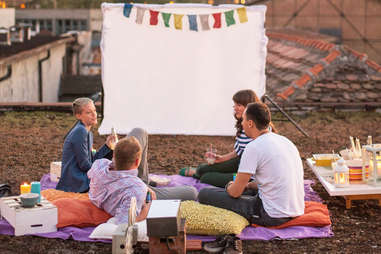 Outdoor movie night
Cities around the country offer movie screenings in parks and on beaches and rooftops, but nothing beats the intimacy of your own home. By hosting your own outdoor movie night, you get to choose your snacks, the flick you watch, and most importantly, the guest list.
Menu: By choosing an easy-to-eat food, you can get the movie started quickly, and guests who arrive late can just help themselves and join in on the fun. Grilled pizzas are an awesome summer meal, and you can customize them to match everyone's palates. Simply coat your dough in a little olive oil, then toss it on the grill till it's crispy. Not sure where to begin when it comes to toppings? Start simple with mozzarella, crushed tomatoes, garlic, prosciutto, and basil.
Decorations: So many blankets and even more pillows. Seriously, just cover your entire yard with them and let people chill out. To add to the already cozy vibe, string some LED lights on the deck and around the movie screen, and scatter some floating candles around the yard. Pro tip: If you use essential oils in the candle water (like citronella, peppermint, lemon, eucalyptus, and lavender) they can help keep those pesky mosquitos away.
The one thing your guests won't see coming: Your guests definitely assume there will be popcorn, but what they probably won't predict is a popcorn BAR. For this you'll need some brown paper bags (the kind you haven't seen since middle school), a ton of kernels, candy, and some mason jars. Decorate a table or bar cart with mason jars filled with all your favorites. We're talking M&M's, Milk Duds, marshmallows — you name it. Your guests will be able to grab a bag and fill it with popcorn plus all the trimmings. Movie night never tasted so good.
Ice Cream Social
We eat ice cream all year long, but you can't deny it just tastes sweeter in the summer. So to celebrate the season's best dessert, throw an entire party for it. There's just one rule: Whipped cream is a non-negotiable.
Menu: This is an adult ice cream party, OK? You need to go way beyond a build-your-own-sundae station. Instead, try making a variety of ice cream bonbons using your favorite flavors, chocolate, and toppings. All you do is scoop a few round scoops of ice cream (let's say, pistachio) onto a baking sheet and coat with melted chocolate and even more pistachios. Pop them in the freezer until they're firm and you'll be ready to go. Get creative; you can use any flavor from cookie dough to rocky road.
Decorations: Pastel everything: tablecloths, napkins, a DIY triangle flag banner — the works. To add even more pizazz, make the banner with patterned wrapping paper. Alternating polka dotted and striped triangles (maybe even a floral pattern) will really elevate the space.
The one thing your guests won't see coming: You don't have to go to the Museum of Ice Cream for a cool (get it?) photo opp. Instead, build a photo backdrop your friends won't be able to resist. After adhering the contact paper of your choosing to an empty wall, grab about 30 ice cream cones (five rows consisting of six cones each) and glue them to the wall. The three-dimensional photobooth will be the most photographed thing all day.
Cocktail party
Considering a cocktail can be basically whatever you want it to be, this soirée presents limitless options and so much room for creativity. It all depends on what you want to be sipping.
Menu: Bite-sized everything. Mini grilled cheese sandwiches with tomato soup shooters, grilled scallops wrapped in prosciutto, teriyaki meatballs, spinach and feta puffs — the list goes on. Everyone knows the best part of a cocktail party is the food anyway.
Decorations: Definitely keep it understated and elegant. Invite your guests over just before sundown so you can enjoy that magical golden hour together. High-top tables with white tablecloths, tulips, and candles will make your backyard feel super classy.
The one thing your guests won't see coming: If you're serving passed hors d'oeuvres, you'll need someone to pass them. Wow you friends with a couple of waiters to clear glasses and serve the snacks. They'll feel like they went to a fancy catered affair (even if you just hire the neighbor's son).
Beachside picnic
Oftentimes, food at the beach is an afterthought. If you're lucky, you remember to throw some hummus and carrots in the cooler — and sandwiches if you wake up early enough. But what if the food were the whole reason for heading to the beach? Let's see here...
Menu: Buffalo chicken pinwheels (or any kind of roll-ups) are your easiest and cleanest option here, since sand can be a real pain. Combine hot sauce with cream cheese and sliced green onions. Mix in some shredded cooked chicken, spread it on some flour tortillas, and roll 'em on up. On the side, iced coffee cups can be used as individual salad containers — just use the straw hole as a fork holder. Less fuss means more fun in the sun.
Decorations: For quick embellishments, collect some seashells from around the beach to keep your sheet from blowing away and to add to the theme. Since it'll be a public space and difficult to decorate, try bringing a bright umbrella, and building a bonfire when it gets dark out to transition the festivities from day to night. If you want to make some colorful, "This way to the party" signs, tape 'em to cheap bamboo skewers and stick in the sand along a scenic path that won't bother other beachgoers. Just remember to take the signage with you when you go.
The one thing your guests won't see coming: It's hard to navigate the beach (packing up the car, unloading it, etc.), so your guests will be impressed with whatever you pull off. That being said, a table to hold all the food can really take the day to the next level. Set up a simple folding table with a tablecloth and decorative netting. On the sand, some sheets and outdoor pillows will transform the beach into your own private island. Who needs to go to Cabo, anyway?
Twilight pool party
Summer was made for pool parties — but they don't need to be restricted to the daytime. Instead, invite the gang over and play a little Marco Polo by the light of the silvery moon.
Menu: Since guests will be in and out of the pool, don't serve anything too heavy. For your main, tacos make a hearty meal, and you can eat as few or as many as you want. Just slow-cook a pork shoulder during the day for tacos al pastor, and let your guests assemble the rest. For an appetizer, individual seven-layer dips served in disposable plastic cups won't disappoint. Double-dipping is not only allowed, it's encouraged.
Decorations: It's time to make things shine in the moonlight. To start, you'll need some glow-in-the-dark necklaces for your guests to wear and some glow sticks to toss in the pool. LED lights can instantly transform your backyard into a club — giving just enough brightness without being too harsh. You'll be able to party till the sun comes up.
The one thing your guests won't see coming: Two words: poolside...karaoke. All you need is a white sheet to hang, a projector, and a YouTube channel filled with all the hits.
Fondue night
Is fondue one of the most underrated foods ever? Heck, we sure wouldn't put it on this list if we didn't think so. Cheese, chocolate, bread, fruit, veggies — truly all the best food groups are involved in a fondue night (and yes we're counting chocolate as a food group), so let's get to planning your evening of bliss.
Menu: For dinner, cheese. Specifically Swiss and Gruyere melted with garlic, dry white wine, and some dry mustard among some other flavor enhancers. You can dip any food you like into this gooey goodness: pumpernickel bread, broccoli, cauliflower, and asparagus to name a few. For dessert simply melt bittersweet chocolate with heavy cream for the fondue. On skewers, char marshmallows, bread, and bananas and dip away. Dreams do come true, folks.
Decorations: You don't need to go too crazy with decorations since your spread will surely impress. But if you want to be cute design a sign that says, "When I dip you dip we dip." This sleeper hit of the '90s will be showing up at fondue shindigs all over the country.
The one thing your guests won't see coming: Why have a simple fondue pot when you can have an entire fountain? This inexpensive stainless steel fountain will be the life of the party.