Nacho burger, chicken fried steak burger compete to kill you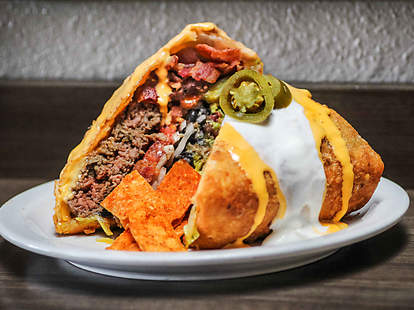 Each month, Southern California's Slater's 50/50 adds an insane burger for a 30-day residency. (April's was the Gyro Burger.) But seeing as May is National Burger Month, they threw down the gauntlet, featuring four of their greatest hits, which are pitted together Final Four style.
Back in March, Slater's made a bracket of 16 of their best creations from the past, allowing fans to vote for their favorites. Now we're down to four. Considering these monsters beat burgers like California Burrito, the all-bacon 'Merica, the Cuban, and Best of the Wurst, you know they're bringing their big hitters. Here they are.
Slater's 50/50
This week's selection is the Bison Burger, featuring caramelized onions, roasted red pepper, blue cheese coulis, pistachio butter, grilled tomato, baby greens, a honey wheat bun, and a patty made of Ryu's greatest enemy.
Slater's 50/50
After the Bison Burger finishes its run on May 11th, the Chili Relleno Burger will step up in its place from May 12th-18th. This one's got carne asada, cheese-stuffed chili relleno, lettuce, pico de gallo, and salsa roja stacked between a brioche bun and hopefully served with a side of Tums.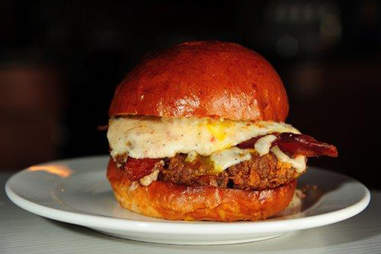 Slater's 50/50
The week of May 19th-25th belongs to your cardiologist's nightmare: the Chicken Fried Steak Burger. It rocks breaded Brandt beef, homemade bacon-infused country gravy, fried egg, and bacon on a brioche bun.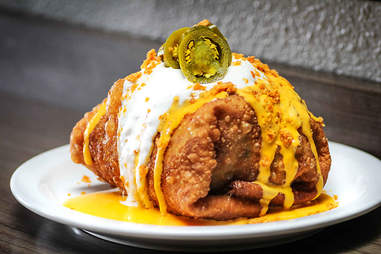 Sara Norris
The star of this tournament is unquestionably the Supreme Nacho Burger, which takes residence for the final week (May 26th-31st). The mutant meal is comprised of a carne asada burger, pepper jack, cheddar, lettuce, onion, black beans, bacon, tortilla strips, salsa, and guac rolled into a flour tortilla... which is then tossed into the deep fryer. The finished product comes topped with nacho cheese, sour cream, and jalapeños, because all that other stuff wasn't enough.
Kristin Hunt is a food/drink staff writer for Thrillist, and is bummed Sloppy Joseph only made the Sweet Sixteen. Follow her at @kristin_hunt.