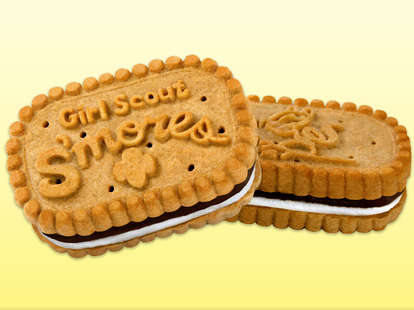 Courtesy of Girl Scouts of the USA
Courtesy of Girl Scouts of the USA
January is a wonderful time of year: Winter is in full swing, the holiday madness is over, and -- perhaps most important -- it's Girl Scout Cookie season! To help celebrate 100 years of you buying cookies outside of supermarkets instead of inside of them, the organization just announced that it's releasing a brand-new cookie: Girl Scout S'mores.
Now, depending on where you live in the country, you'll get the chance to buy one of two extremely different types of S'mores cookies. That's because the Girl Scouts have two different bakers that make the snacks (you can find out which bakery caters to your region here). But don't worry, both versions sound good enough that you'll want to eat an entire box.
The ABC Bakers S'mores layers a creme icing and a chocolate coating over a graham cracker wafer. The Little Brownie Bakers version is a sandwich cookie, with two graham crackers surrounding two layers of chocolate and marshmallow filling.
The only question left now is this: Will the S'mores cookie taste better than the best Girl Scout Cookie of all time?
Sign up here for our daily Thrillist email, and get your fix of the best in food/drink/fun.