Footlong lobster roll alert!
We're super sorry, buuuuut we're about to make it impossible for you to enjoy a regular lobster roll ever again, no matter how meaty and buttery and delicious it is. The footlong lobster roll officially exists, and it's back at Cull & Pistol this weekend.
For National Lobster Day -- which is a thing on June 15th, 2014 that you probably should've already known about (there's a National Day for EVERYTHING, people!) -- and the day before National Lobster Day (so, June 14th), NYC's Cull & Pistol (also home to the Gator 2.0, the Drink of the Summer) created a full, 12in lobster roll that you can get either Maine- or Connecticut-style. It's probably the best way ever to spend $40 on something in a bun, maybe ever.

They use a half pound or more of actual lobster meat (mostly claw and tail bits) and pack it into a toasted, buttered split-top roll from Arnold Bread, which needed to make them especially for Cull.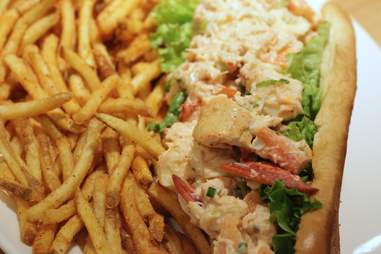 It's mayo and scallions on the Maine joint, while the CT number actually nets you a little more meat, and is made with an incredible-sounding 2oz of butter created from a giant batch of brandied lobster stock that's cooked down. If your mouth's not watering now, you're probably not American.
Andrew Zimmer is Thrillist's NYC editor and he believes all sandwiches should be at least a foot long. Follow him on Twitter and Instagram.