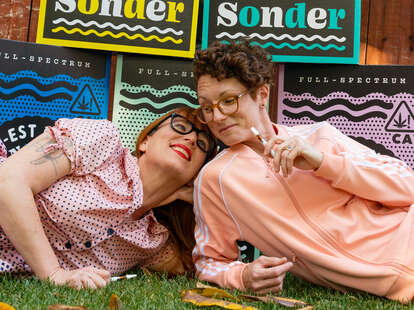 Founders Faun Chapin and M. Paradise

| Photo courtesy of Sonder
Founders Faun Chapin and M. Paradise

| Photo courtesy of Sonder
You just have to smile when you spot a Sonder product. Neon ink makes the playful, patterned packages of vaporizer oil cartridges pop from the shelf, and the silver foil bags of Space Crystals—the brand's infused spin on Pop Rocks—feature a mouth opening to reveal galactic gems.
The designs are hypnotic, the descriptions are cheeky, and the Space Crystals come in punny flavors like Stoned Fruit and Pineapple Party. They're just plain fun, which is exactly what founders Faun Chapin and M. Paradise intended when they launched the brand in 2017.
Chapin grew up in Mendocino County, in the heart of the Emerald Triangle of West Coast cannabis production. She is technically a second-generation cannabis entrepreneur, following in the footsteps of her cultivator mother. However, when Chapin thinks back on her childhood memories of the old school days, and the lifestyle required of doing things the old school way, "fun" is not a word that comes to mind.
"When we say 'war on drugs,' it really was a war. Agents rappelling down from helicopters with machine guns—it was scary," Chapin remembers. "We had to be careful. Every morning, we'd put on a full body wetsuit and wade up a river to get to my mom's grow and water the plants."
Back then, the risk was high and so was the reward. Prices for a pound of flower were around $5,000, compared to today's average in the legal market of $1,336/pound. Chapin's mother was able to raise her three children on her own, get off of welfare, and even put Faun through grad school at Yale. So while her memories aren't all warm, fuzzy visions of a hippie utopia, Chapin has immense respect for all the women who laid the foundation for the industry she now occupies.
"It's infuriating to hear people talk about these 'OG growers' as only dudes in the woods—the real OGs were the women," explains Chapin. "The women were the gardeners in these hippie communities. The women were the original Emerald Triangle growers, but when the '80s hit, and state governments started threatening taking their children away, they stopped growing."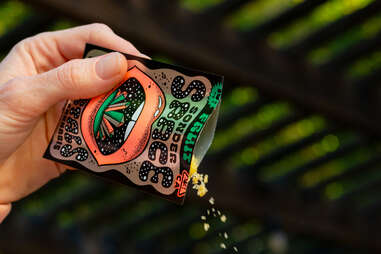 For these reasons, and others, Chapin was never interested in growing herself, although her siblings did end up learning the trade and getting their medical licenses. She headed off to New York to work in branding, and met and fell in love with Paradise, with whom she started the design agency Guts & Glory in 2012. It wasn't till she found herself back in the Bay Area just as California legalized cannabis that Chapin felt the plant calling.
"We had this growing experience in our network, my brother would be able to supply some product, plus branding expertise," Chapin says. "We also looked around at what was happening in the space in 2016, and it was like, 'Where's the fun? Where is the creativity and curiosity that we all so often experience when we enjoy cannabis?'"
Chapin and Paradise got to work, declaring a mission to "delight and reward the brain and tongue" with pure, potent, and joyful cannabis products.
"We always wanted to be the Wilhemina Wonkas of weed," she says. "Not the targeting of children, but in the bringing of childlike joy to adults. We wanted to build something for us, for those who enjoy leaning into the curiosity of cannabis—something for women, and for the queer community."
"If Sonder ends up only appealing to the girls, the gays, and the theys, so be it."
Chapin considers the Space Crystal candies a bubbly manifestation of that. Take the Cheers Queers flavor—a combination of strawberries and champagne, like the taste of a drag brunch—which intentionally launched during the holiday season, to remind those with more complicated family ties that they've got a queer family out there, everywhere. Unfortunately, even in 2021, the sentiment was lost on close-minded dispensary buyers.
"Some retailers really misunderstood and found it very off-putting to see the word 'queer' on a package—they just flat out refused to carry it," she says.
It doesn't bother Chapin too much, though. There are plenty of dispensaries out there that want to support queer brands, and many hundreds of thousands more customers waiting to feel more seen by legal cannabis products on shelves.
Sonder has a suite of new flavors and higher THC dosages on the way—including Wakin Bacon (a maple bacon flavor with real bacon bits), a birthday cake styled Rainbow Briter, and cinnamon red hot-flavored Spooky Ooky, plus a diamond-infused, pre-roll line made in customized partnership with musician Qveen Herby. The brand will launch in Nevada next month, Michigan in the coming months, and New York next year. Bigoted dispensary buyers be damned—it looks like Sonder's going to be just fine.
"If Sonder ends up only appealing to the girls, the gays, and the theys, so be it," Chapin says. "That's what, 70% of the market? Fine with us."
Lauren Yoshiko is a freelance writer and editor based in Portland, Oregon. She writes
The Broccoli Report
, a bi-weekly newsletter for creative cannabis entrepreneurs.