ATTENTION: Sonic is doing half-price shakes ALL DAY TODAY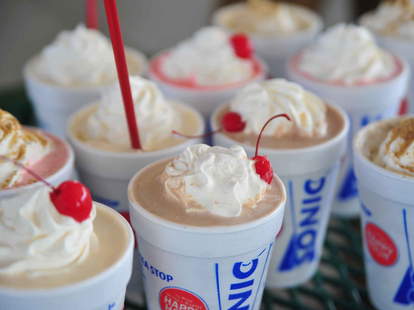 You just experienced the longest night of the year, so now that that's over, why not celebrate the impending coming of spring with some milkshakes? At least, that's the logic behind Sonic's promotion -- going strong all day today -- which is offering every customer half-price shakes in any size they want. Take that, winter solstice!
Sonic's astounding array of shakes (which, at the time when we made one of our editors taste-test them all, totaled around 25) are all worth your time, and -- at a now-adjusted price of $1.15 for a mini, with slightly more for larger sizes -- your hard-earned dough. You can get them in such featured flavors as Oreo Peanut Butter and Strawberry Cheesecake. Seize the (long-ish) day.
Adam Lapetina is a Food/Drink staff writer for Thrillist, and wishes there was a Sonic in New York City. Read his musings at @adamlapetina.