We Tried Sonic's Brunch Burgers and 'Mimosas' to See If They're Worth Waking up For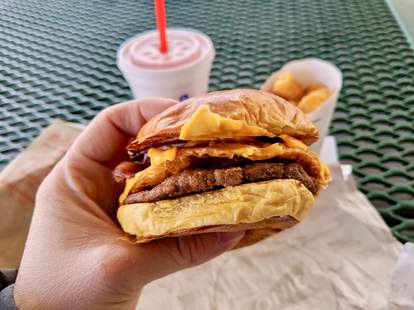 You never eat or drink just one thing at brunch -- you're multitasking bites of eggs, pancakes, bacon, French toast, mimosas, and bloody marys, all while dodging the enormous bill at the end of the meal. What do you know, you forgot your wallet at home! Now, Sonic is bringing together some your favorite foods from those legendary weekend meals (minus the huge price tag) with the limited-edition Brunch Burger and Cherry Limeade Mimosa. We swung by our local Drive-In to see if the two new brunchy items are a worthy excuse for grabbing your girls Carrie, Miranda, and Samantha (Charlotte is not invited, that buzzkill) and ordering up a bag o' brunch.
Here's what $2.99 gets you for this Brunch Burger deal: a 100% beef burger topped with melted cheese, tomato, bacon, and a fried egg on a brioche bun. It clocks in at 510 calories, which is a little less than the average Sonic cheeseburger at about 600 calories (it varies depending on if you get it with ketchup, mayo, or mustard). The deal also includes a side of medium tots. Now, there's also a Bigger Brunch Burger with twice the meat for $4.99, but you don't get tots with that, which means you're not getting a true brunch experience. After all, for that you'd need fried potatoes to sop up the booze from the night before.
To go along with the brunch theme, Sonic also released the Cherry Limeade Mimosa -- it's the brand's standard Cherry Limeade with a splash of OJ -- but you have to buy that a la carte. Still, at the suburban Denver, Colorado location I went to, it was only $1.69 for a small. The grand total for this complete brunch meal was $5.06 including tax, so about $25 less than poached eggs on avocado toast at your typical brunch spot.
Courtesy of Sonic
A whole brunch spread… in your car
I'm a fan of Sonic's original cheeseburger, and let's be real, this is basically a bacon cheeseburger plus an egg (and minus lettuce). But the fried egg is a new wrinkle, so I'm going to judge the burger based on how well the burger meshes with the chicken's top byproduct. First things first: this brioche bun is phenomenal. It's pillowy soft, but doesn't fall apart when you take a bite of the burger. I like that there's not an enormous quarter-pound burger patty in the original Brunch Burger -- there's plenty of other ingredients in this sandwich I want to be able to taste, like the bacon, the melted cheese, and that fried egg.
Somehow with my first bite, I miss the bacon altogether, and get a big ol' mouthful of egg, mayo, burger, tomato, and cheese. Even without the bacon, this is a solid bite. I was worried the burger would feel overstuffed and/or like it was covered in salt, but neither of those things came true. The fried egg isn't as thick as you'd find in a McMuffin, but that more properly suits this burger; as you can eat it easily without unhinging your jaw. There are also several strips of bacon here, and I can confirm that its presence does indeed improve the burger. Overall, it does feel like all your brunch favorites are present and accounted for in one burger. Even if it did have a slice of avocado, it'd be overkill: This burger is perfectly layered.
The tots on the side are delicious, as usual. Each one is crispy, perfectly seasoned, and there's plenty of 'em in a medium. I don't understand why tots aren't standard fare at fast-food joints, but they're not. So Sonic wins bonus points here. If there were a Fast Food Hall of Fame, the tater tots would be in on the first ballot.
As for the brunch drink, the Cherry Limeade Mimosa was a pleasant surprise. I don't even particularly like mimosas, but since this was just a splash of orange juice rather than half a glass with champagne, it added a sweet counterpoint to the overwhelmingly tangy cherry limeade flavors. The fact that it's also carbonated did, in fact, remind me a little of a mimosa. It's a shame Sonic doesn't have a liquor license, because it could definitely sell a few of these spiked with booze very easily.
Overall, sitting in your car at Sonic eating a Brunch Burger doesn't exactly feel the same as consuming a four-hour brunch with all your friends. But considering it's $5 for many of the same flavors, and you can order it any time of day (until they take it off the menu), this is a staggeringly good deal.
The Sonic I pulled into has a Chik-fil-A across the street, and I have to admit that initially I wished I could be eating a chicken sandwich for lunch. But perhaps the biggest compliment I can give this meal is that by the end, I didn't regret my choice. Even more good news: If you end up with a hankering for a Brunch Burger on the weekend, you can actually enjoy it at Sonic during Sunday brunch.
Sign up here for our daily Thrillist email, get Eatmail for more food coverage, and subscribe here for our YouTube channel to get your fix of the best in food/drink/fun.