The Southern Food and Beverage Museum celebrates bourbon and BBQ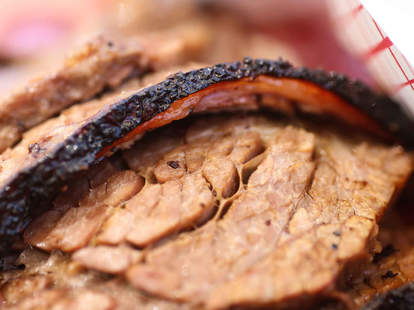 The last time you tried to snack on a museum exhibit, security gruffly asked you to "please leave the Matisse painting alone". Thankfully, you won't ever hear those words at NOLA's Southern Food and Beverage Museum, which just opened its aromatic doors this week.
SoFAB, as fans know it, has existed as a stand-alone exhibit and mall shop, but finally found a permanent home in New Orleans' Central City. The place exhaustively catalogs every aspect of food culture below the Mason-Dixon line, only they don't just show you antique absinthe fountains -- they offer Sazeracs for you to sip as you walk around. You can also cruise for some snacks at the demo kitchen before continuing through the many exhibits on BBQ, gumbo, and boiled peanuts. Most of the artifacts were personally donated by insatiable Southerners, so you know you're getting the real deal, and you certainly won't be hungry by the time you reach the gift shop.
The exhibits at SoFAB are constantly evolving, so keep an eye on their site before you plan your next visit. And if you have any interest in going halfsies on a rented school bus for a field trip, let us know in the comments.
Kristin Hunt is a Food/Drink staff writer for Thrillist. She actually likes museums, but has always thought they needed more brisket. Follow her at @kristin_hunt.